DeMarini! You must have heard the name or read about them. Just about every BBCOR baseball bat review mentions the DeMarini brand, and justifiably so.  In the baseball market, only a few manufacturers come close to their excellence in making high-performing bats, like the 2022 Zoa D-Lab (-3).
Of course, I don't expect you to take my word for it. Zoa may have taken years of research, many revisions, and dozens of prototypes to reach its present state, but is the performance reflective of all these efforts?  Does it work as advertised?
These are just a few of the many questions you will want satisfactory answers to before you shop for a bat. To make your work easier, this review gets down to the nitty-gritty of the Zoa D-Lab (-3) baseball bat.  You will learn what it is made of, the benefits its carefully thought-out features provide, shortcomings, and where to buy it, along with other essential information.
Let's get started!
Product Rating: 4.5
2022 DeMarini Zoa D-Lab (-3) BBCOR Baseball Bat Review
The 2022 DeMarini Zoa D-Lab (-3) bat is the first of its kind, complete with new and improved features not present in the most popular and previously reviewed best BBCOR baseball bats. Exceptional barrel performance combined with a well-thought-out two-piece construction makes this bat every hitter's favorite.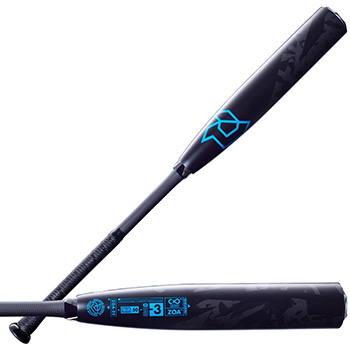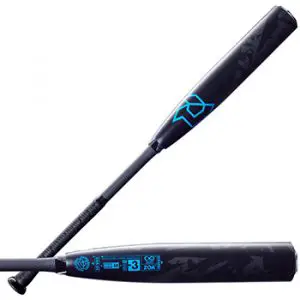 Add to that its advanced connection system, and you have a bat that will maximize your hit and not waste your energy.
Pros
A larger hitting area fully optimized to deliver excellent performance
The Anomaly Connection system effectively pairs the barrel and handle allowing for consistent energy transfer and the highest exit velocity
Comes with a re-designed end cap that preserves the barrel's integrity, thereby maximizing its performance
The stiffer handle ensures seamless transfer of energy to the ball and impressive feedback on contact
Continuous fibers along the barrel's length amplify its strength
Cons
Relatively expensive as compared to other bats in the category, but for what it offers the cost is reasonable
In most BBCOR bat reviews, the Zoa D-Lab easily stands out because of its progressive features, particularly its terrific barrel. You are assured of a completely new and memorable baseball experience with this bat
Analysis Of The Zoa D-Lab DeMarini Baseball Bat
Just as the name suggests, this bat comes straight from DeMarini's D-LAB, which is the brand's research and development division. It took years before this particular BBCOR bat design was nailed down, and the fruits of the team's labors can be seen in its exceptional features that enable hitters to enjoy unmatched power, increased speed, and much better control.
Continuous fibers rolled across the barrel's length help it to deliver exceptional strength and stiffness as well as consistency. This may sound like an average feature, but Don Loeffler, who is the head of innovation and engineering at DeMarini, says the fiber choice was arrived at after years of lab research and tests at their D-LAB.
This performance is enhanced further by the two-piece all-composite construction that provides you with a good balance of power and speed. To pair the handle and the barrel, the bat uses a progressive connection system. Their Anomaly Connection enables you to hit the ball at the highest velocity while experiencing a seamless transfer of energy to the ball.
The Anomaly End Cap, another progressive feature added to this bat, is finely tuned to amplify its performance. It's made of lightweight materials so as to lower your swing weight.
Equally important to mention is that DeMarini's Zoa D-Lab bat fully complies with BBCOR standards. It comes with a drop weight ratio of -3 and a barrel diameter of 2 ⅝".
From having the perfect balance of power and speed to a composite design that delivers exceptional performance, you can't go wrong with DeMarini's Zoa D-Lab (-3).  It's clearly the best BBCOR bat for power hitters.
Product Line
DeMarini has built a name for itself as home to not just the top BBCOR bats but also the best USSSA and USA bats. Right now, they have a wide selection of bats to choose from, spread out across each of these categories.
Zoa belongs to the brand's D-Lab Line, which has produced several other bats built for optimum performance. These include:
Prism
Nautalai
Nihilist
Gattaca
CF-XD
Vizion
Gattaca, CF-XD, and Vizion were discontinued by the brand, but the Prism, Nautalai, and Nihilist are still available.
Prism
196 iterations later, Prism fastpitch baseball bats still come to life. They are built to satisfy the needs of advanced, serious players who relish the feel and performance of double-wall construction. Currently, two options are available: -10 and -11.
Nautalai
Under this line, you have a broad selection of slowpitch baseball bats crafted with a new proprietary composite material to deliver unmatched power and pop.  One notable observation is that the prices vary greatly in this category, meaning you have options to match any budget.
Nihilist
Comprised of five slowpitch baseball bats engineered to deliver maximum performance upon contact.
Where To Buy The Zoa D-Lab Baseball Bat
The 2022 Zoa D-Lab (-3) baseball bat is yet to be stocked in brick-and-mortar sports stores. In recent months, the product has been running out of stock due to high demand, so you are better off placing your order directly with DeMarini as soon as you can.
In addition to getting the bat into your hands sooner, they guarantee you:
A full twelve month manufacturer's warranty
Free shipping and returns
Can't pay the full amount for the baseball bat all at once? Don't fret, the manufacturer has you covered. You can order it from them and pay in four equal monthly installments using the Klarna payment option at checkout.
Frequently Asked Questions
What Is A BBCOR Bat?
BBCOR is an acronym for Batted Ball Coefficient of Restitution. A certified BBCOR bat is one that follows all the rules that qualify it to be used in high school and college-level baseball.
Top on the list of requirements is a diameter that does not exceed 2 ⅝" and a -3 weight to length ratio. Visit UPMC to learn more about these rules.
What Is The Best BBCOR DeMarini Bat?
Even though it is relatively new in the market, the DeMarini Zoa D-Lab baseball bat defies the norms to dominate over other BBCOR baseball bats. As far as carbon fiber composite technologies go, this bat uses the most advanced of all to provide a completely new and improved BBCOR hitting experience.
Because of its material, two-piece construction, and advanced connection system, the bat succeeds in delivering a good balance of power, speed, and control.
Can BBCOR Bats Go Dead?
Every bat does lose its pop and performance with constant use.  BBCOR baseball bats are no different, no matter the material. If you have just bought a new one or doubt that your current one, which you haven't used for long, has lost its power and pop, do the following first before drawing any conclusions:
Break it in (most composite BBCOR bats break in after around 200 swings)
Use it more often in your batting practice or games
Should you notice no improvement in performance after doing all that, then you have a reason to worry. Chances are your bat is dead. Other ways to tell that your BBCOR is dead include:
Cracks (for composite bats) and dents (for aluminum bats)
Unusual change in sound after constant use
Hands stinging
Handle starts to creep into the barrel
What Size BBCOR Should I Use?
The right BBCOR bat for you depends on your age and skill level. Use this Bat Size chart to find the correct bat length for you.
What Is A BBCOR Bat Made Of?
Top BBCOR bats are crafted with either composite materials or alloys. Alloys include metals such as aluminum while composite bats are mostly made of carbon fiber. Each has its strengths and downsides. Alloy is a little bit stiffer and heavier but delivers great power. Composite bats, on the other hand, are quite light but with a larger hitting zone.
The 2022 Zoa D-Lab (-3) baseball bat is made from a composite material that harnesses the continuous fiber technology to provide not just superior strength and stiffness but also consistency and an elongated hitting area.
The DeMarini Zoa D-Lab Baseball Bat In Brief
Zoa is in so many ways different from your average BBCOR bat. Each of the features packed into this bat was built from the ground up. This is proof that DeMarini was fully committed to redefining the hitting experience for BBCOR bats users. And clearly, the efforts paid off.
Now we have a bat that puts together well-thought-out components to deliver the ultimate BBCOR hitting experience every player desires. Everything, from the weight distribution and feel to sound and control, has been perfected and optimized to make the DeMarini Zoa D-Lab (-3) one of the most popular and top rated BBCOR bats.
Its price may be slightly higher than that of close competitors, but the ever-rising demand is enough proof that the bat works as advertised. You get ultimate value for your money.