When you're looking for reliable traction and comfortable performance, only the best softball cleats will do. With so many different options on the market though, it can be tough to decide on the right pair. That's where we come in. We've taken the time to test and review the most popular softball cleats so you can make a well-informed decision and play your best game.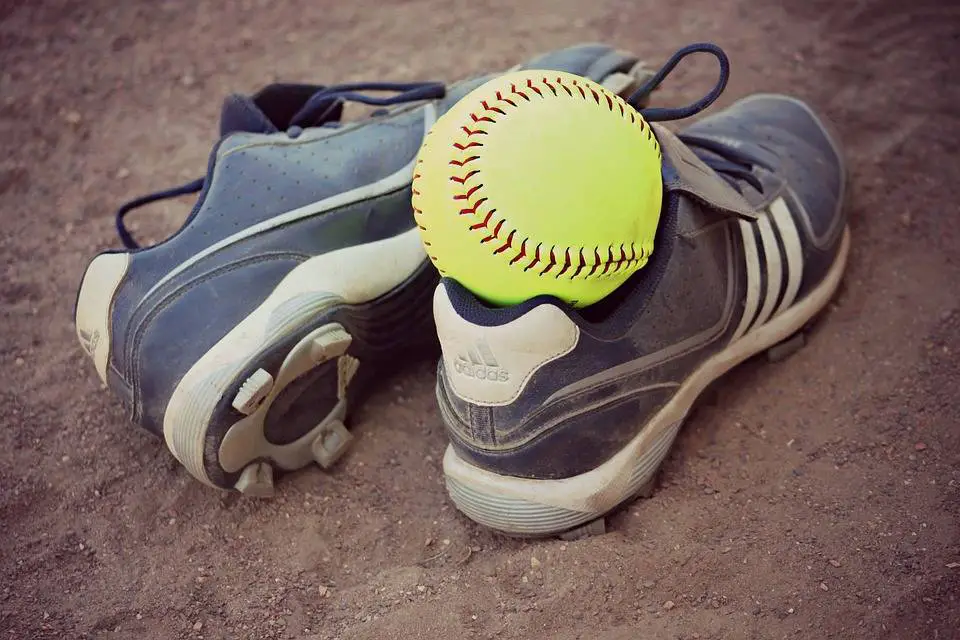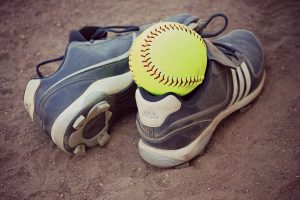 Since everyone has different requirements, favorite brands, and even variable needs based on factors such as team requirements, turf type, and typical playing conditions, we're providing an in-depth review of the five best softball cleats plus 20 runners-up.
Curious about what to look for when deciding which softball cleats are best for your needs? Keep reading, as a quick guide to choosing softball cleats follows the review section!
You can see summary of content here
Top 7 Best Softball Cleats
Click "Check Price" to view more sizes.
The Mizuno Women's 9 Spike 4 is one of the best softball cleats which you could purchase. Featuring a perfect combo of comfort and durability, this shoe allows its wearer to give her 100% traction on the field.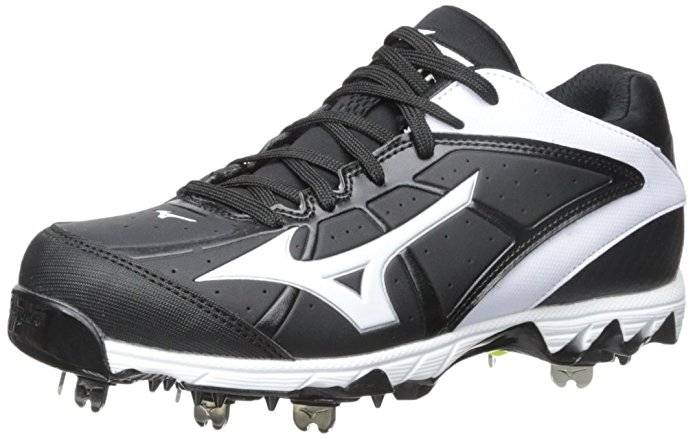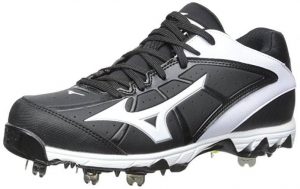 This shoe has a lace-up closure system along with a padded "booty" tongue which is designed to give you a precise fit. There are several small spots on the shoe's upper which facilitates a regular passage of air at all times. The upper is made of synthetic leather which requires a minimal break-in period. The manufacturer has also integrated a special mesh lining which means that you don't have to suffer from wet feet at the end of the day.
The 9 Spike Swift with a full-length midsole which provides excellent support and flawless cushioning underneath your feet. The overall weight of this equipment is just above 11oz which makes it one of the lightest softball cleats in today's market.
Furthermore, this softball cleat features an aggressive 9-spike outsole which makes sure that once you put your feet on the ground, it stays there without any slippage. Combine it with its lightweight design and the Mizuno 9 Spike Swift offers an optimal fusion of speed, traction and comfortability.
Finally, it is available in no less than 11 different designs which mean that depending on your fashion sense; you can purchase this beauty in your favorite color scheme.
Having said that, proper sizing seems to be an issue with this particular product. So it might be a bit beneficial to order ½ — 1 size larger than your actual feet dimensions.
Pros
Delivers superior traction
Full-length midsole provides excellent cushioning
Lightweight design makes it an agile footwear
Sale
Featuring a low-top design, the Under Armour Women's Glyde RM Softball Cleats is one of the least expensive cleats in this list. Available at an inexpensive price tag, this shoe is ideal for all those shoppers looking to make this purchase while living within their budget. And when it is available in three different color schemes, including a stylish black/cerise fusion, almost everyone can purchase it in their favorite design.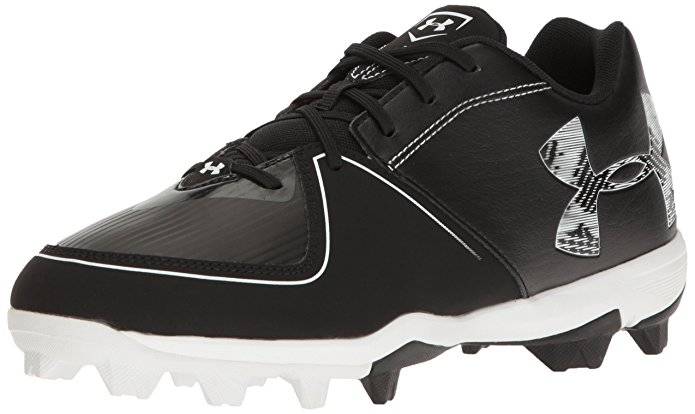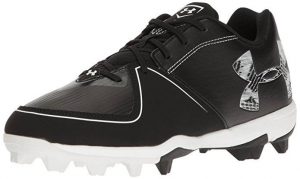 The upper of this shoe is made of engineered synthetic materials along with a special textile coating on its forefoot region. When the use of synthetic materials makes it a lightweight footwear, the textile coating imparts a much-needed durability to this product. These are extremely comfortable cleats which you can wear for several hours every day.
Inside the Glyde RM is the full-length Armourbound midsole which provides exceptional cushioning along with superior shock absorption. As you take one step after the other on the field, the midsole works extremely well when it comes to protecting your feet from any fatigue. Also, it also protects you from the studs' impact which is a great virtue if you're going to play this sport for extended periods.
On the bottom of this shoe are the rubber cleats which provides excellent traction. These are molded cleats which mean that you can wear this shoe on a variety of surfaces. Moreover, these cleats do an outstanding job for improving the Glyde RM's shock immersion ability.
Pros
Durable construction
Ideal for budget-oriented customers
Molded rubber cleats improve their shock absorption ability
Cons
Feels a bit too tight at the start
adidas Performance Women's PowerAlley 2 W Softball Cleat, Black/Carbon/White, 9.5 M US
Your team will fly across the field in style with the power alley 2 with a shock web nubuck upper with a splatter print eva midsole this cleat gives a smooth ride while you're racking up extra bases
Combination synthetic leather and nubuck upper for comfort and durability with adituff for toe drag protection
Lightweight metal outsole featuring traxion stud configuration for enhanced performance and traction
The Adidas Performance Women's PowerAlley 2 has a stylish upper incorporating a stylish, 3-stripes design. The upper features a stylish Shockweb graphic print design which is extremely eye-catching.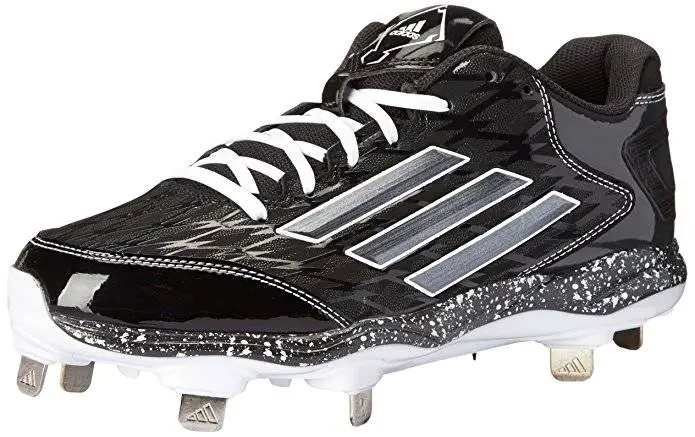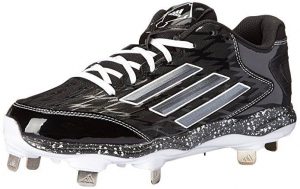 This is a super-lightweight shoe weighing as low as just 11oz. It features a combination upper of Nubuck + synthetic leather for added comfort and durability. It also has the ADITUFF which is specially added to the toe area of this cleat for making it highly resistant towards abrasion.
The PowerAlley 2 comes with an ultra-light EVA midsole which runs along the entire length of this shoe. It also has an internal shank plate which is designed to provide you with additional stability. This feature, when combined with the EVA Midsole, protects you and your feet from any fatigue.
For keeping your feet dry on a consistent basis, Adidas have employed a hi-tech OrthoLite sock liner inside the PowerAlley 2. Now what it does is as you spend countless hours on the field, it wicks the moisture away from your feet. Eventually, you're left with cooler, comfier and drier feet which allow you to give your fullest without worrying about your feet's physical health.
Moreover, this softball cleat has a great lace-up design for a precise fit along with an external help clip for keeping your foot in place. Coming towards the PROTRAX cleat configuration, it is specifically designed in such a way to help you move laterally and rotationally without any hindrance.
So if you're looking for a high-performing cleat for softball, the PowerAlley 2 can be your best bet.
Pros
OrthoLite Sockliner wicks away the moisture
Internal Shank plate delivers stability
PROTRAX cleat configuration gives enhanced traction
Cons
Tends to run small for wider feet
adidas Performance Women's PowerAlley 2 W Softball Cleat, Black/Carbon/White, 9.5 M US
Your team will fly across the field in style with the power alley 2 with a shock web nubuck upper with a splatter print eva midsole this cleat gives a smooth ride while you're racking up extra bases
Combination synthetic leather and nubuck upper for comfort and durability with adituff for toe drag protection
Lightweight metal outsole featuring traxion stud configuration for enhanced performance and traction
The Nike Women's Hyperdiamond Strike comes with a synthetic leather upper which makes it a pretty lightweight footwear for the softball enthusiasts.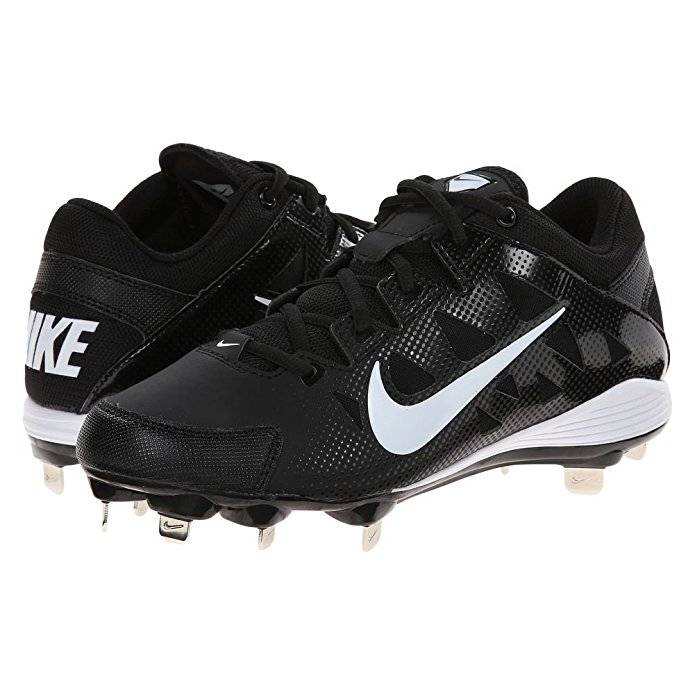 Featuring a low cut design, which allows users to run faster on the field with negligible resistance, the Hyperdiamond Strike comes integrated with a Phylon Midsole. Made of EVA foam pellets, this is a highly responsive cushioning system which is extremely lightweight. Not only that, but it also delivers a low to the ground feel which ultimately protects the wearer of this shoe from unwanted fatigue.
For assisting lateral as well as rotational movement on the field, this shoe has an intuitive 9-cleat configuration integrated on its TPU outsole. As evident from the name of this product, all of these are metal cleats which are designed to give you the best of traction, speed, and agility on the diamond.
Thanks to such a construction, it is best suited to all those players who're pretty agile in their game. It features a lightweight construction, and when you might want to run faster on the field, this shoe will assist you every bit.
However, if you've suffered some ankle injuries in the past, the low-cut design of the Nike Hyperdiamond Strike offers negligible ankle support. Otherwise, it is still a high-performing shoe designed for the players looking to make their name in this sport.
Pros
Ideal for Agile Athletes
Low-cut design offers a lightweight cleat
9-spike configuration delivers explosive traction
Sale
The Under Armour Women's UA Spine Glyde has got everything which a player might look for in her ideal pair of softball cleats.
Under Armour makes the upper of this shoe with synthetic leather which delivers a successful fusion of durability and high-performance. As you could expect from its low-cut design, this is an ideal footwear for fast pitch where a player demands utmost agility from her footwear.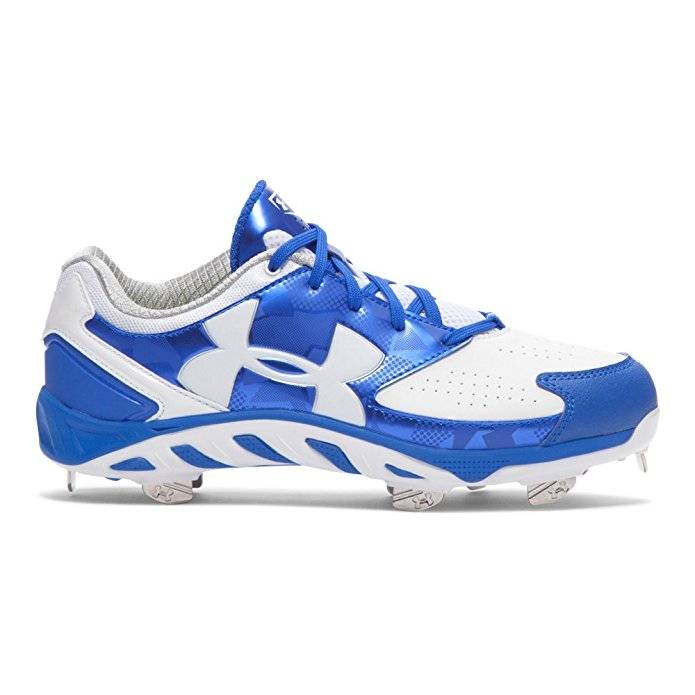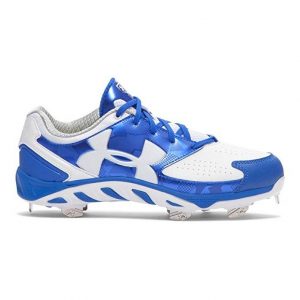 However, if you're aren't quite agile in your play, this shoe has still a lot to offer apart from its agile construction.
If you're a pitcher, who often complain about her shoes wearing down even before one full season, the UA Spine Glyde comes with a special abrasion resistant toe piece. This feature provides valuable protection to your feet as you're dragging your toes down before pitching the ball.
For providing support to the wearer's foot, the UA Spine Glyde has made use of two different technologies. Firstly, the special spine chassis midsole provides support to your feet from the forefront to the heel region.
Then comes the Molded 4D Foam insole which, after a short break-in period, forms itself as per the shape of your feet. From there on in, it wraps around your feet providing a much secured and comfortable fit.
Another impressive feature in this shoe is its rotational traction cleat configuration which is designed with its rubber outsole. Apart from running forward at an enhanced rate, this configuration allows its wearer to change directions without much hindrance. Eventually, it translates into better traction and a superior foot support.
Pros
Spine Chassis Midsole boasts extra foot support
Abrasion-resistant toe piece increases the longevity of this footwear
Superior Traction with the rotational traction cleat configuration
Sale
The Mizuno Women's Finch Franchise 5 is a versatile pair of softball cleats which can be worn on a variety of surfaces. Incorporating rubber studs, you can use this shoe on almost any kind of field, and it will give you the best of durability and comfort.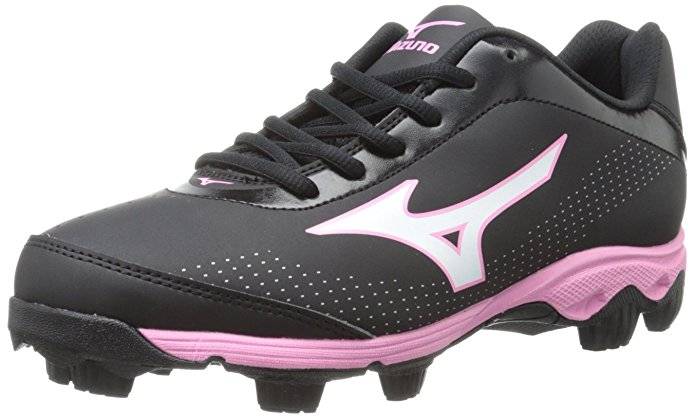 Incorporating a synthetic leather upper, the Finch Franchise 5 has a full-length midsole. When the former increases the lifespan of this product, the latter makes sure that the wearer stays comfortable through his stay inside this product. It also has an additionally padded tongue which restricts dust and grass from entering this footwear. This particular feature is of great essence especially if you're going to play in wet outdoors.
The bottom of this shoe has molded spikes, and even though they are non-replaceable, the fact that there are 9 of them designed on its synthetic outsole gives you a handful of grip. As already described, these are all rubber cleats which means you can use them in almost any league type without any restriction.
Furthermore, the Finch Franchise 5 Softball cleats are available in two different designs. You can order them in black and white color scheme and if you want to make a bit of fashion statement, consider going with the black and pink fusion.
So when Mizuno has more than ten decades of experience, this product has done no harm to such a trusted developer of sporting footwear.
Pros
Stylish color schemes
Versatile pair of softball cleats
Can be used on different field types
Cons
A bit tight for players with wide feet
Sale
Endorsed by none other than Jennie Lynn Finch, a 2 times Olympic Medal winner with the United States National softball team, the Mizuno Women's 9 Spike ADV Finch 6 Fast Pitch Molded Softball Cleat is especially designed for all such players who're going to test their mettle on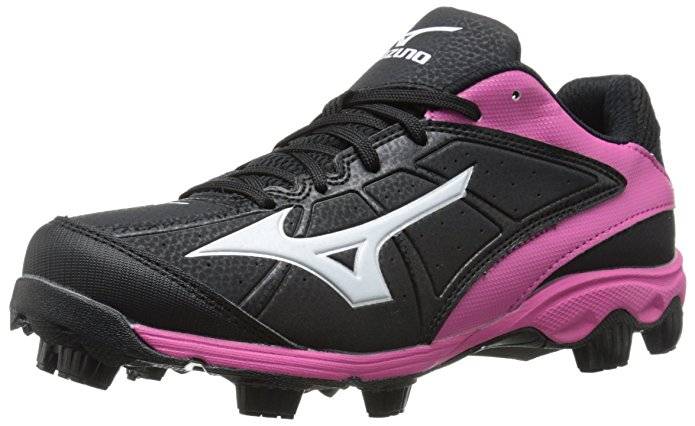 the fast pitch. Especially if you're a young player, who is going to play on a variety of field types, this is one of the best softball cleats which you could buy from today's marketplace.
Featuring a synthetic leather upper, this is a highly breathable shoe for the fans of softball. It also has a full-length midsole which makes sure that your foot is provided with maximum cushioning from heel to the forefront. Also, it also helps in reducing the pressure generated by cleats as you take one step after the other.
The 9-spike outsole is designed in such a way that you'll be able to get the maximum support, stability, and traction out of this footwear. It also a unique layout and when all of its studs are made of rubber, this is an ideal footwear for all field types. As per the lacing system, they are easy to adjust and once fully tightened, you don't have to turn towards the laces for a good amount of time.
This lightweight cleat comes in two different designs, both of whom are pretty stylish. So if you're looking for a high-performing softball cleat within a reasonable price tag, the Mizuno Women's p Spike ADV Finch is worth a shot.
Pros
The upper of this shoe is quite breathable
Full-length midsole provides excellent cushioning
Rubber studs makes it viable for different field types
Cons
Players with wide feet might find it a bit snug
Sale
Buying Guide – Things to Look for in the Best Softball Cleats
Every time you make your way out onto the diamond, you rely on your shoes to help you put your best foot forward. Speed, performance, and traction are interconnected factors – when you're missing one, your game is sure to suffer. Here are a few things to keep in mind when deciding which baseball or softball cleats are the best match for your needs
Field Type: Where will your practice sessions and games take place? If you're planning to play on artificial turf at all, then you won't be able to use metal cleats since they damage the turf, and as they're prone to snagging and causing injuries. If you'll be playing on natural fields, then you might prefer metal cleats as they typically pick up less grass and dirt than molded ones. Many players opt to purchase more than one pair – this way, they always have the right shoe for the surface.
League Requirements: Many youth and amateur leagues require players to wear molded plastic or rubber cleats but there are exceptions. Double-check to see what's required and you'll find that it's easier to shop for the right shoes.
Materials: Many options that made it onto our list of the best softball cleats are made with synthetic materials, which offer lightweight breathability, better comfort, and greater affordability than leather. There's a tradeoff, though: Leather tends to wear longer, so if you're looking for cleats to last multiple seasons, you might want to go the old-fashioned route.
Reinforced Toes: All the best softball cleats have reinforced toes as this is an area that's subject to rapid deterioration, particularly for pitchers. If the shoes you're considering aren't well reinforced across the toe, keep on shopping!
Cushioning: While cushioned socks help absorb some shock, your shoes do most of the work. The better the padding, the more comfortable you'll be.
Cleat Height: Most cleats offer a low-top design that allows for maximum flexibility, however players who are prone to ankle injuries might prefer shoes with a supportive mid- to high-top design. Keep in mind that you might be able to compromise by wearing a brace or taping your ankle; check with your coach and physical therapist to see what they recommend before you shop for your shoes.
Frequently Asked Questions
Do I really need to wear cleats to play softball?
If you're playing casually, you might not need to wear cleats. If you're part of a team though, cleats are probably required equipment. Check with your coach to make sure that you're choosing the right shoes for your needs. Cleats help grip the ground, improving your performance on the field.
Why do so many leagues prohibit metal cleats?
It's all about safety. Quite a few leagues disallow metal cleats as they can cause serious foot injuries when players accidentally step on one another. Leagues that play mostly on artificial turf prohibit metal cleats on those fields since the metal cleats can rip the turf and damage it, and as metal cleats can snag in the weave of the turf, trip players up, and cause falls that contribute to injuries.
When are metal cleats the best choice?
If you're playing in wet, muddy conditions or on slippery natural grass, then metal cleats might be best as they're specifically designed to provide superior traction under conditions like these. Strange as it sounds, metal cleats tend to do less damage to natural fields as they don't pick up large chunks of grass, dirt, etc.
I'm female but I want to buy men's softball cleats (or vice versa). How do I choose the right size?
Great question. If you're a woman with wide feet and women's shoes tend to be too narrow, you'll probably be more comfortable in shoes labeled for men as they tend to be wider. Softball cleats in general tend to offer unisex style features that make it very easy to find exactly what you're looking for even when they're marketed to a different gender and let's face it, men's shoes tend to come in more colors than those designed specifically for women.
While shoe size conversion charts make it easy to find your companion size, there's a very simple equation to keep in mind: If you're a female buying men's shoes, choose a size that's two sizes down from your usual size, i.e. pick a 7 if you usually wear a 9.
How much should I expect to pay for a decent pair of softball cleats?
A good pair of cleats doesn't have to be expensive. You can find plenty of options for well under $100. There are quite a few options under the $50 mark, too.
Other Popular Articles on this Site:
Last update on 2023-09-28 / Affiliate links / Images from Amazon Product Advertising API