Baseball, as they so rightly say, is a game of inches. One inch here or there off the plate and it could turn out to be a major difference between winning and losing at the end of the game.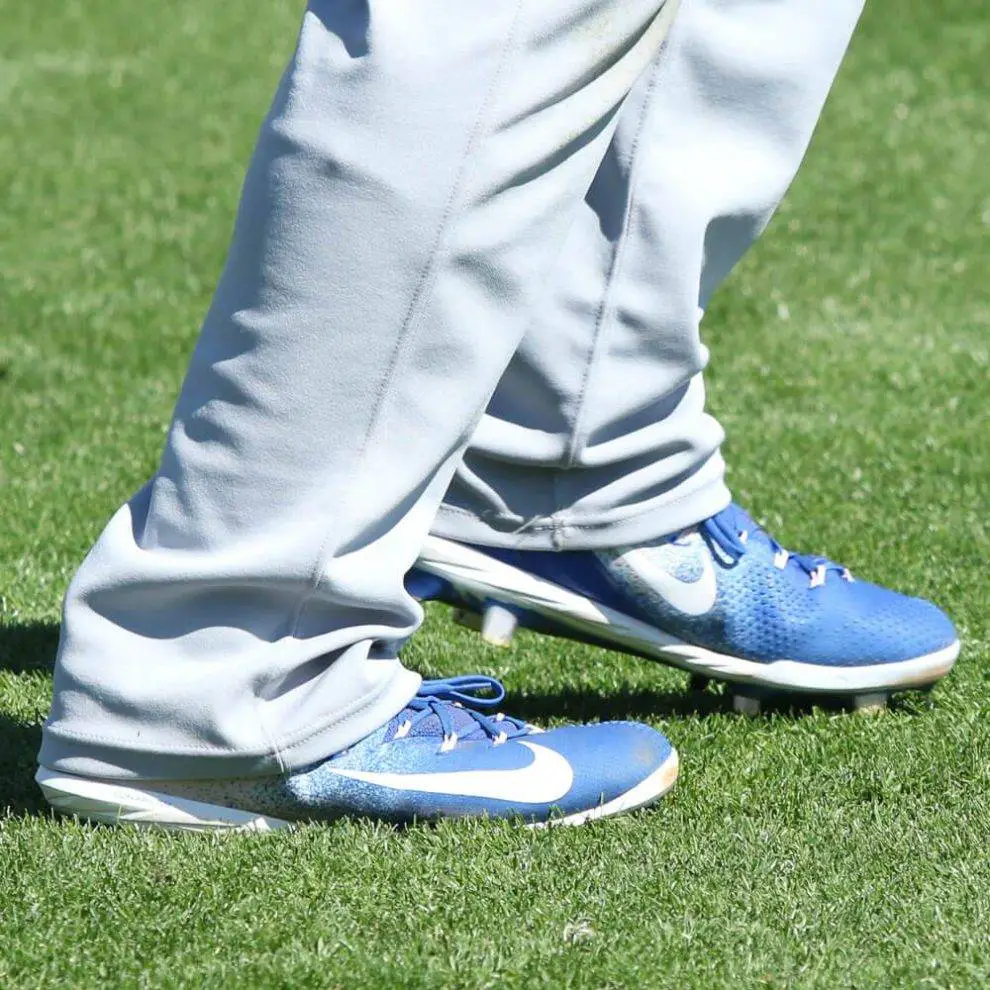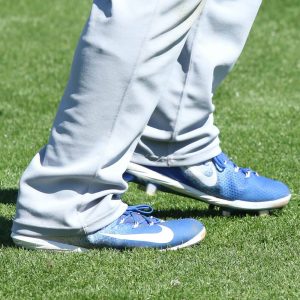 In a sport of such a high intensity, where the margin of error is so low, players have to be pretty critical before investing in a pair of cleats. With a wide range of options – varying in size, price and material of construction – available in today's market, it isn't easy to make a perfect purchase without extensive research.
So, how to purchase the best baseball cleats without extra hassle?
If you're looking for the answer to this question, you've just landed at the perfect place. After thorough research and going through a handful of equipment, we've compiled this guide incorporating top 7 best baseball cleats of the modern era.
Top Rated Baseball Cleats
Click "Check Price" to view more sizes.
Coming from a reputable brand in the field of sporting footwear, the Mizuno Men's Vapor Elite 7 Low Baseball cleat comes in a wide range of designs. In addition to the traditional black and white design, customers can purchase it in 6 different color schemes including gray/black as well as a stylish black and red.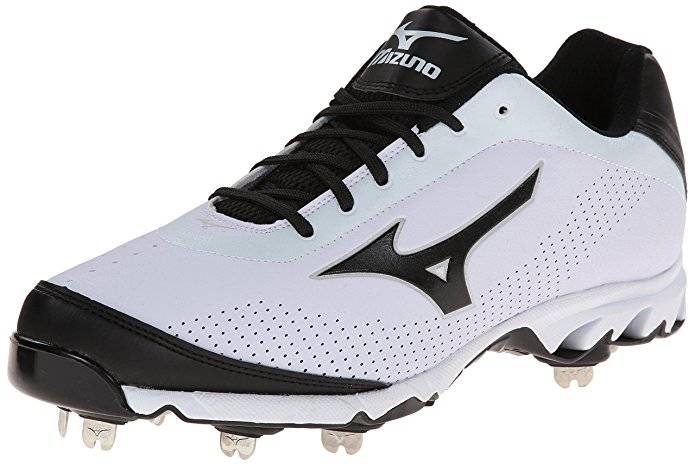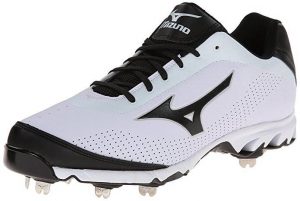 For enhanced traction, the Vapor Elite 7 has an intuitive nine spike configuration. These spikes are carefully designed on several portions of its outsole which helps the owner of this shoe to enjoy an impeccable traction on the baseball field. These are all metal spikes which grips better with the underneath surface as compared to molded cleats.
For making sure that your feet stay dry for the entire length of the game, the upper portion of this shoe is integrated with several perforations. Also present in this product is the breathable mesh lining which ensures a regular passage of air at all times.
Furthermore, the manufacturer has provided a padded collar along with a full-length midsole inside this product which keeps your feet from hurting even after spending a considerable amount of time inside this footwear.
Pros
9 spike design delivers superior traction
Breathable Upper maintains dry feet
Durable, long lasting construction
Cons
Metal Spikes aren't removable
Sale
The Mizuno 9-Spike Franchise 7 Low baseball Cleat features a synthetic construction with perforations throughout its upper. Such sort of construction helps your feet stay dry and comfortable all day long without any hindrance.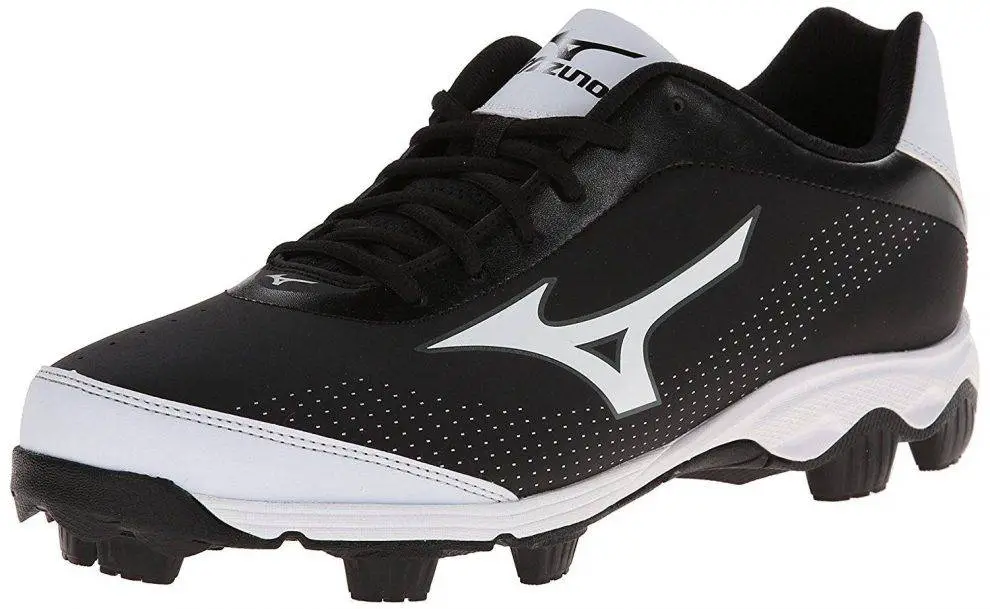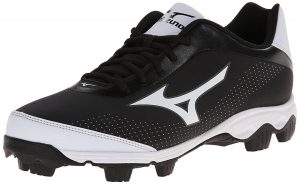 This shoe has a lace closure mechanism which allows a snug fit. Once you tighten these laces, they won't loosen up as you move here and there on the field. This is an essential feature for any baseball player who doesn't want to work up his laces now and then.
Inside the 9-Spike Franchise is a full-length midsole which is not only lightweight but also quite comfortable. Thanks to such a construction, you can wear this shoe all day long, and your feet won't hurt at the end of the day.
Another interesting feature in this product has got to be the presence of rubber studs. When different baseball leagues have termed the use of metal spikes as illegal for their players, there is no such restriction on the use of rubber studs. You can wear it on almost all field types which make it a versatile footwear.
Moreover, Mizuno has employed a 9-spike configuration while crafting the outsole of this particular product. All these spikes are carefully placed on the sole's front as well as a back portion which eventually helps the player to maintain a flawless grip.
Finally, customers can purchase this shoe in two different designs, and when it is available at a reasonable price, you don't have to break the bank for purchasing this beauty.
Pros
Rubber Studs makes it viable for all field types
Padded tongue protects your feet from hurting
Devoid of any break-in period
Cons
Question marks about the spikes' durability
The Nike Men' Lunar Vapor Pro Low Metal Baseball Cleats incorporates upper made up of high-quality Nubuck Leather. This type of leather is extremely famous for its enhanced air ventilation, and when it stands tall against regular wear and tear, you can use these cleats for a normal period.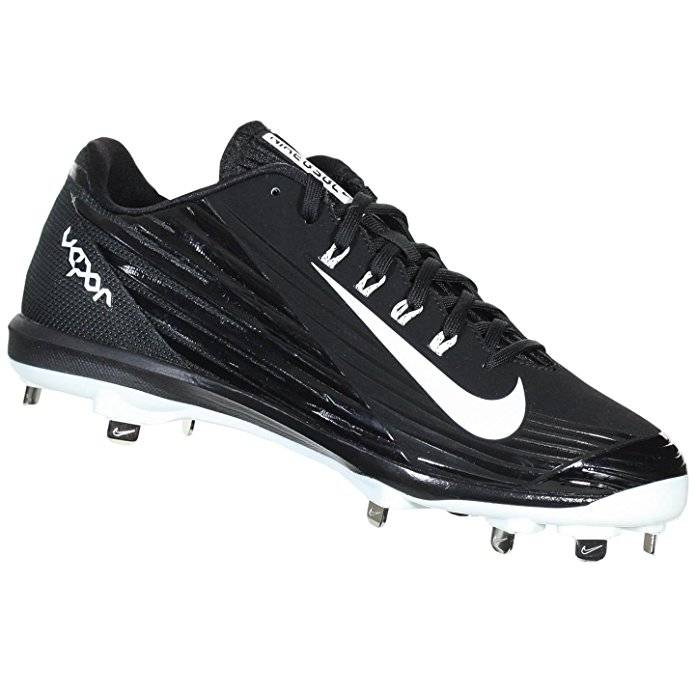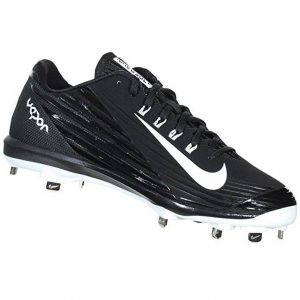 Nike has used their ever famous flywire technology for making the Lunar Vapor Pro lightweight and highly responsive. With this technology, a series of flywire cables, which are integrated into certain key portions of this shoe wraps around your feet for giving a secured fit. But when these cables are utilized in limited areas specifically, it allows the Vapor Pro to remain as lightweight as possible. In fact, the overall weight of this equipment is just above 14lbs which allows its wearer to stay vigilant.
Another technology, which is employed in this product, is the hi-fi Nike Lunarlon cushioning. As compared to Phylon foam, the Lunarlon is 30% lighter, and when it distributes shock more evenly across your feet, it keeps your feet protected and devoid of any fatigue.
The Lunar Vapor Pro has a full-length TPU outsole along with specially engineered stud pattern. When the former enhances the overall lifespan of this product, thanks to its sturdy nature and high durability, the former makes sure that your feet stay intact with the underneath surface.
Pros
Flywire technology delivers secured fit
Lunarlon cushioning limits foot fatigue
Durable construction
Cons
Not ideal for players with wide feet
Sale
The Nike Men's Huarache 2KFilth Keystone Mid Baseball Cleat is ideal for all those customers looking for an adaptive pair of baseball cleats. The upper of this shoe is constructed with a viable combo of synthetic leather with mesh materials. Also, the collar and tongue of this shoe are also made of highly breathable materials which eventually provides you with comfortable and dry feet.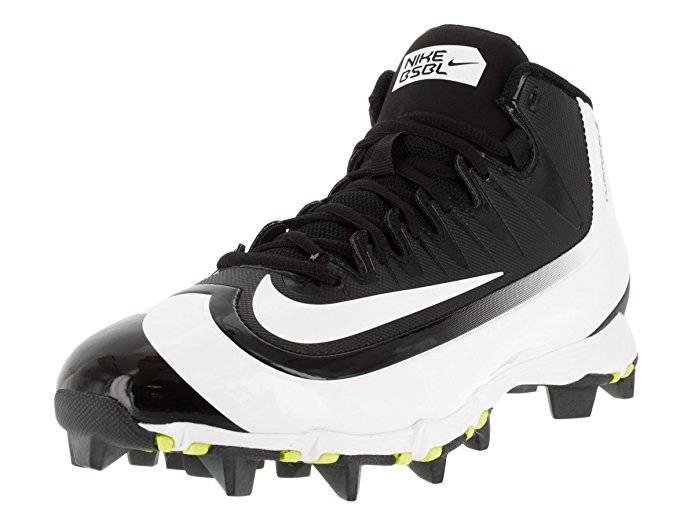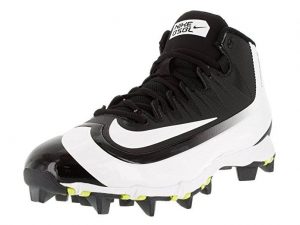 The Huarache 2K Filth features molded cleats so that the owner can wear it on a variety of terrains. The flex grooves, which are specifically designed on its outsole, greatly increases the flexibility of this shoe as you're walking or running on the baseball field.
For enhanced ankle protection, this shoe features a mid-top silhouette. It is not too big, but when it comes to keeping your ankle from rolling, it works without any hindrance.
One thing which seems to be an issue with this product is the right size. This product tends to run small in size so as compared to your regular feet dimensions, it might be a better idea to go half a size up with this shoe. As per users with wide feet, this shoe has a narrow top which might make it a bit too tight for their liking. For all such customers, they might consider going a full size up.
So if you're looking for a decent pair of Nike Baseball Cleats, consider purchasing the Nike Men's Huarache 2KFilth Keystone.
Pros
Lightweight construction
Decent Ankle support
Flexible Footwear
Sale
The Nike Men's Trout 2 Pro has got all the features which one could expect from a high-quality baseball shoe. Carefully designed to serve the needs of amateurs as well as seasoned players alike, this shoe is named after one of the all-time greats in the history of Baseball, Mike Trout.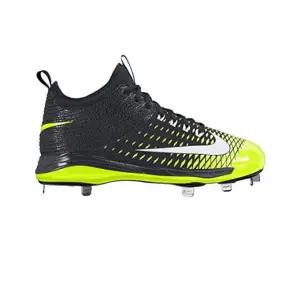 The upper of this shoe is made of synthetic materials – for the ease of maneuverability – along with mesh construction for making it a highly breathable footwear. When baseball involves a lot of physical exertion, from running, catching and throwing, such sort of construction makes sure that your feet stay comfortable for the entire length of this game.
On the bottom of your feet is a highly comfortable Phylon midsole which works wonders when it comes to reducing foot fatigue. As you move from one point to the other, this particular midsole keeps your foot from hurting.
The outsole of this shoe has 9 spikes, 3 of whom are carefully placed in the forefront region. Apart from keeping your feet intact with the underneath surface, such an arrangements work extremely well regarding increasing the lifespan of this product. You can wear this shoe season in season out, and it won't wear out without any second thought.
Finally, it has a lace closure mechanism which is extremely popular with a wide range of baseball enthusiasts. It also has a nice little heel tab which means that you can get in or out of this shoe in an instant. Hence, when Mike Trout showed an incredible level of swiftness throughout his career, you can expect a similar degree of flexibility from the Trout 2 Pro from Nike.
Pros
Superior upper made with synthetic + mesh materials
Phylon midsole reduces foot fatigue
Comes with a lightweight design
Sale
The Under Armour Men's UA Ignite is ideal for all those baseball fanatics who're looking to purchase a pair of high-quality baseball cleats without spending too heavily. Available at an affordable price, this shoe makes sure that you don't have to compromise one bit.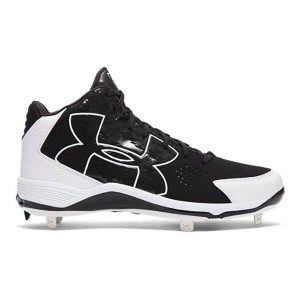 Starting with the upper, the UA Ignite has successfully combined synthetic + Nubuck leather for providing a lightweight yet extremely durable baseball shoe.
Then comes the ArmourBound Midsole which stretches along the entire length of this product. With this construction, this midsole is fully capable of absorbing every kind of impact as you take one step after the other. And when it delivers a constant level of cushioning, you can forget about foot fatigue after investing in a pair of UA Ignite Mid Baseball Cleats.
As per the rotational traction cleat configuration, which is another remarkable feature in this product, this shoe allows you take sharp turns without any hindrance. It eventually gets replicated in better traction as you can count on this shoe while rounding bases and converting line drive into double or even triple. Combine it with the steel cleats, which are specifically integrated in the front as well as the back portion of the outsole and this shoe delivers zero slippage.
Furthermore, it comes with an entire bag of colorful laces, so you will be able to match the shoe's laces with your team's uniform. So regardless of your skill level and what position are you playing for your team, this shoe delivers continuous performance at all times.
Pros
Rotational Cleat configuration delivers unparalleled traction
ArmourBound Midsole keeps your feet from hurting
Central lacing system for a secured fit
Sale
Featuring a low cut design, the Nike Men's Vapor Strike 2 Low Molded Baseball Cleat is all about speed and superior grip. Available in three different designs, this shoe has a unique combo of synthetic leather + nubuck leather in its upper's construction. When synthetically is quite famous for delivering lightweight cleats, it's up to the latter material of construction for making the Vapor Strike 2 a long lasting footwear.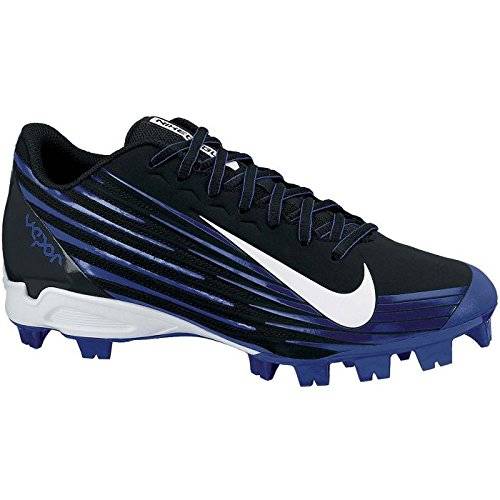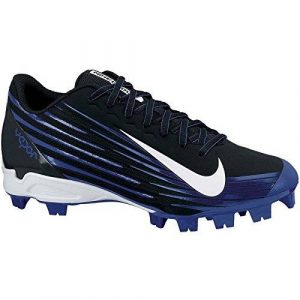 At a time when a majority of the products in this list relies on 9-spike configuration, Nike has introduced a special 12-cleat design in the Vapor Strike 2. When this feature delivers a secured grip, the fact that all these are molded spikes helps you play with this shoe on some terrains.
The mesh collar and tongue, which is integrated inside this shoe, promotes ventilation and thereby, comfort ability. Another interesting feature in the Nike Men's Vapor Strike 2 is the presence of several perforations in its toe box region. When the collar and tongue promote breathability from sideways, it's the toe box perforations which keeps your forefoot from getting moist.
For protecting your feet from any fatigue, the use of Phylon Midsole along with a lightweight EVA is another useful feature employed in this product. Apart from providing a nice cushion for your feet, they make sure that the impact is greatly reduced before it reaches your feet. So it doesn't matter whether you're walking or running on the baseball field, you won't feel a thing thanks to such a hi-fi construction.
So regardless of whether you're an amateur athlete or even a veteran baseball player, this shoe will serve your needs in an imperious manner.
Pros
Synthetic + Nubuck leather makes it a high-performing shoe
Promotes ventilation with its superior construction
Boasts traction with 12-cleat design
Buying Guide – Things to look for in the Baseball Cleats
You might be wondering what differentiates an ordinary pair of cleats from the best baseball cleats. Well, here are a few things to consider which should help you while making this purchase.
Material of Construction: Nowadays, a majority of baseball cleats are made up of one of these two materials: Natural Leather and Synthetic Leather. Natural leather is famous for its enhanced breathability, durability, and high-performance but it also comes at a higher price.
As per synthetic leather, it is famous for producing a lightweight footwear with additional support around your ankle. So depending on your convenience, you can choose any one of them.
Metal Cleats vs. Molded Cleats: As you could expect, metal cleats provide a much better degree of traction as compared to their molded counterparts. The fact that they can dig into the ground before delivering a slip-free traction is a great virtue for any baseball player.
However, the metal cleats are also much more susceptible to regular wear and tear and thanks to their aggressive nature; they can also injure other players on the field. On the contrary, there is no such case with the molded cleats, and when the use of metal cleats is limited only grassy surfaces, you can use molded cleats on some other terrains.
Proper Fit: There shouldn't be more than a quarter inch of space between your toes and the front portion of the baseball cleats. Also, your heel should fit snugly in any such footwear.
Conclusion
Now you've gone through the afore-mentioned guide of the best baseball cleats; It shouldn't be a difficult task for you to select an ideal pair of cleats for yourself. All of these products are of the highest quality and depending on your personal preference; you can choose any one of them without any second thought.
For the budget-oriented shoppers, who don't want to spend too heavily on this purchase, they should consider the Under Armor Men's UA Ignite Mid Baseball Cleats.
But if you've got the required bank balance, and are looking for an apt pair of baseball cleats, the Nike Men's Trout 2 Pro Baseball Cleat should attract your attention.
The Mizuno Men's Vapor Elite 7 Low Baseball Cleat should be the first choice for all those players who often struggle to maintain a secured grip. And if you're looking for a bit of almost everything, have a look at the Nike Men's Huarache 2KFilth Keystone Mid Baseball Cleat.
Other Popular Articles on this Site:
Last update on 2023-09-28 / Affiliate links / Images from Amazon Product Advertising API