Updated November 2022
Whether you're a slow-pitch or fast-pitch player, your choice of softball bat can make or break your game. The best double-wall softball bats are high performance and less prone to damage compared to metallic and single-wall bats.
Quality is usually determined by design, the material, weight distribution, and whether they are one-piece or two-piece bats.
However, keep in mind that what works for one player may not be the best for you. If you want to be the next Amanda Scarborough, you need a double-wall bat that is the right length, weight, and has the balanced feel for your body frame.
This review summarizes the top five double-walled softball bats tested by our team.
You can see summary of content here
Quick Links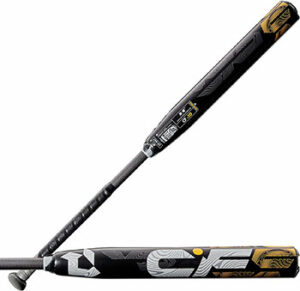 DeMarini 2022 CF Fastpitch Softball Bat
This masterpiece from
DeMarini
doesn't disappoint, just like its predecessor. It amplifies aspects such as barrel responsiveness, pop, and bat control while introducing new features like a better connection technology that enhances the bat's overall performance. It's also one of the most durable bats on the market right now.
FEATURES
Two-piece construction
Paraflex Plus composite barrel and handle
Certifications: USSSA (New NTS Tested Stamp), ASA, NSA, ISA & WBSC
Comparison Table
Paraflex Plus composite barrel and handle

Certifications: USSSA (New NTS Tested Stamp), ASA, NSA, ISA & WBSC

Certifications: ASA/USA, ISF, USSSA, NSA, ISA

Certifications: NSA & ISA & USSSA (New 'NTS Tested' | 240 Compression Stamp)

Three-step barrel technology

Certifications: USSSA, USA, ISA, NSA,and WBSC

Double-barrel construction

Certification: ASA (USA), USSSA (fastpitch only), NSA, ISA and ISF
Best Double-Wall Softball Bats – Reviews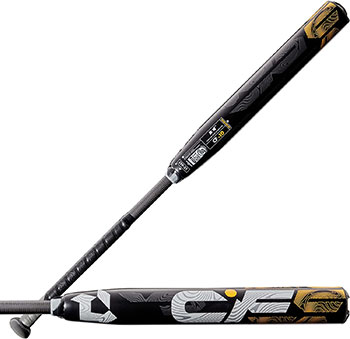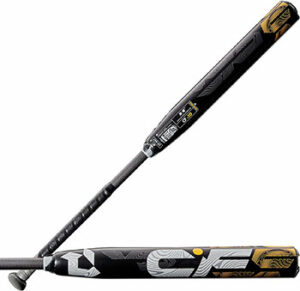 CLICK HERE FOR PRICING, PICTURES, AND REVIEWS ON AMAZON.COM
Every subsequent DeMarini CF bat always steps things up. This time around, you will be enjoying maximum barrel control and energy transfer, improved durability, and a generally empowered swing. Like its predecessor, this bat carries the legacy of leading other fastpitch softball bats.
Key Features
Two-piece construction
Paraflex Plus composite barrel and handle
End cap
Connector piece
Swing weight: balanced
Certifications: USSSA (New NTS Tested Stamp), ASA, NSA, ISA & WBSC
In this version, you will still enjoy the power of DeMarini's paraflex plus composite material, which makes it one of the most durable and responsive bats in the sport. The handle too shares the same material, but the 3 Fusion technology that used to connect the two pieces has been replaced by a new v-type connector.
Beyond providing flex and dampening vibrations, the new connection maximizes energy transfer into the barrel for a more powerful swing. This performance is enhanced further by the tracer end cap, which utilizes lightweight composite materials for improved bat speed and overall performance.
Pros
More barrel control for consistent contact
A new connection that optimizes feel and directs all your energy into the barrel
Responsive barrel with a huge sweet spot for a more effective collision with the ball
A special end cap that doubles bat speed
Balanced swing weight for improved bat control
Cons
Takes a lot of swings to break in, but this won't be too much trouble if you just exercise a bit of patience.
This is a rare thing to say but DeMarini 2022 CF works as advertised. Expect more pop,  better bat control, zero vibrations, unmatched durability, and enhanced overall performance. Make the best of it and you will soon make a statement in the field.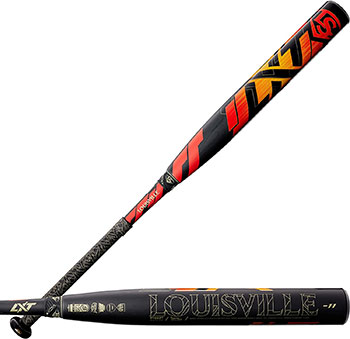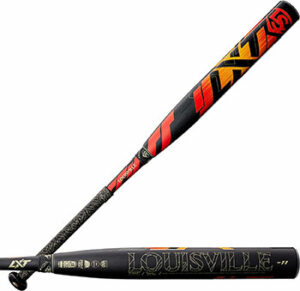 CLICK HERE FOR PRICING, PICTURES, AND REVIEWS ON AMAZON.COM
Louisville LXT  looks really good. Some buy it solely for this reason. I know you're probably thinking appearances can be deceiving, but that's not the case here. This version of the Louisville Slugger has decent pop, great build quality, and a more comfortable swinging experience.
Even with multiple barrel technologies, the bat still maintains its balanced feel and elite performance.
Key Features
Three-piece construction
Material: composite
VCX2 Connector Piece
Swing weight: balanced
Certifications: ASA/USA, ISF, USSSA, NSA, ISA
LXT's barrel features the single disc speed composite design, complete with the BPF technology that stretches the sweet spot near to the end cap and connector piece. Think of it: That's a massive sweet spot yet the barrel still provides a balanced feel.
The VCX connector piece links the handle to the barrel, completing the three-piece design that allows you to enjoy a comfortable swing. The premium LS comfort pro grip further enhances the comfort, making your swinging experience even smoother.
Pros
Greater sweet spot for higher performance and pop
Special connector piece that not only reduces vibration but also allows for more flex
Has an end cap that pairs with the barrel technologies to optimize the sweet spot area performance
Different sizes available to suit your specific preferences
Cons
Not game ready (requires 50-200 hits to be broken in)
LXT's lengthy sweet spot, decent flex, and overall elite performance make it an ideal bat for both
power and contact hitters
. Some bats in this series may be relatively expensive, but the higher performance makes each one a great buy.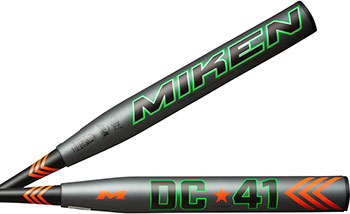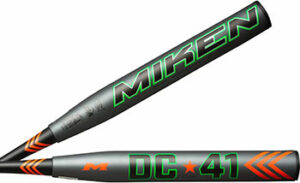 CLICK HERE FOR PRICING, PICTURES, AND REVIEWS ON AMAZON.COM
Miken has built its name in baseball as the go-to brand for the best-performing slowpitch softball bats. The DC 41 is no different. Get this latest version and you will experience increased power, more flex, and faster speeds.
 Key Features
Two-piece construction
14" Eflex 360 barrel
F4P handle
Swing weight: end-load
Certifications: NSA & ISA & USSSA (New 'NTS Tested' | 240 Compression Stamp)
A 14-inch barrel creates the larger sweet pot every hitter needs for exceptional plate coverage. Composite fiber amplifies this performance by maintaining the consistency with which balls come off the barrel.
Miken wanted this superior performance to be distributed at every point on the barrel so they created the E-flex 360 technology. Additional benefits include an increase in durability and flex.
This bat uses a special connector piece Miken calls F2P.  It's a connection technology that allows for maximum energy transfer from the F24  handle to the composite barrel.
Pros
Special composite fiber for consistent performance
One-ounce end load to enable you hit the ball farther
E-flex 360 technology ensures maximum performance from any point on the barrel
More energy transfer to the barrel for faster bat speeds
Special knob that provides extra comfort when you swing
Cons
It's a bit long and heavy so only a strong hitter will enjoy its full capabilities
This bat works straight out of the box. You can buy it today and tomorrow you could be enjoying exceptional bat speeds and hitting home runs. The end-loaded design and flex make it a favorite for power hitters.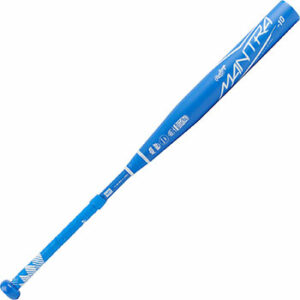 CLICK HERE FOR PRICING, PICTURES, AND REVIEWS ON AMAZON.COM
Rawlings mantra strikes the perfect balance between swing speed, pop, and the trampoline effect. It does the same with flex and stiffness. The best part is that it does all this without sacrificing any aspect of performance. How cool is that?
Key Features
Two-piece construction
Composite handle and barrel
Three-step barrel technology
Swing feel: balanced
Lightweight cap
Blast Motion sensor
Certifications: USSSA, USA, ISA, NSA,and WBSC
First things first, the innovative three-step barrel technology built into this bat works magic. The inner barrel design not only optimizes strength and performance but also distributes weight evenly across the barrel's length. This then leads to a good balance between swing speed and pop.
Rawlings has also thinned the outer barrel wall by 15 percent. It's a design that works like a charm. Players admit to an exceptional trampoline effect when making contact.
Another redesigned feature is the F2 collar assembly, which connects the handle to the barrel. This connector too is unbelievably effective. From optimizing feel and flex to dampening vibrations, it does it all.
Pros
The ultra-light end cap pairs with the balanced swing weight to create more bat control
The knob features a blast motion sensor that sends real-time data and analysis after every swing
Light and evenly balanced to improve bat speed
Great build quality that makes it durable
Comes in a wide range of sizes to suit specific player preferences
Cons
Needs some breaking in, although it's hot right out of the box
Rawlings Mantra comes loaded with features you would want to see in a modern fastpitch baseball bat. Also, it tries as much as possible to get every performance aspect right, from bat speed, flex, and feel to barrel control, trampoline effect, and durability. Any hitter could use this bat and it won't disappoint.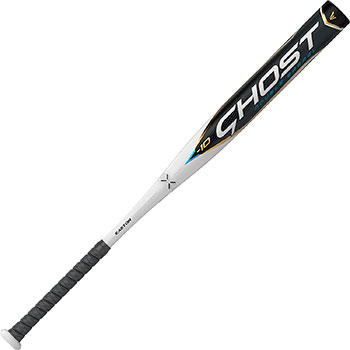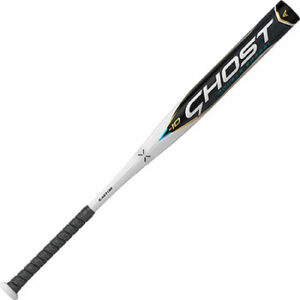 CLICK HERE FOR PRICING, PICTURES, AND REVIEWS ON AMAZON.COM
Easton Ghost is a legendary fastpitch baseball bat. This recent version carries on the legacy of its predecessor. Apart from being approved for all leagues in its category, it maintains the pop and power that characterizes its performance.
This bat is also one of the few that defy the rule that a composite bat can't be hot out of the wrapper; it comes game ready.
Key Features
Double-barrel construction
Sonic composite barrel
Ultra thin handle
Swing weight: end-load
New connection technology
Certification: ASA (USA), USSSA (fastpitch only), NSA, ISA, and ISF.
Easton's traditional double-barrel construction gives this bat unmatched pop and feel. As a hitter, you will experience a sensation and sound that will boost your courage and make you play with confidence.
Even if you play aggressively, this bat won't give in to the pressure because of the minimal barrel compression created by Easton's XTX technology.  Besides durability, this technology also minimizes vibration.
The ConneXion technology maximizes stiffness, which in turn allows for a seamless transfer of energy into the barrel. This translates to more pop and a solid feel on contact.
Pros
A double construction that creates more pop and an iconic sound
Massive sweet spot for consistent performance
A new connection technology creates the best feeling for a power hitter
Ultra-thin handle improves comfort at the plate
End-loaded design adds more power on contact
Broad range of configurations available to suit your playing style
Cons
Not the most durable, but if you use it properly, it will last multiple seasons
Easton Ghost is the versatile fastpitch softball bat you don't want to miss out on. The fact that it's designed to provide peak performance makes it an ideal option for any hitter who wants to stand out in their league.
Choosing Double-Wall Softball Bats
You might want to think about the following before you go shopping for a double-wall baseball bat. 
Weight And Grip
When you're facing fast pitches coming at you at over 60mph, you want a reliable bat that will connect and get your runners on bases and around the diamond.
You will also want a fastpitch bat that rarely misses, giving you all the singles, bunting, and slapping that your offensive strategy requires to win. More importantly, you will want to experience all this without leaving your hand limp from vibrations.
Well, the answer to this wish is a light bat that allows quick movements and a handle that will not slip. DeMarini 2022 CF Fastpitch Softball Bat is a perfect example.
On the other hand, if you are batting in a slow pitch game, you want a powerful double-wall bat that will provide a good pop and score you home run after home run. You will need a bat that has a heavier barrel and a comfortable grip.
An ideal option for that would be the Miken 2022 DC 41 Slowpitch Softball Bat.
Height And Weight
Apart from weight and grip, there are other factors to consider when picking the right bat for you. Your height and weight compared to the height and weight of the bat will determine how well and accurately you swing.
When testing out a new bat, you will make a better decision if you test when in your full kit. This will give you a better feel of the expected performance under game conditions.
League Certification
While the above list includes the best double-walled softball bats on the market today, you need to identify which ones are permitted in your particular league. Avoid using a fastpitch bat in a slowpitch game as this may result in denting.
Familiarize yourself with the new changes as well, just to be sure you have the right bat and are doing the correct thing with it.
At the same time.a slowpitch bat in a fastpitch game may negatively affect your performance if the weight inhibits your swing speeds.
Frequently Asked Questions
What is a double-walled bat?
Just as the name says, these are softball bats with an additional layer underneath the outer wall. It could be a double or have multiple walls.
Because of this design, such bats have a greater trampoline effect and tend to be heavier, a fact that makes them more suitable for power hitters.
What is the difference between single-wall and double-wall softball bats?
The major difference between these two types of bat is the construction process. Single-wall bats only have one layer of wall while double-wall bats feature an additional layer(s) beneath the outer wall.
Having more than one wall makes them pricier, a little bit heavier, and tough enough to withstand dents and cracks. But the bigger benefits from this design is increased trampoline effect, higher bat speed, and more pop.
A single-wall bat, on the other hand, is lighter with less trampoline effect. However, the construction process makes room for a bigger sweet spot, plus they are deemed safe by leagues with tighter standards.
Also, most single-wall bats are made out of aluminum, while their double-wall counterparts mostly use composite.
Are two-piece softball bats better?
The question of which is better between one-piece and two-piece bats depends on the kind of hitter you are.
One-piece bats are basically a solid piece and are preferred by power hitters. It's also a perfect option if you can swing your bat faster. Because of less flex, more energy is transferred into the barrel. However, poor contact with a one-piece bat will cause vibrations to your hand.
Two-piece bats, on the other hand, are best suited for contact hitters or those with low swing speed. Unlike one-piece bats, they have more flex that makes them feel soft and comfortable on contact.
What are the two types of softball bats?
Softball bats can be categorized in many ways. Already, we have looked at single- and double-wall bats. The other category is slowpitch and fastpitch baseball bats. Two aspects differentiate these two: weight and performance.
Slowpitch baseball bats tend to be heavier and more often have an end-loaded design. As a result, they are mostly used by adult athletes.
Fastpitch softball bats, on the other hand, are lighter and characterized by a balanced swing weight. Target users include younger athletes, especially females.
Pitch speed is also different between the two. Slowpitch bats have been capped at around 25 mph, while fastpitch bats can go beyond 70mph. This variance informs their design. With slowpitch, power is expected to come from the hitter, while the latter relies on pitch speed to generate more power.
Double-Wall Softball Bats In Brief
My guess is that, by now, you already know almost everything there is to know about bats  with double walls. Choosing an option that serves you best should therefore be a breeze.
If you are still spoiled for choice, DeMarini 2022 CF Fastpitch Softball Bat would be a great option to start with, especially if you're a contact hitter. This bat takes into consideration every aspect of performance without sacrificing anything. It's also durable and just as great, if not better, than its predecessor.
But in case you find it unsuitable, the rest of the bats above have you covered. Just establish what you really want and then narrow down to the bat that ticks all the boxes.