The gap between failure and success in the batter's box often comes down to swing mechanics. You are therefore right to ask, "what size baseball bat do I need?" Bat size is part of the foundation for an explosive swing that could yield a base hit or even send the ball into the outfield.
Ideally, you should aim for a bat that covers the strike zone radius, swings easily, generates enough power, and is acceptable in your league. To tick all these boxes, a bat should have the right length, weight, drop weight, and league certification.
I'll talk about each of these elements in detail and even share charts to help you get the ideal size. As a rookie, some terms may look totally foreign to you, so to get you started on the right foot I'll review a bat's anatomy.
A Bat's Anatomy
The diagram below breaks down the components of a standard bat well for your understanding.

This is what a well-constructed bat is supposed to look like. It's split into five regions: the endcap, barrel, taper, handle, and knob. Each has a special role to play in a bat's performance, as you are about to find out.
Now that you know the basics of a bat's structure, let's find out how to choose the right baseball bat size.
Factors To Consider When Choosing The Ideal Baseball Bat Size
1. Length
When you are determining how long a baseball bat is, it's important to know that baseball bat length is the distance between the knob and the end cap. It's often measured in inches and could be as short as 24 inches or as long as 34 inches.
Longer bats may seem great because they offer better plate coverage, but let's not forget that a longer bat will be heavier. It feels good to know you can hit pitches outside the plate but this should not come at the cost of swing speed and accuracy. At the same time, a bat shouldn't be too short because this will limit your plate coverage.
Test with different lengths and only settle for an option that strikes the perfect balance between plate coverage, swing speed, and swing accuracy.
It would also be great if you knew how to measure yourself for a bat. It's simple really. Here's how to go about it.
How To Measure Baseball Bat Size For Senior Players
Step 1: Put the knob in the middle of your chest and hold it there with one hand. Outstretch the other hand and make the bat lie parallel to it. If you can grab the end cap with your outstretched arm, then you have a good fit.
Step 2: Place the knob in the middle of your chest but this time round, make it face forward. If you can comfortably grab the barrel with your arm, then the bat has passed the second test.
Step 3: Lastly, while still standing, hold the bat upright alongside your leg. Can the center of your palm reach the knob? If yes, you have a bat of proper length.
The size chart below provides guidance on what length may be appropriate for you or your little one without completing these tests.
Speaking of younger players, this might be the right time to talk about how to measure bats for kids.
How To Measure Baseball Bat Size For Younger Players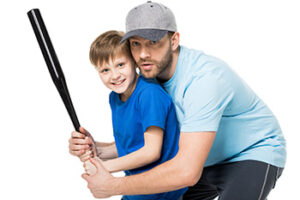 Get your child the right equipment and you will immediately see the difference it makes in their efforts to become great at batting. Start by getting their weight and height; you should only need a tape measure and weight scale.
If your child's height falls between 3 feet and 3 feet 4 inches while their weight is under 60 pounds, a 26-inch bat would be the ideal size for them to start with.
You can also position the bat next to them while they are standing. A good size should reach just below their hip.
As they grow, get them longer bats. The rule of thumb is to add an extra inch to their bat for every 4-5 inches of height they gain.
Here's a baseball bat size chart that simplifies everything for you, including bat length by height dynamics.
2. Weight & Swing Weight 
This is a factor you will not see but can feel when you take a couple of swings. An ideal bat should neither be too heavy nor too light.
Hold the bat by its handle and stretch out your arm to the side. If you find it difficult to hold the bat in this position for at least 30 seconds, consider a lighter bat.
Speaking of heaviness, bat manufacturers distribute weight differently along the length of the baseball bat. The correct term for this is swing weight. You will come across terms such as end-loaded and balanced, both of which denote different weight distributions.
End-loaded bats carry a higher concentration of weight in the barrel while balanced bats distribute weight evenly along the bat's length. A heavier-barrelled bat would be a great choice if you are a power hitter, while contact hitters are safer with a balanced bat since it allows for greater swing speeds.
3. Drop Weight
Drop weight is another metric you can use to tell whether a bat's weight is right for you. Subtract the bat's weight from its length to get its drop weight. For example, a 20-ounce bat measuring 30 inches will have a drop weight of -10.
Common drop weights include -3, -5, -8, -10, -19,-10, and -12. The general rule of thumb you should never forget is that the less the drop weight, the heavier the bat, and vice versa. In other words, a -3 bat will be much heavier than a -12 bat.
As you think about how to choose the right baseball bat size, experiment with different weights, keeping in mind both the swing weight and drop weight.
Some leagues also specify the drop weights their players should use. This leads us to the next consideration.
4. League Certifications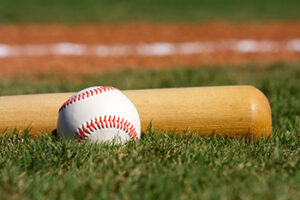 Baseball governing bodies like the NCAA, USA and USSSA have set specific bat performance standards that manufacturers have to comply with. Bats that have their approval will always have a logo as proof of certification.
As a player, you have to familiarize yourself with the performance standards of your league. These rules do change often, so I suggest you talk to your coach or league officials each year to find out the most recent updates.
ASA, for instance, made a huge change to its standards in 2018. It would therefore be a bad idea to choose an ASA-approved bat made before the new change.
To get you started on league certifications, I'll mention a few of the key standards set for each league, particularly those that touch on size.
BBCOR (Batted Ball Coefficient Of Restitution)
BBCOR standards are reserved for college and high school baseball bats.
Wood baseball bats automatically meet BBCOR rules which is why they don't bear any certification. Non-wooden bats, however, need to be certified. Check the knob for a blue stamp or where the barrel meets the handle for a logo showing proof of certification
Players between the ages of 14 and 18 would find BBCOR bats more suitable because they are designed for their needs. Before a bat is certified for BBCOR play, it has to meet the following standards:
A drop weight of not more than -3
A barrel diameter not exceeding 2 ⅝"
Please note that not all BBCOR bats perform the same way. Most of them range between 31 inches to 34 inches in length, and swing weight also varies from model to model. You will therefore still have to consider these factors before getting one.
You could use the chart below to narrow down your choices:
USSSA (United States Sports Specialty Association)
USSSA standards aren't generalized as is the case with BBCOR. They have different drop weights and barrel diameters for specific age groups. The reason for this is to introduce the younger players gradually into the major leagues using appropriate bats.
Bats that are legal for USSSA play will have the "USSSA 1.15 BPF" sticker. Barrel size starts from 2 1/4″ and goes up to 2 ¾". Players older than 7 years and under 14 years will most likely need a USSSA bat.
Here's a chart you could use to find the right size:
Initially, you could use USSSA bats for leagues that play under ASA rules, but that changed when ASA adopted new standards.
ASA (United States Baseball Federation)
ASA is the governing body in charge of amateur baseball. USABat, which is their certification standard, is given to youth baseball bats with wood-like performance.
New ASA rules were adopted in 2018. Under these new standards, tee ball bats are covered and have been recommended for players aged between 4 and 6 years. To be certified, a bat must be less than 26 inches and have an official ASA stamp.
Players aged 7 to 14 years can also use ASA baseball bats, provided they are legal for playing in their leagues. There are no restrictions on weight drops.
ASA bat guidelines for their events are as follows (with regard to size)
Not more than 32 inches long

Maximum barrel diameter of 2 ⅝ inches

Not more than 34 inches long

Maximum barrel diameter of 2 ⅝ inches

Not more than 34 inches long

Not more than 34 inches long

Not more than 34 inches long

Maximum barrel diameter of 2 ⅝ inches
Always consult your coach or the event organizer to find out if your ASA bat is legal for the specific event you wish to take part in.
While they share the same design as BBCOR bats, ASA bats are lighter and easier for younger players to swing.
Frequently Asked Questions 
What are short bats used for?
Shorter bats are mostly used for training, specifically for hitting infield. In terms of length, they measure between 18 inches and 28 inches. Trainers use them to help baseball players build on hand-eye coordination, refine their muscle memory, and make their hands stronger.
Does swinging a heavy bat increase bat speed?
A heavier bat will not automatically increase bat speed. In fact, the weight of your bat has very little to do with bat speed.
Instead, work on your swing mechanics. Specifically, embrace more workouts that increase bat speed and learn how to hold and swing a bat properly.
That said, if you are a stronger player it should be easier to swing a heavier bat and create the momentum needed for a higher batted ball velocity. The trick is to find a bat that doesn't feel too heavy and is of the right length and drop weight.
What drop weight should I get?
The lesser the drop weight, the heavier the bat, and vice versa. Younger players, particularly those under 10 years old, would be best served with bats that have a drop weight of about -10. Such a bat will be light enough to be swung with ease.
12-year old players should use bats with a drop weight of around -8. 13-year-old hitters need a bat with a drop weight of -5 while the much older players should use -3 drop-weight bats.
What Size Bat Do I Need? Final Word 
A lot clearly goes into finding the right bat size for your needs. If you are new to baseball, I would recommend you talk to a coach even as you familiarize yourself with the other aspects we have discussed.
If you feel confident enough to do this on your own, this guide has you covered. Baseball bat size is tied to many things, including length, weight, and drop weight. You have to strike a good balance between these three elements to become a great hitter. It's not easy but it's nothing you can't handle.
Age matters as well, especially in the junior leagues. At some point, you have to pair your preferences with the required length, weight, and drop weight for better batting outcomes.
Don't forget to learn as much as you can about league certifications. Familiarize yourself with the rules in your specific league so that you can walk into games with confidence. This will put you on the path to success at the batter's box.
You have our best wishes as you set out to find the right baseball bat size!