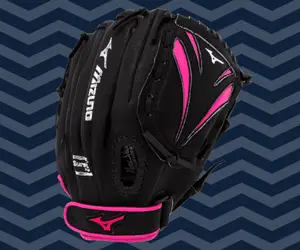 Before we start explaining about softball gloves and which are the best ones, if there's one thing you should know about softball is that the ball is not as soft as you would expect 🙂
After saying this, we can now move forward to the fact that softball, like any other sport, requires many gears in order to play it well.
And softball gloves are one of the important gears without which you would not be able to enjoy the game to the fullest. Without it, the great force at which the ball comes to your hand will be well felt. So, it is important for you to have picked up a great glove.
Franklin Sports Windmill Series Lightweight Softball Glove
The Franklin Sports Windmill sports glove is said to be one of the best when it comes to youth players.Franklin Sports Windmill Series Lightweight Softball Glove It helps them learn a great deal through its use
FEATURES
It fits everyone due to the custom fitting wrist closure
Usable for both left and right-handers
With so many options available in the market for you to purchase, it can sometimes get overwhelming to choose the gloves which suit you the most. There is a need for you to research first and find out whichever glove would work well for you.
So, in this article, we have done the research for you and have come up with five of the best softball glove which can help you enjoy the game better.
Best Softball Gloves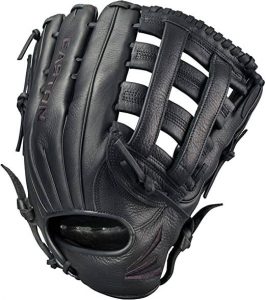 Great looks aren't everything – even so, you can't help but notice that this slowpitch softball glove has a sleeker, more stylish appearance than many of the rest!
Just like a beautiful sports car, a great-looking softball glove is worthless if it fails to perform as needed. Good news: This one delivers reliably, so fast-flying balls are no match.
For webbing, you've got choices: H-bar, Dual Bar H, or Trap webbing expands to take some of the sting out of the hardest hits, and all three options feature well-padded palms that offer a combination of grippiness and comfort.
Outside, the durable cowhide shell gets softer and more supple with every use. Real rawhide lacing adds to the glove's reliability and is easily replaced if needed.
Easily one of the best slowpitch softball gloves we've seen in a while, the Easton Blackstone comes in sizes 13, 13.5, and 14, in left and right hand orientations, and in a few different styles to suit your playing style.
Pros
Plenty of padding

Easy to break in 

Looks fantastic
Cons
No wrist strap for those that prefer them 
This item has earned Editors' Choice for its outstanding quality and performance.
Rawlings Liberty is one brand which delivers comfort, durability, and control in all their softball gloves.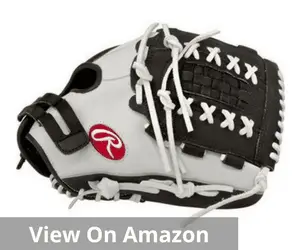 They have been churning out produced which is high performing without compromising on any other aspects of a good softball glove for Infielders. It is known for its sizes which suits perfectly for women and have primarily been the best brand providing softball gloves for women.
The durability comes from the full grain leather. It needs a minimal break in time as the company itself does 80% of the break-in before delivering it. It has all leather laces which enhances the durability. It comes primarily in a 12-inch model, but it also has a 12.5-inch model making it ideal for female infield player. The adjustable non-slip Liberty Advanced strap gives you the ability to customize the glove according to your needs.
The glove is available for left and right handed throwers. The Index Finger Pad, when combined with the Paron XRD Palm, delivers a great combination which absorbs most of the sting of the ball making it easier to handle a fast incoming ball. It comes in white and red colors.
Pros
Less break-in time as the company does 80% of it.
Durable full grain leather
Palm and Index finger pads protecting the hand from sting
Available for both left and right-handers
Cons
Not many colors to choose from
The white color glove gets dirty pretty easily
Mizuno has come up with a great product when they released GMVP1200SE4 MVP Prime SE gloves.
With a history dating back to 1906, Mizuno is one of the pioneers when it comes to softball glove manufacturing. They have had their fair share of amazing products, and the MVP series is one of them.
Its design ensures the break-in period to be minimal as the glove is centered to the index finger due to its natural design. It has exceptional feel and comfort due to the use of bio soft leather which has a perfect balance of softness and oil. The use of heel flex technology has delivered the product with exceptional performance and flexibility.
For a stable pinky and thumb, an ultra-slim palm liner is used. This model is available for left and right-hand throwers. The name Mizuno in itself is enough to ensure the quality and make of the product as they have never cut corners to make average products for a lower price. This glove is ideal for infield, outfield, and pitchers. At a reasonable price, you would not regret using this product.
Pros
Well rounded design for easy break-in
Ultra-slim palm for pinky and thumb
Bio-soft leather for performance and flexibility
Cons
The size of the glove might be a bit small
Might not be as comfortable as the previous models
Love Mizuno softball equipment? So do we – and the Premier slowpitch softball glove series is a great example of why so many players find it easy to get behind this company's products.
Awesome reputation is just the beginning. This softball glove has a full grain leather palm with plenty of padding for shock absorption, paired with a pigskin back that contributes a combination of durability and more budget-friendly pricing than some other options. The classic gold Mizuno graphics stand out, helping this glove look as great as it feels.
The series features sizes 12 through 14 in both left and right hand orientation, and there are two great webbing designs to choose from. A wrist strap adds security, so your glove stays on even when gameplay gets a little wilder.
Pros
Fairly soft right from the start, minimal break-in time

ity

Very comfortable with plenty of padding

Good value
Franklin sports glove is said to be one of the best when it comes to youth players.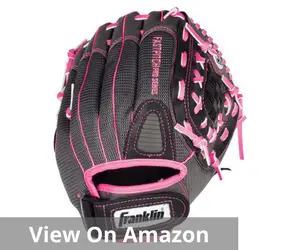 It helps them learn a great deal through its use. It is a great example of a glove which blends quality and durability. With the adjustable wrist closure, mesh design, and laminated palm you get the best in this package. It comes in two different color variants which are much loved by any user.
The glove is of the size of 11-inch which makes it ideal for players of the age of eight years or below. The glove is suitable for both left and right-hand throwers due to its unique design. Maximum protection and comfort are delivered by the glove through the soft PU lamination of the palm. Reasonably priced, it is also a great glove for all the positions without mattering whether the player is in the pitch, infield or an outfield.
The wrist closure makes the glove adjustable to any position to fit the wearer. This gives the ability got the glove to be used by multiple people without consideration of their palm size. It is available in two variants of pink/gray and lime/gray colors. Though there are only two variants, these colors are loved by most of its users.
Pros
It fits everyone due to the custom fitting wrist closure
It is ready to go right out of the box
Usable for both left and right-handers
It is flexible and offers optimum performance due to palm lamination
Cons
The material is not as durable in comparison with genuine leather
Not sufficient cushioning for professional players
Available only in two variants of colors
Buying Guide – Things to look out for in a Softball Glove
Buying a softball glove can be a tough task. You will have to take into account many aspects before the purchase. So here are the things you should keep in mind.
Webbing
There are different types of webbing available for softball glove depending on your comfort and the position you occupy in the field. From Basket web to I-web, Single Post web, modified trapeze web, Closed web and Dual post web, there are many options you can choose from. For example, looser stitch gives more control, so it is used mostly by pitchers to throw the ball effectively.
Padding
The amount of padding required for the glove depends on personal preference and also the position a person plays in. For the catcher's glove must have more padding as he/she will be catching the balls thrown by the pitcher. The padding of the player in the positions of first base and second base would also need more padding as the ball would come at them at great speeds. It has been a practice recently to have more padding for the glove for any position to enhance safety.
Pocket Size
The pocket size of the glove usually increases with their distance from the playing field. The outfielders have the deeper and wider pocket sizes as they would need it to catch the ball easily. The second baseman and shortstops have shallow pocket size as they need to get the ball out of the glove faster.
Material
Gloves are made of materials such as leather, grain leather, mesh and synthetic materials. The leather is the most preferred kind of glove due to its durability factor. Treated leather has a lower break-in period and professionals prefer it. Synthetic gloves are good for biggers who need inexpensive gloves. Mesh gloves are flexible and lightweight.
Wrist Adjustments
This is the feature which lets you adjust the glove to fit your palm perfectly. Having this feature will help the player put in and take off the glove with relative ease. D-ring fastener, buckle system, velcro, and laced are used to make wrist adjustment features.
Budget and Requirement
The main factor which affects your purchase of softball gloves is your budget and requirements. Can you shell out a good amount of the purchase? If yes, you should look at gloves which deliver a lot more features. Are you a professional in need of a specific kind of glove? If yes, you have to take a look at all the features offered by the specific glove. At the end of the day, the purchase is dependent on your requirements and the budget.
Conclusion
A good look at this article will not only let you know some of the aspects you have to take into account before the purchase of a softball glove but also introduce you to some of the best softball gloves. So take into account all these factors and make your purchase.
Other Popular Articles on BatsFinder.com:
Last update on 2023-09-28 / Affiliate links / Images from Amazon Product Advertising API