Youth baseball bats are also called Little League baseball bats and are usually used by players in the Little League games. Youth bats are easily recognizable by their distinct measurements and features. A typical youth baseball bat features a 2 ¼ inch barrel with a weight drop between -8 and -13.
According to Batcritic.com Every year, a wide range of youth baseball bats are made available in the market by leading baseball manufacturers. For parents looking to get their young ones a quality bat, this means finding the right bat can be a tough task. We make it easier for you by compiling a comprehensive list of best youth baseball bats' reviews. Once you through these reviews, you will be able to find a bat that suits your young one perfectly.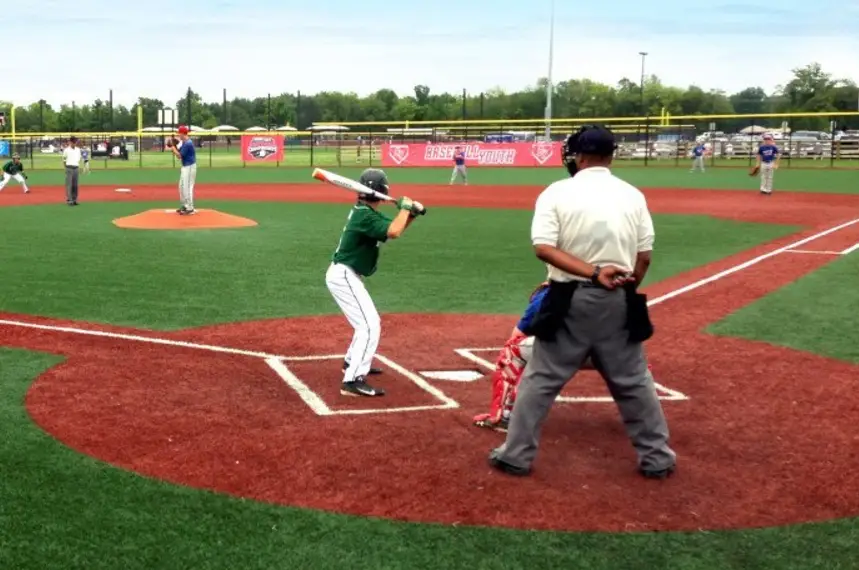 Top 10 Best Youth Baseball Bats
Note: These bats do come in multiple sizes. Just click "Check Price" for more sizes. If you need help visit our size chart.
A fantastic choice for kids who are still learning how to control their swing,
the Rawlings Raptor youth baseball bat features an ultra-light drop weight for faster speed.

This bat features Rawlings' X-Tended Sweetspot for better hits. The one-piece alloy design offers a responsive feel and a nice,
smooth swing, plus appealing graphics in your choice of electric blue and neon green or orange and black.
The Rawlings Raptor youth baseball bat is available in 27, 28, 29, and 30 inch configurations to fit players of different heights.
Age group: 10 and under
Weight drop: -10
Certification: All USA Baseball sanctioned leagues
Looking for a one-piece composite youth baseball bat? This one might just do the trick. While a few users have complained about premature cracking, Maxum has you covered with a one-year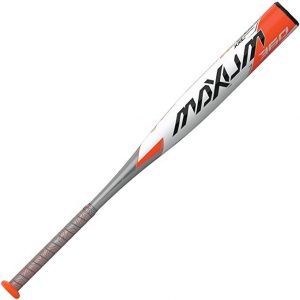 warranty.
This bat is designed to deliver powerful hits that send baseballs flying – perhaps all the way over the fence! The seamless 1-piece carbon construction offers outstanding trampoline effect and the balanced swing weight allows for maximum speed.
Easton Maxum youth baseball bats have a great reputation – and it isn't just because they're engineered for lightweight performance. Part of the reason these bats are so popular is that the sweet spot is massive.
These bats are available with a -10 or -12 drop, in configurations between 27" / 17 ounces and 31" / 19 ounces, accommodating a wide variety of budding batters. A custom Lizard Skins bat grip adds comfortable cushioning and just the right amount of tack, and brilliant graphics help your player stand out on the field.
Age group: 12 and under
Weight drop: -10 and -12
Certification: All USSA Baseball sanctioned leagues
Easton's MAKO line-up features the top-performing bats from the company. The MAKO youth baseball bat is part of the line-up and is one of the best youth bats available today.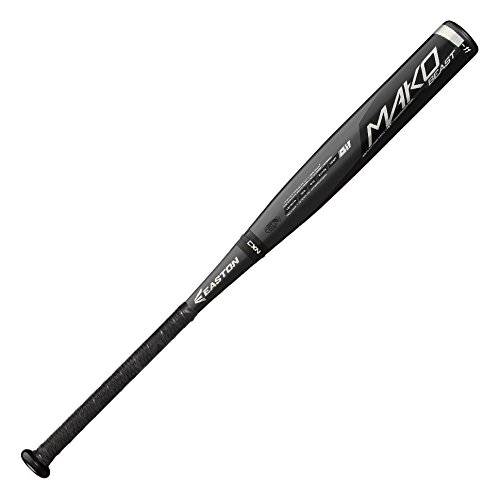 The MAKO composite youth baseball bat is constructed entirely from composite materials. The bat features Easton's exclusive TCT Thermo Composite Technology. The technology involves using a special composite material in the construction of the bat which allows for an incredibly lightweight profile, a large sweet spot, and a perfectly smooth swing. The light-weight profile enables players to achieve extraordinary hitting speeds on the plate. And the sizable sweet spot ensures that the player is able to hit the baseball with just the right part of the barrel.
The two-piece design of this bat utilizes Easton's ConneXion technology. This technology establishes joins the barrel to the handle in such a way that the maximum swing force is channeled to the barrel while the feedback vibrations are minimal. The handle is further topped with a hyperskin grip which allows the players to grip it comfortably and firmly during swinging.
The bat has a weight drop of -11 and features a perfectly sized taper which allows for a smooth swing. It is approved for use in all major youth leagues.
The DeMarini 2016 NVS Vexxum baseball bat is constructed using both alloy and composite materials. As a result, the bat offers the dual advantages of both materials and yet, comes with a very affordable price tag.

DeMarini has constructed the Vexxum bat using a two-piece design. The barrel of the bat is made from premium-grade alloy barrel and features a 2 ¼" width. This has resulted in a significantly light-weight barrel that offers great swing speed and is a solid hitter. The Vexxum barrel also packs a sizable sweet spot, allowing players to deliver powerful hits on the plate.
The handle of the bat has been constructed using C6 composite material. The alloy barrel and the composite handle are seamlessly put together to make Vexxum an incredibly well-balanced bat. This means players can easily control the swing angle and achieve great swing speeds when wielding this bat. DeMarini claims this to be the lightest aluminum bat in the youth baseball category and that may well be the case.
The bat is approved for use in all major youth leagues including Babe Ruth, Dixie, Pony, Little League and AABC. DeMarini offers a 1-year warranty on the bat, so you can rest assured that you are getting a truly durable bat when you get Vexxum.
The Easton XL3 is an aluminum youth baseball bat that has specifically been designed to offer a good balance of great swing speed and solid hitting force. The bat has been constructed using HMX Hyperlite Matrix alloy. Thanks to this specific type of alloy, Easton has been able to
significantly extend the barrel length of the bat, offering a large enough sweet spot for easy and effective hitting.
The barrel features a 2 ¼ inch diameter and a weight drop of -11. The incredibly lightweight profile of the bat allows players to achieve exceptional swing speeds with this bat. To complement the great swing speed of the bat is the sturdy one-piece design of the bat. This design ensures that the hitting force a player channels into the bat is fully concentrated at the barrel. As a result, young players are able to achieve great distance in hits when using this bat.
The handle of the bat features an Ultra-thin 29/32" profile which has been topped with a 1.2mm HYPERSKIN grip. The thin handle allows for an easy swing while the additional grip provides the players with a solid grasp during swinging. The bat is approved for use in all major youth leagues including Pony, Dixie, Babe Ruth, Little League, AABC and USSSA.
Versatile, effective, USA Bat standard, and certified for play in many of the most popular youth baseball leagues, the Louisville Slugger Solo also happens to offer moderate pricing and plenty of power.
This bat is made with SL Hyper alloy for maximum energy transfer and a stiff, solid feel. It's a one-piece design, so there's no risk
of breaking at the point where the handle and barrel connect. Speaking of the barrel, it's 2 ½ inches in diameter,
with a speed ballistic composite end cap for faster swings and better control.
The handle is fitted with LS Pro Comfort Grip, which provides just the right amount of cushioning to ease the sting of solid hits, and plenty of tack for a confident feel.
Louisville Slugger Solo youth baseball bats come in 28" / 15 oz, 19" / 16 oz, and 30" /17 oz configurations to fit a variety of heights and playing abilities. A 1-year warranty inspires confidence in the manufacturer.
Age group: 6-8
Weight drop: -13
Certification: Approved for play in Little League baseball, AABC, AAU, Babe Ruth / Cal Ripken baseball, Dixie Youth baseball and PONY baseball
Lightweight and comfortable, with a 2-1/4" barrel to suit players who are still learning their way around the batter's box, the Easton Typhoon features a single piece aluminum design with a concave end cap for faster swings.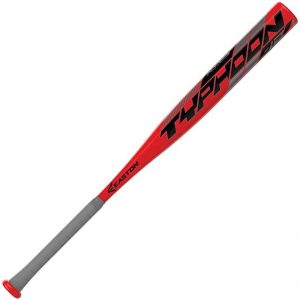 Made with lightweight but sturdy ALX100 Military Grade Alloy, this bat won't split like some composite models might; keep in mind, though, even the best aluminum youth baseball bats can be dented when players develop more power and start to hit balls harder!
Where some bats require you to add your own grip, this one is already fitted with a cushioned 2.2 millimeter FLEX grip for added comfort. Brilliant graphics add visual appeal, making this bat one that your player will be proud to carry onto the field.
Multiple sizes are available to accommodate kids of different heights – choose from 27" / 15 oz, 28" / 16 oz, 29" / 17 oz, 30" / 18 oz, 31" / 19 oz, and 32" / 20 oz.
Age group: 6-13, depending on height
Weight drop: -12
Certification: USA Baseball
The Louisville Slugger YBCT152 Catalyst is a youth baseball bat. Unlike many other composite-made youth bats from the company, that one comes with an incredibly affordable price tag.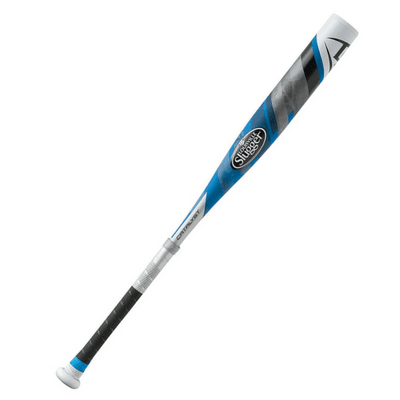 Louisville has used its special C1C composite material in the construction of the Catalyst. This means that the bat is entirely made from composite material and offers all the superior advantages that come with such a construction. The bat features a single-piece design, making it a perfectly smooth bat which offers an excellent swing and a sizable sweet spot. The extra-large sweet spot ensures that the young players are able to hit the incoming baseball easily when swinging this bat.
The barrel of the bat offers a solid degree of trampoline effect which means that with the same swing speed, players are able to hit harder and farther. To top it, the light-weight profile of the bat enables incredibly fast swing speeds.
The Catalyst features a 2 ¼ inch barrel and the handle has a slim 7/8" profile. The slim handle enables players to swing the bat without any discomfort and to maintain a steady grip when hitting on the plate. The bat is available in length ranging from 30 inches to 32 inches with corresponding weight options of 18 ounces, 18 ounces, and 20 ounces. It has a weight drop of -12 and is approved for use in all major youth leagues.
Combat baseball bats are known for the quality, durability, and performance. The company has a vast and varied line-up of youth baseball bats and Maxum is one of the best among these.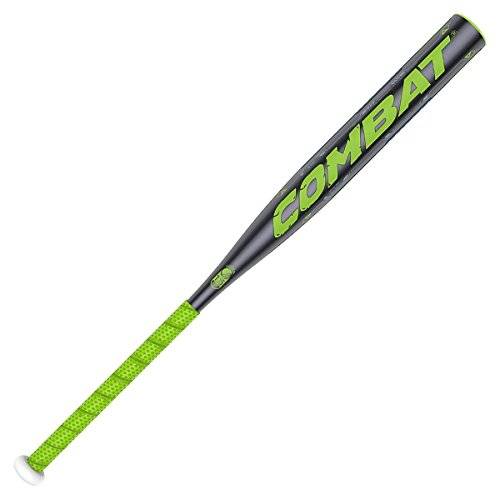 The Maxum bat is constructed entirely from composite material and features a one-piece design. Combat has used its Precision Molding Technology in creating this bat. This technology injects highly durable resin directly into the carbon sleeves within the bat, instead of creating multiple layers which result in seams and weak points. The end result is a bat that is ultra-light weight and at the same time, incredibly durable.
Maxum also features a huge sweet spot and is approved for use in all major youth leagues. Combat is offered a 15-month warranty on this bat. So you can rest assured that once you get a Maxum, it is going to last you a long while.
Another great bat from Easton, the Beast Speed -10 is easily one of the best youth baseball bats released in recent years. Like quite a few others that have made their way onto our list, this model features a durable one-piece aluminum design.
You'll want to be careful about using this bat (and other aluminum models) with the hard plastic balls used in batting cages as they can cause dents that wouldn't normally occur under average playing conditions. For live practice and games though, this bat is a winner.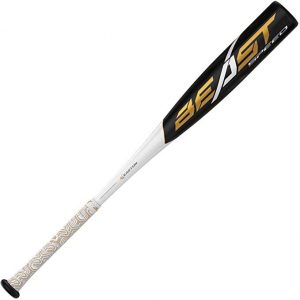 The ATAC alloy (that stands for Advanced Thermal Alloy Construction) combines light weight with outstanding strength, leading Easton to claim that this bat has the strongest aluminum barrel in the business. The SPEED end cap adds responsiveness and contributes to the fantastic pop you'll hear as the bat comes into contact with the ball.
An attractive black, white, and gold graphics design gives this youth baseball bat plenty of visual appeal, and custom Lizard Skins bat grip lends a great feel, with all the tack and cushion you've come to expect from the brand. All around excellence makes this bat a winner.
Kids of different heights will appreciate the many size options available. Choose from 27" / 17 oz, 28" / 18 oz, 29" / 19 oz, 30" / 20 oz, 31" / 21 oz, and 32" / 22 oz.
Age group: 6-13, depending on height
Weight drop: -10
Certification: USA Baseball
Durability and speed come together in the Easton Rival youth baseball bat. Made with lightweight ALX50 aircraft grade alloy for superior quality, it's backed by a one year warranty.
This one-piece aluminum bat has a 2 ¼" barrel with a concave end cap that helps improve swing speed. A 2.2 mm FLEX grip has been applied to the handle, so there's less sting to cause hesitation, even with good, solid hits.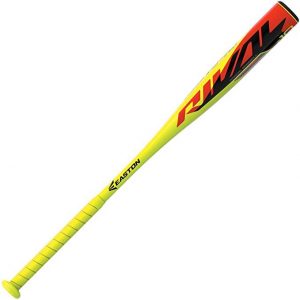 Bold graphics and brilliant yellow coloring make this bat a standout on the field. Multiple configurations and a speedy -10 drop weight make it a highly accessible choice for youth players in different age categories.
Choose from: 26" / 16 oz, 27" / 17 oz, 28" / 18 oz, 29" / 19 oz, 30" / 20 oz, 31" / 21 oz, and 32" / 22 oz.
Age group: 5-13, depending on height
Weight drop: -10
Certification: USA Baseball
We've already mentioned above how Easton's Mako line-up features some of the best youth bats from the company. This is precisely why another Mako youth bat, the Mako Beast, has made to this list.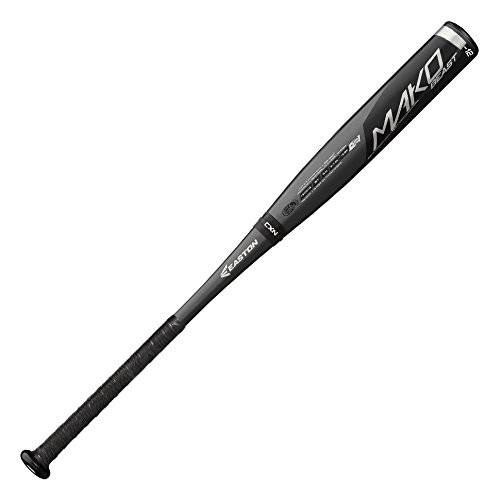 This bat comes constructed entirely from composite material. The barrel features Easton's trademark TCT Thermal Composite technology. The bat has a two-piece design overall and the handle of the bat is paired with the barrel using the Mako ConneXion technology. CXN technology ensures that the flow of power from the handle to the barrel is one-way. So the bat channels the maximum force of your swing momentum towards the barrel while stopping any negative feedback from reaching the handle.
To make Mako Beast even more comfortable during hitting, Easton has topped the handle with a 1.2mm Hyperskin grip which also gives a grip advantage to the players using this bat. The bat has a weight drop of -12 and is approved for use in major youth leagues.
Portent is another excellent youth bat from Combat. Combat has constructed this bat using its trademark Precision Molding Technology. This technology utilizes premium-grade composite material which is injected into the carbon sleeves of the bat.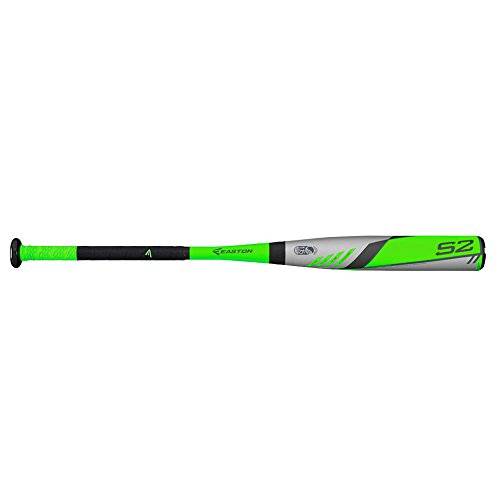 As a result, the barrel is more solid and without any seams, offering superior durability and performance.
The bat has a one-piece, completely composite design. The stiff feel is ideal for power hitters who rely on their hitting prowess to hit farther. The single-wall construction also gives the bat a more light-weight profile, allowing players to achieve great speeds when wielding it. The bat has a weight drop of -12 and comes with an Ultra-Premium Lizard Skins grip for stable and comfortable swinging on the plate. It is approved for use in all major youth leagues.
The Louisville Slugger Omaha 516 bat is another youth baseball bat from the iconic company. Louisville has constructed this bat for power hitters who want a stiff bat. The Omaha 516 has been constructed entirely from 7U1 alloy material and features a single-piece design.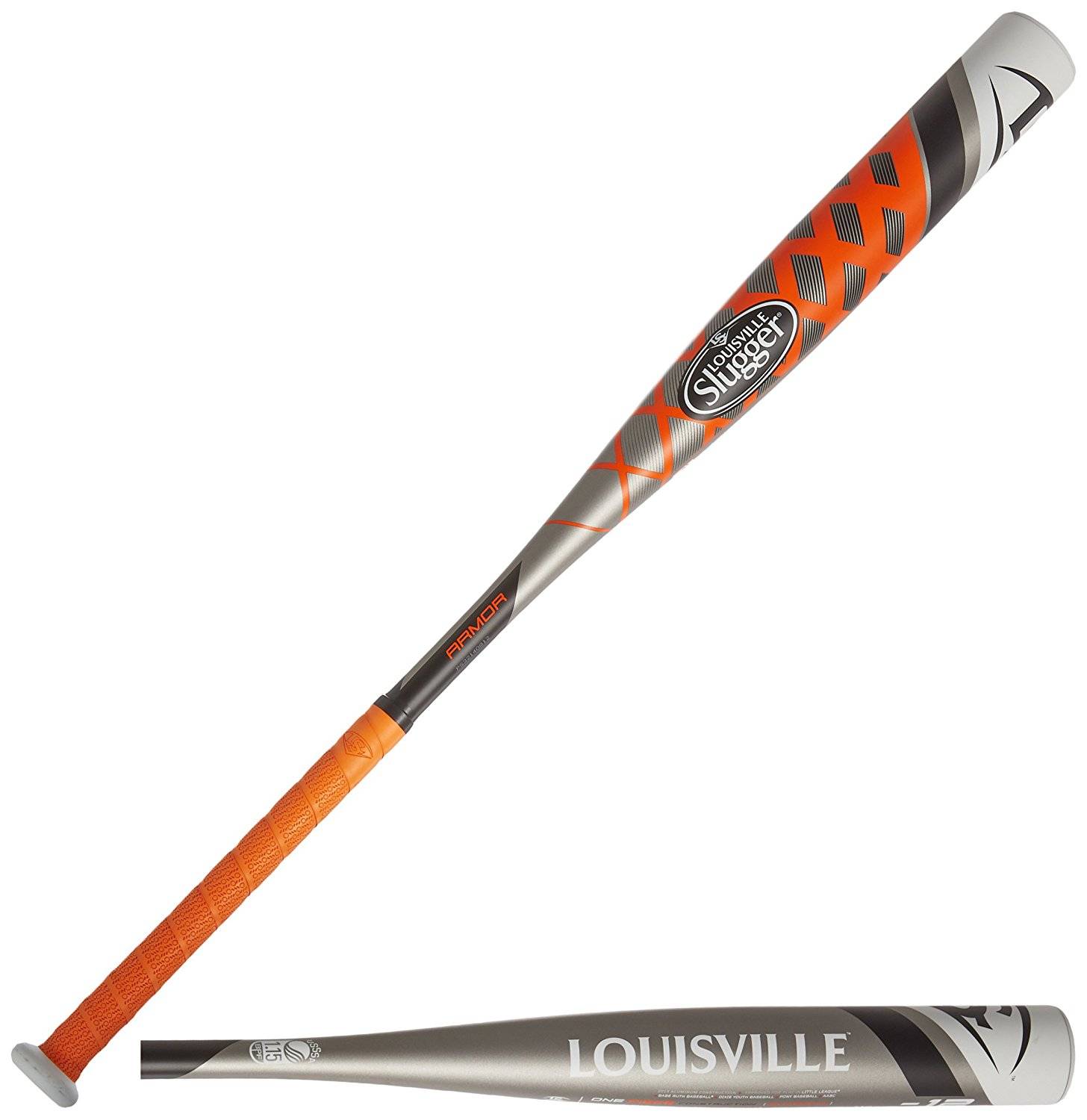 This enables the bat to offer a sizable sweet spot as well as a solid amount of barrel flex, allowing players to hit farther with the same amount of hitting force. The bat also has a very balanced feel all over, so players wielding it can gain great control over the swing momentum and angle of the bat.
The handle of the Omaha 516 bat features a slim 7/8" tapered profile. As a result, players are able to wield the bat comfortably when on the field. Featuring a weight drop of -13, this bat is approved for use in all major youth leagues.
Marucci knows how to create high-performing wooden youth bats with stunning looks. The CU26 Youth Pro is no different. With an incredibly sleek and beautiful outlook, this bat offers all the advantages of a typical Marucci wood bat.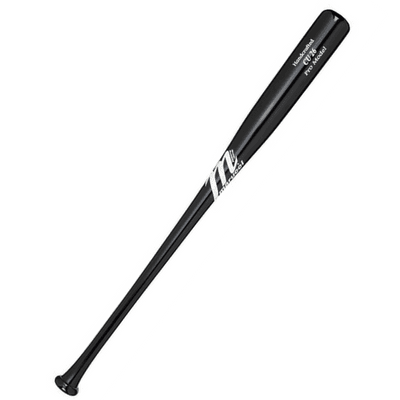 The CU26 bat is handcrafted using premium-grade maple wood and is bone rubbed to achieve maximum bone density. The greater the bone density, the harder is the bat and better is its performance. The overall construction of the bat is so that it features an incredibly light-weight profile and a very slim handle. So players are able to achieve exceptionally great swing speeds when using the bat.
The CU26 bat is perfect for players who have an experience using wood bats. It offers good durability and the price tag is certainly one of the attractive aspects of CU26.
Tips for Choosing the Best Youth Baseball Bat
While there's no such thing as a one-size-fits all baseball bat, and while it's true that the best bat for one child might not be ideal for their friend or sibling, there are definitely some features you can look for when deciding which bat is best for your youth baseball player. Let's take a look.
Consider the brand. Once you dig into our reviews, you'll notice that a few brands get top billing. We aren't being paid to promote these brands – instead, we're focusing on brands that offer consistent quality. Sure, there are lots of brands to choose from but a comparatively small number of them offer a combination of manufacturing know-how and a reputation for delivering bats that help players perform well.
Brands like DeMarini, Louisville Slugger, Rawlings, Easton, Miken, Wilson, and Marucci consistently top the list when it comes to performance, safety, and compliance with youth baseball league rules.
Make sure it's suitable for your child's league. A fantastic bat will get your player nowhere if it isn't approved for the league they play in. If you're thinking about buying a bat but you don't see any certification information, you'll want to do a little more research or choose a different option.
Know what to expect from different materials. Without getting too deep into the difference between aluminum / alloy baseball bats, wooden bats, and composite bats, it's worth noting that all of them can be reliable options, but all have some pros and cons attached.
Aluminum / alloy – Lightweight, reliable, and often more affordable than wood or composite, metal bats are fun to play with. They provide plenty of pop and let's face it, they make a really satisfying sound! The main drawback is that metal bats are pretty easy to dent, so they aren't ideal for power hitters.
Wood – Wood bats used to be the gold standard and if you can get your hands on a really good one, then it might work well, particularly for practice at home. The main drawback is that wood bats can crack and break. This isn't common in youth baseball but it's definitely worth considering.
Composite – Composite bats tend to have helpful features built in, and if they're allowed in your child's youth baseball league, you might consider picking one up. While they last, these bats tend to offer superior performance. But there are definite drawbacks: Composite bats usually cost more than others, they can crack or split, and two-piece designs sometimes come apart at the intersection between the handle and barrel. If you choose a composite bat, take a look at the warranty and consider whether the potential for enhanced performance is worth a higher price tag.
Popular Articles on this Site:
Last update on 2021-01-18 / Affiliate links / Images from Amazon Product Advertising API