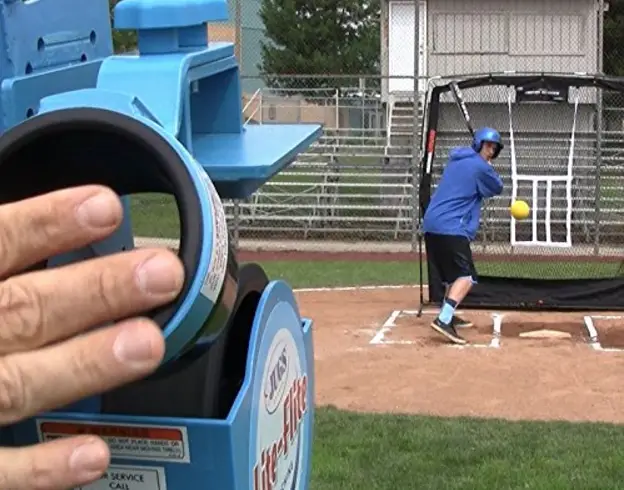 We all want to improve our game, whether that's baseball or softball. There are lots of great tips out there and one of the best on how to practice baseball alone is to get a pitching machine so that you can practice hitting on your own.
With a pitching machine, there's no need to partner up with a friend, coach, or parent: Instead, you can practice hitting anytime you have a few minutes to spare, so long as you have a decent amount of space. If you're truly committed to improving your hitting, then a pitching machine is among the best tools for the job!
If you've spent any time at all shopping for a pitching machine, you know that there are plenty of options available. Factors such as speed, number of balls, weight, portability, and of course price come into play when making your decision. Compounding the issue, there are quite a few pitching machines on the market including options from well-known manufacturers and relatively obscure companies.
With so many models to choose from, it can be tough to decide which is the best bang for your buck, whether you're shopping for yourself or your team. That's where we come in: We've done the legwork for you, shortlisting five of the best pitching machines on the market right now.
best pitching machines
that are sure to help you improve your performance. Below are brief reviews and a quick overview of their pros and cons. We hope these reviews will help you find the machine that best suits your needs, budget and other preferences.
Best Pitching Machines
Reviews of The Top 5 Pitching Machines
The Louisville Slugger Blue Flame Ultimate Pitching Machine or UPM 45 is one of the best pitching machines out there. It's ideal for players aged 6 and above, and it's a top option for any individual or team with a limited budget. Thanks to its simple design, versatility, and user-friendly features, this pitching machine is the official choice for Pony Baseball and Babe Ruth League practice sessions, and it's a popular option for many other leagues as well.
This simple pitching machine weighs in at just 25 pounds, which means that it's incredibly easy to move it around. Portability is a major plus! It can easily pitch baseballs, softballs and a wide range of other balls. You can set the speed range for hard balls to anywhere between 18 mph and 45 miles per hour, accommodating hitters with different challenge requirements. When throwing lighter-weight balls, such as softballs or plastic balls, the machine can throw at speeds all the way up to 60 miles per hour. Teachers, coaches, and parents who use the machine to train younger players can easily tweak the settings and adjust the machine's pitching speed as each player comes up to bat.
Adjustable speed is only the beginning. The UPM 45 pitching machine also features a setting that allows you (or your coach!) to determine what type of pitch should be thrown. The machine can throw level pitches, fly balls, grounders, and even perfect strikes. With such a wide range of pitches built right in, this machine is ideal for teaching younger players how to respond to the different pitches they're likely to encounter in real-life situations.
Batters aren't the only ones who will benefit from this pitching machine. Since it offers so many different settings, it's ideal for working on catching skills, improving performance on bases, in the infield, and even way out in the outfield!
While it's true that we're focusing on baseball and softball, you might enjoy playing other sports – and believe it or not, the Louisville Slugger Triple Flame pitching machine might be able to help! This pitching machine is compatible with soccer balls and volleyballs, so you can work on a variety of skills. It's very easy to set up in your own back yard or out on your team's playing field, so you'll find it simple to take advantage of no matter what the season. More than a few users put this pitching machine to work for their dogs, too – it throws further than the average person and can help you treat your pooch to some much-needed exercise.
There's more: Another stand-out feature of the UPM 45 pitching machine is that it needs absolutely no battery, electricity or any other power source to operate. The machine is completely manual, so you don't have to worry about running out of battery power, finding an outlet to use, or worrying about expensive maintenance. Speaking of expense, this pitching machine comes with a very affordable price tag, making it one of the most budget-friendly options out there.
Louisville Slugger has long been a brand which is reliable and offers top-quality softball and baseball gear. The UPM 45 pitching machine gives more than just a passing nod to the company's heritage and reputation. The machine offers a solid punch in terms of performance, is incredibly easy to use, comes with all the essential features and doesn't tax your pocket too much.
Pros
Works with a variety of different balls
Throws several different types of pitches
Easy to set up and store
No external power source needed
Extremely affordable
Very easy to use
Cons
Holds just one ball at a time
Manually operated; not for single-person use
Has quite a bit of torque; not recommended for young kids to use on their own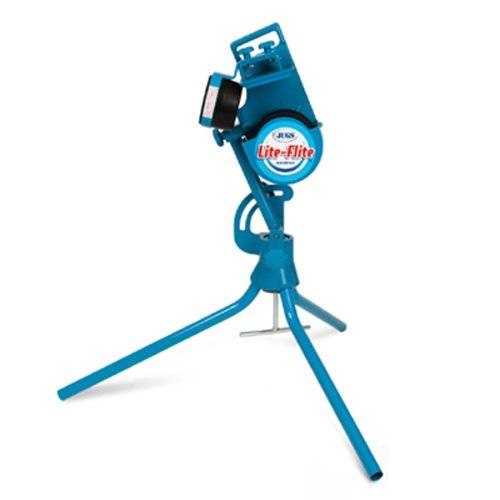 The JUGS Lite-Flite machine is another great pitching machine, particularly for players who are just learning how to hit the ball. The company behind this product, JUGS Sports, has long been known as a manufacturer of quality equipment for baseball and softball players, and there's no doubt about it: this commitment to quality is evident in this machine.
The Lite-Flite pitching machine is relatively light in weight at just 35 pounds, and it offers a decent amount of portability, too. As the product's name suggests, it can only be used to throw lightweight balls including JUGS Lite-Flite baseballs, JUGS Lite-Flite softballs, and JUGS Bulldog polyballs. Other balls – including regulation baseballs, softballs, and even tennis balls could damage the machine.
Before you scroll away, we'd like to let you know about the main benefit that comes with using lightweight balls for batting practice. Unlike heavy regulation balls that hurt when they hit you, these balls don't make much of an impact, even at high speed. Youngsters never develop a fear of being hit with the ball when this machine is used for practice sessions and as a result, they're far more confident when it's time to take their turn at bat.
The JUGS Lite-Flite pitching machine comes with variable speed settings up to 85 miles per hour. It's ideal for anyone who wants to hone their batting skills and become accustomed to hitting incoming balls at different speeds. The pitching speed is easy to adjust, so you can work on timing with multiple players without lengthy interruptions.
When it comes to pitching types, this machine is truly a winner. It can easily pitch curveballs, sliders, and fastballs as well as regular pitches. You can even choose right-handed or left-handed pitching on the machine. It's a fantastic option as it preps batters for successfully hitting balls thrown by left-handed pitchers as well as right-handed opponents.
The Lite-Flite pitching machine can also simulate ground balls, pop-ups, and fly balls. This makes the Lite-Flite machine a great option for working on catching skills as well as batting skills – it's always good to work on defense! The machine's design also allows for exact customization of baseball and softball pitches. Simply tweak the Switch-and-Play knob to choose baseball or softball pitching mode.
While the JUGS Lite-Flite pitching machine holds just one ball at a time, there is an optional automatic feeder attachment that holds multiple balls (sold separately). Single ball pitches are ideal for teaching young players how to watch a pitcher at work and time their batting, however adding the multi-ball feeder attachment is a great option for those who are looking for a higher level of convenience.
The takeaway: Although it's more expensive than the UPM 45 machine above, the Lite-Flite machine offers outstanding performance and design, and it's among the best options on the market. Whether you're an individual player, a parent, or a coach, you'll find that this pitching machine is an asset.
Pros
Great for kids and adults alike
Very easy to operate
Portable, lightweight design
Multiple speeds and throw types
Pitches at speeds up to 85 miles per hour
Great for developing confidence; balls don't hurt if batters are hit
Multi-ball automatic feeder attachment is available as an add-on if desired
Cons
Doesn't work with regulation baseballs and softballs
Requires electricity to work
Looking for heavy-duty construction and outstanding durability? Not concerned about throwing softballs? If so, the Heater Sports Baseball pitching machine delivers! Heater has a solid reputation, so it's not at all surprising that this model is among the best pitching machines on the market right now.
Where some pitching machines work only with special lightweight balls, this one pitches real regulation baseballs at speeds up to 52 miles per hour. There's a ten speed controller that allows you to adjust pitching speed from a slow 10 miles per hour all the way up to maximum speed, which increases to a whopping 80 miles per hour when you're using Heater Sports Lite baseballs. It's worth noting that if you use Lite balls, the slowest speed available is 20 miles per hour.
This pitching machine comes complete with a 12-ball feeder for added convenience. When attached, it delivers pitches at a rate of one ball every eight seconds. For coaches and parents who prefer to hand-feed, it's easy to remove the feeder and drop balls into the pitching machine at the preferred pace.
While this pitching machine is portable, it takes a little longer to set up than some other models – about five minutes. In addition, it is electric, so you'll need a nearby outlet, an extension cord, a portable power pack, or a generator.
Like other models that made their way onto our list of the best pitching machines, this one is great for fielding practice as well as batting. You can easily adjust the pitch to deliver pop-ups, grounders, and line drives, prepping players for a variety of situations they're likely to encounter during live games and practice sessions.
Pros
Durable all-metal design
Comes with a 12-ball feeder for added convenience
Works with regulation baseballs as well as Lite balls
Suitable for fielding practice and batting
Great for all ages
Cons
Doesn't throw curve balls
Is not compatible with softballs
Requires a power supply
The Zooka ZS740 is a first-of-its-kind pitching machine that comes with sophisticated digital controls and battery power. In a market saturated mostly with manual machines or machines with old-fashioned controls, the ZS740 is a very smart choice and very well-suited for those who are looking for a more modern take on pitching machines.
The ZS740 machine can throw pitches at speeds ranging from 10 mph to 65 mph. The digital controls on the machine allow you to easily tweak the speed settings and set the exact pitching speed that you need for the practice session. The same digital controls also allow you to tweak the height of the pitch, which means that apart from throwing level pitches, the machine can also throw grounders and fly-balls. As a result, you can also use this machine to help fielders work on defense skills.
Another stand-out feature of ZS740 is that it operates all features and functions on a rechargeable battery. This affords the machine a kind of portability that other non-manual machines just don't have! Simply charge up the battery, and once it's full, you can take the machine anywhere for a practice session. Once charged fully, the battery enables the machine to deliver up to 500 pitches – more than enough to get your whole team through a 2-hour practice session!
The overall design of the ZS740 makes it a truly modern machine. Not only does it offer a sleek, contemporary appearance, all moving parts are fully enclosed so it's safer than some other options. This pitching machine is easily among the best for parents and coaches who are wary of pitching machines with dangling chords, exposed parts, and other hazards. The machine also comes with a panning tripod, allowing you to rotate it 360 degrees in real-time.
Like quite a few others, this pitching machine is easy to set up and tear down; it takes just about a minute to assemble and adjust as desired. In addition, it works with a variety of balls including real regulation baseballs, lite balls, and even tennis balls to increase younger players' confidence without concerns over the sting of being hit with a fast-flying hardball.
It's worth noting that the ZS740 has a slightly steep price tag when compared to some other products that made their way into our pitching machine reviews. However, it is perfect for use as a team practice machine or even a home batting cage setup. In fact, given its portability, durability and sheer versatility, we can safely say that this is absolutely one of the best pitching machines for a variety of situations.
Pros
No exposed moving parts; excellent safety
Long-lasting rechargeable battery
Delivers approximately 500 pitches per charge – averages over 2 hours constant use
Adjustable speed from 10-70 mph
Compatible with real baseballs, safety balls, dimple balls, and tennis balls
Digital speed readout
Cons
More expensive than some other options
Charger won't operate the machine if battery runs out
What to Consider when Shopping for a Pitching Machine
The right pitching machine will help you deliver the best possible performance once you've spent some time practicing and you're ready to play against live opponents. Here are a few important things to consider when choosing the best pitching machine for your backyard batting cage or your team.
Ball type: Check carefully, because certain pitching machines aren't compatible with regulation baseballs and/or regulation softballs. Every ball type has its advantages, so weigh up the pros and cons when deciding which balls you'd like to hit.
Power source: Will you have access to electricity at your practice site? In many cases the answer is yes, but battery powered options and manual pitching machines have their advantages! In case you're thinking about using a generator to run the pitching machine, remember that noise might interfere with your ability to communicate with your teammates or players.
Multi-ball feeder: If there's a feeder, does it come off or allow you to choose a single pitch option? We've only included options with removable ball feeders on our list of the best pitching machines, as we feel it's important to have flexibility.
Speed: Brand-new players need slow pitches to work on technique, while more advanced players appreciate faster pitches that provide a challenge. Check the speed rating and range to ensure that your new pitching machine is the best match for your needs.
Adjustability and Pitch Type: All of the best pitching machines offer some level of adjustability, but not all are as versatile as others. We've included all of the top-rated options here but each model has its limits. You'll want to ensure that you're happy with the options offered before making a final decision!
Frequently Asked Questions
What is a pitching machine and how does it work?
A pitching machine simulates a live pitcher throwing a baseball or softball to a batter. Pitching machines are operated via different mechanisms including wheels, springs, or compressed air using manual power, electricity, or battery power. Balls are loaded into the pitching machine and when the batter is ready, the machine is activated. Many of the best pitching machines on the market offer the option of pitching just a single ball or being loaded with several balls for fast-paced batting or defense practice.
Can I use a pitching machine at home?
Absolutely! Many of the best pitching machines are well-suited to use in your backyard. We recommend setting up a batting cage for safety, and you might want to consider using lite balls as added "insurance" against broken windows, dented cars, and bruises.
What are the benefits of a pitching machine for my baseball team?
If you're a coach or a sponsor and you're weighing the pros and cons of adding a pitching machine to your team's bag of tricks, we're here to confirm what you might already know: The pros definitely outweigh the cons!
Pitching machines free up little league coaches and save your pitcher's arm. Batting practice goes faster and more smoothly when you use a pitching machine at least part of the time.
Pitching machines can help with defense, too. You can deliver groundballs, pop ups, fly balls, and long line drives with the help of a pitching machine, so your fielders gain skill and confidence that helps them excel when faced with opposing teams.
Some pitching machines can deliver different types of pitches that your pitchers and/or coaches might not be the best at. Exposure to different types of pitches helps develop well-rounded batters who are ready for anything.
Additional Pitching Machines We Reviewed
Jugs Toss Machine
The Jugs Toss Machine is a baseball/softball tossing machine crafted to enhance your hand-eye coordination. Designed with an inbuilt rechargeable battery, the Jugs Toss Machine can run for nearly 8 hours at a stretch. Specifically designed for offensive/defensive drills, this toss machine makes practice sessions easier and more convenient.
Key Features:
Can hold up to 14 baseballs or 10 softballs at a time.
Automatically tosses a ball every 5 seconds.
Delivers hundreds of swings in less than half an hour.
Weighs only 13lbs.
Can be set up in a small space (10′ x 10′).
Franklin Sports Kids Pitching Machine
Designed for budding baseball enthusiasts, Franklin's Pitching Machine has a plethora of unique features. Its easy-to-use power pitching technology is kid-friendly and hassle-free. The pitching machine has adjustable pitch speeds that allow children to choose the pitching speed per their convenience.
Key Features:
Three different speeds (10mph, 15mph, 20mph).
Three different pitching angle positions.
Four compatible foam baseball balls (included with the machine).
Can hold up to 9 balls at a time.
Franklin Sports Baseball Pitching Machine
Franklin's Baseball Pitching Machine is a baseball pitching toy perfect for young baseball fans. It pitches one ball every 7 seconds, providing kids with more intense, volume-packed practice sessions. The machine can be easily adjusted to both soft toss and fastpitch practices.
Key Features:
Has a tripod style base.
Equipped with a Telescopic ball feeder that holds up to 9 balls.
6 Aero-Style plastic balls included with the machine.
Adjustable angles for soft toss/fastpitch or fielding practice.
Franklin Sports MLB Baseball Pop A Pitch
Made with durable ABS plastic, Franklin's MLB Baseball Pop A Pitch is perfect for young players wanting to master their swing-game. This baseball Pop A Pitch machine is easy to assemble and doesn't eat up a lot of space.
Key Features:
Comes with a 25-inch collapsible telescopic plastic bat.
Built with durable ABS plastic.
Comes with 3 AERO-STRIKE plastic baseballs.
Easy to assemble.
Personal Pitcher Pro Pitching Machine
Designed for pre-warm ups and private batting sessions, the Personal Pitcher Pro is loaded with features like adjustable speed settings and auto-feed technology. This pitching machine is perfect for pitch isolation training and is safe to use indoors as well as outdoors. It comes with an inbuilt 4hr rechargeable battery and AC Adapter.
Key Features:
Has a ball capacity of 60 balls.
4 adjustable speed settings (ranging from 15mph-95mph)
Easy to carry (weighs less than 5lbs.)
Can throw left-handed/right-handed curveballs.
Includes 4 dozen practice balls.
Jugs Small-Ball Pitching Machine
Built with heavy-duty steel, the Jugs Small-Ball Pitching Machine is designed to simulate realistic ball pitching. This compact ball pitching machine is perfect for improving depth perception and hitting skills. Its automatic/manual 25 ball feeder releases one ball every 5 seconds.
Key Features:
Backed by a one-year warranty.
Adjustable speed s
Safe and easy to use.
Portable and light-weight (23lbs.)
Uses 5-inch, 5-ounce polyurethane foam balls.
BSN Bulldog Baseball/Softball Pitching Machine
BSN Bulldog's Baseball/Softball Pitching Machine has a lightweight design, making it easy to move around. It runs on a 110-volt AC or generator (1/4 HP D.C. motor) and has durable urethane wheels that eliminate air pressure issues.
Key Features:
Adjustable Speed Settings (30mph-60mph).
Heavy-duty legs.
Lightweight design.
Durable urethane wheels.
The legs of the pitching machine are convertible for baseball/softball sessions.
Heater Sports POWERALLEY PRO REAL BASEBALL Pitching Machine
Heater Sports' PowerAlley Pro Real BASEBALL Pitching Machine is equipped with a powerful motor that throws light balls/baseballs at varying speeds.
Key Features:
Powerful motor with Adjustable Speed Settings(Light Balls: 60 mph and Baseballs: 45 mph).
Heavy-duty steel tubular tripod stand.
Nylon/fiberglass housing for better impact-resistance.
Lightweight, robust design.
Weighs only 13 pounds.
Jugs BP3 Baseball Pitching Machine
Jugs' BP3 Baseball Pitching Machine is a State-of-The-Art pitching machine that provides realistic pitching delivery. It has micro-adjustment pinpoint controls for accurate targeting. The pitching machine has 12" Grip-Tite pneumatic tires and an average life expectancy of 20 years.
Key Features:
Digital Speed Adjustments and button-controlled changeups.
3 Preset Hitting Circuits that automatically alternate between fastball and changeup.
Non-melting solid Grip-Tite tires for superior pitch accuracy.
Select-A-Pitch Dial for nine pitches (Fastballs and Changeups, Right/ Left-handed Curveballs and Sliders, Right/Left-handed Cutters, Split-finger Fastballs).
First Pitch Baseline Machine
The First Pitch Baseline Machine is a high-quality baseball/softball pitching machine that is portable and easy to assemble. The baseline has a swivel base and reversible legs for better pitching. It is perfect for outdoor swing training.
Key Features-
Has a swivel base and reversible legs.
Features Portable packaging.
5-year warranty.
Lightweight design (50lbs).
Throws balls at a rapid speed (up to 70mph).
HEATER SPORTS Slider Lite Curveball Baseball Pitcher Machine
Heater Sports' Slider Lite Curveball/Baseball machine is a high-performance pitching machine with features like adjustable tripod legs and a spiral ball feeder. It's easy to use and can be connected to any Heater Sports Batting Cage for a powerful home-run hitting system.
Key features:
Automatic 12-ball feeder (A/C Powered spiral ball feeder).
Durable Plastic Housing Covering on Rotating Wheel.
Safe for children of any age.
Pivot Head Design for accurate targeting.
Features Tubular Steel Legs with Rubber Tips.
Pitches baseballs at a high velocity (up to 60mph).
HEATER SPORTS Deuce 75MPH Two Wheel Baseball Pitching Machine
Heater Sports' Deuce 75mph Two Wheel Baseball Pitching Machine has a pivot head design for accurate, angle-adjusted pitching. It has dual speed controls, which allows you to pitch at any speed ranging from 15mph-75mph. The wheels of the pitching machine are enclosed in all-metal housing, making it safe to use around children.
Key Features:
Pivot Head Design offering angle-adjusted pitching.
Dual Speed Control with pitch-speeds between 15 – 75 mph.
Automatic Ball Feeder (delivers balls every 8 seconds).
Lightweight design (75lbs in weight).
Sleek look and Portable packaging.
Jugs BP1 Baseball/Softball Combo Pitching Machine
Jugs' BP1 Combo Pitching Machine is a high-performance pitching machine with an advanced "always see the ball" delivery system. The machine comes with a digital readout display for accurate delivery. Its base has a swivel-design that provides a 360-degree movement for fly-balls, ground balls, and pop-ups.
Key Features:
Speeds of 15 – 70 mph with Digital Readout Display.
Portable and easy to assemble (weighs 75lbs).
Has special pneumatic tires for realistic offensive/defensive drills.
Features a Swivel base design with 360-degree movement.
Throws a range of 11" or 12" softballs/baseballs (Sting-Free balls, SOFTIE balls, etc.)
Ideas in Life Electronic Baseball Pitcher Machine
Ideas in Life's Electronic Baseball Pitcher Machine is an automatic pitching machine ideal for young baseball players. It has an adjustable pitcher ball delivery system that can be adjusted according to the preferences of young batters. The pitching set is easy to assemble and runs on 4 "D" batteries.
Key Features:
Adjustable Pitcher Ball delivery system.
Comes with 5 soft EVA foam baseballs and a 24-inch retractable plastic bat.
Compact and travel-friendly.
Runs on 4 "D" batteries (not included in the set)
All-in-one baseball set for kids.
Muhl Sports Tru-Toss Soft Toss Machine
Muhl Sports' Tru-Toss Machine is a baseball/softball tossing machine designed to provide high-performance practice sessions. Made out of solid steel, the tossing machine is highly durable and safe to use around kids. It's ideal for swing training.
Key Features:
Lightweight design (weighs 48 pounds)
Portable and easy to use.
Made out of solid steel for better durability.
Easy to assemble.
Franklin Sports MLB Electronic Baseball Pitching Machine-
Franklin's MLB Electronic Baseball Pitching Machine fires up your batting practices. It has a flashing indicator that shows when the ball pitches, giving the batter enough time to prepare his/her baseball stance. The pitching machine has an adjustable height, making it perfect for young baseball enthusiasts.
Key Features:
Adjustable Height.
Flashing indicator for stance preparation (a flashing red indicator goes off when the ball pitches).
Includes 6 white AERO STRIKE balls.
Ball shoot can hold up to 9 balls at a time.
Pitches a ball every 7 seconds.
Sport Games Baseball Pitching Machine
Designed to hold and automatically throw multiple balls in succession, Sport Games' Baseball Pitching Machine is perfect for mastering swings and improving hand-eye coordination. It has adjustable pitch height, ideal for pop-flies, standard base throws, and grounders.
Key Features:
Adjustable Pitch Height.
Made with heavy-duty materials for maximum durability.
Kid-friendly and built for outdoor usage.
Comes with 12 white plastic baseballs and 1 red plastic bat.
Easy to assemble and use.
Satisfies ASTM 963 toy standards.
SKLZ Lightning Bolt Baseball Pitching Machine
SKLZ's Lightning Bolt Baseball Pitching Machine is a high-performance pitching machine that pitches soft practice balls with realistic flight. It has adjustable angles for perfect targeting and has a holding capacity of 26 balls.
Key Features:
Features adjustable pitching angles.
Automatically pitches practice balls at 35 MPH for 25 feet.
Offers a 5-second delay between pitches for solid repetition training.
Easy to assemble.
Includes 12 soft micro Bolt balls, each weighing 0.2 ounces.
Holding capacity of 26 balls.
SKLZ Catapult Soft Toss
SKLZ's Catapult Soft Toss's Baseball/Softball Batting and Fielding trainer is ideal for both offensive and defensive drills. Designed to toss a baseball every 8 seconds, the tossing machine is perfect for enhancing visual acuity and hitting accuracy.
Key features:
Adjustable Height and distance.
Automatic tossing (tosses every 8 seconds).
Ideal for offensive and defensive aspects of play.
Features a Spiral ball funnel (holds up to 8 regulation-sized baseballs).
Runs on 4 "D" batteries (not included) or with allotted AC Adapter.
Sling Pitcher Baseball Pitching Machine
Sling Pitcher's Baseball Pitching Machine is a manual softball/baseball training and pitching machine that is ideal for swing training. It throws baseballs up to 70 mph and softballs up to 50 mph. The machine is easy to assemble, has a lightweight design and is feature-loaded.
Key Features:
Does not require electricity or batteries.
Features extra elastics and 12 lightweight practice balls.
Easy to assemble; assemblage requires less than a minute.
Portable design; can be easily carried around.
Can launch pop-flies over 150ft in the air.
Final Thoughts
As it turns out, there are quite a few things to keep in mind when shopping for the best pitching machine for your team or your backyard setup. We hope that the considerations we've covered above will help you take a thoughtful approach and ultimately find a pitching machine that meets all of your requirements while satisfying your budget.
We've covered a wide range of options here so there's something for everyone. The Louisville Slugger Blue Flame Ultimate Pitching Machine scores major points for simplicity, while the remaining options give you more flexibility and plenty of power. We're thrilled with the Zooka ZS740 for its exceptional combination of power and portability – the rechargeable battery is definitely a game-changer. As for the best of the best in terms of dependability, power, and sheer versatility, the Sports Attack Junior Hack Attack pitching machine wins the day.
Whatever  your budget and whatever your practice setting, a baseball pitching machine can help you your team develop outstanding skills and become the best players possible.
Last update on 2023-11-29 / Affiliate links / Images from Amazon Product Advertising API