If you've spent any time on the field, you know that batting gloves are an essential part of every baseball and softball player's gear. For hitters, gloves do more than one job: Not only do they provide added friction for a tighter grip on the bat, they also help absorb a bit of the shock and sting that comes when the ball makes contact and (hopefully) flies out of reach of those outfielders!
Here's a fun piece of trivia: That sting (also known as feedback vibration) is quite common – particularly when you fail to hit the incoming ball with the sweet spot on the bat's barrel. While feedback vibration does send an instant message that basically tells the batter that they've missed that sweet spot, it also hurts – and that can lead to hesitation caused by anticipation of the sting!
You can see summary of content here
Best Batting Gloves to Buy – At a Glance
While every batter – even baseball and softball pros – needs plenty of practice, there's no need to put yourself through discomfort with every single smack, particularly when you're at the batting cages. The right batting gloves can help you eliminate the discomfort and any subconscious sense of hesitation that comes with it. A more comfortable swinging experience during practice translates to a better batting experience every time you step up to the plate and over time, a better batting average overall.
We've been around the block – or should we say, bases – and along the way, we've tried out dozens of different batting gloves so you don't have to. The takeaway here is that batting gloves are not created equal, and the gloves that feel amazing on your teammate might not be the perfect fit for you.
Now that we've cleared the air, here are a few more points to keep in mind while you're shopping for the best batting gloves. The right ones feel great on your hand and they don't impede your swing in any way. They give you a better grip and they ease the sting from those feedback vibrations. They're made well enough to last at least a season.
Since the market is absolutely flooded with an endless selection of batting gloves, it can be tough to determine which ones are the right fit for your needs as well as for your budget. To make life just a little easier and get you even closer to perfecting your batting, we've shortlisted 5 of the best batting gloves on the market right now, plus we've added a list of 20 runners-up that performed admirably but didn't quite make it onto our list of the "greatest hits."
In deciding which to include on our list of the best batting gloves, we considered a number of factors including materials, the amount of padding, the availability of different colors, adjustability, durability, and of course, price. We're fairly certain that you'll find the ideal batting gloves among our top picks and if not, that you'll find a suitable option among the runners-up!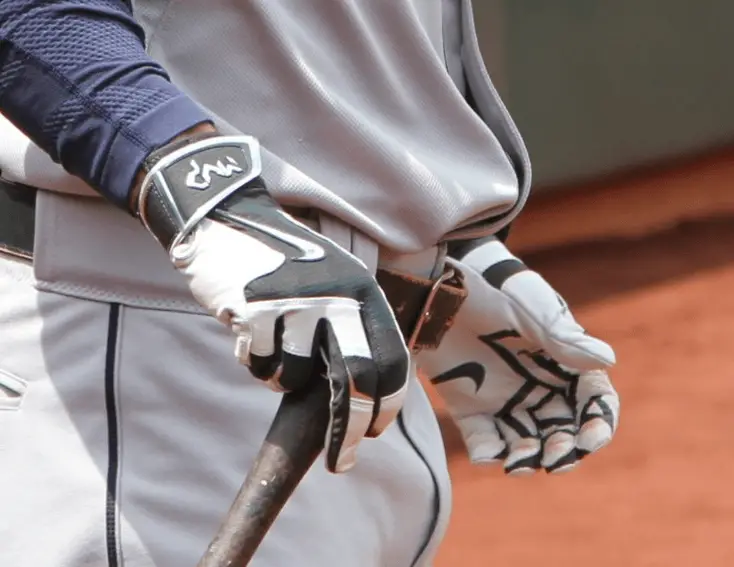 If you set out to get a pair of batting gloves, chances are you will find it a hard task. There is a virtually endless variety of batting gloves available on the market, and it can be tough to determine which of these is right for you.
To make things easier, we have shortlisted 5 of the best batting gloves available on the market right now. In short-listing these five products, we have considered a number of factors such as weight, the amount of padding, variety of color and other options, the material used in their construction, size adjustment options, durability as well as price.
We are positive that once you go through these quick reviews, you will be able to find the batting gloves which suit your style, needs, and budget perfectly.
Great looks and outstanding protection come together in Franklin Sports MLB CFX Pro batting gloves. Available in a wide range of colors as well as in sizes for youth and adults, these batting gloves are ideal for fastpitch softball and baseball alike.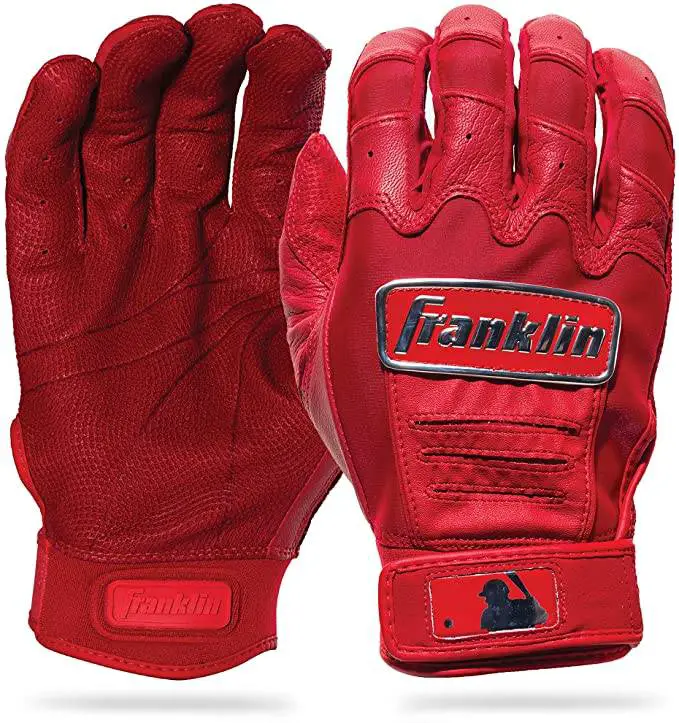 Premium construction means that even when you play hard, these batting gloves will carry you through multiple seasons. Their palms are durably constructed of premium-quality leather, which extends across the backs of the fingertips and the knuckle region. Additional material covers the back portion of the hand, and Franklin's chrome logo is prominently displayed to lend a touch of flash to the overall design.
Meant for a combination of comfort and performance, these batting gloves feature breathable, flexible panels and adjustable wrist straps, so the fit feels as good as the gloves look.
Sold in pairs; both right and left handed batting gloves are included
Made with the same premium components as Franklin distributes to MLB pros
Pick your favorite color, add flash to your uniform, and enjoy outstanding comfort while you hit fast-flying balls. Easton's walk off batting gloves come in an astonishing array of colors and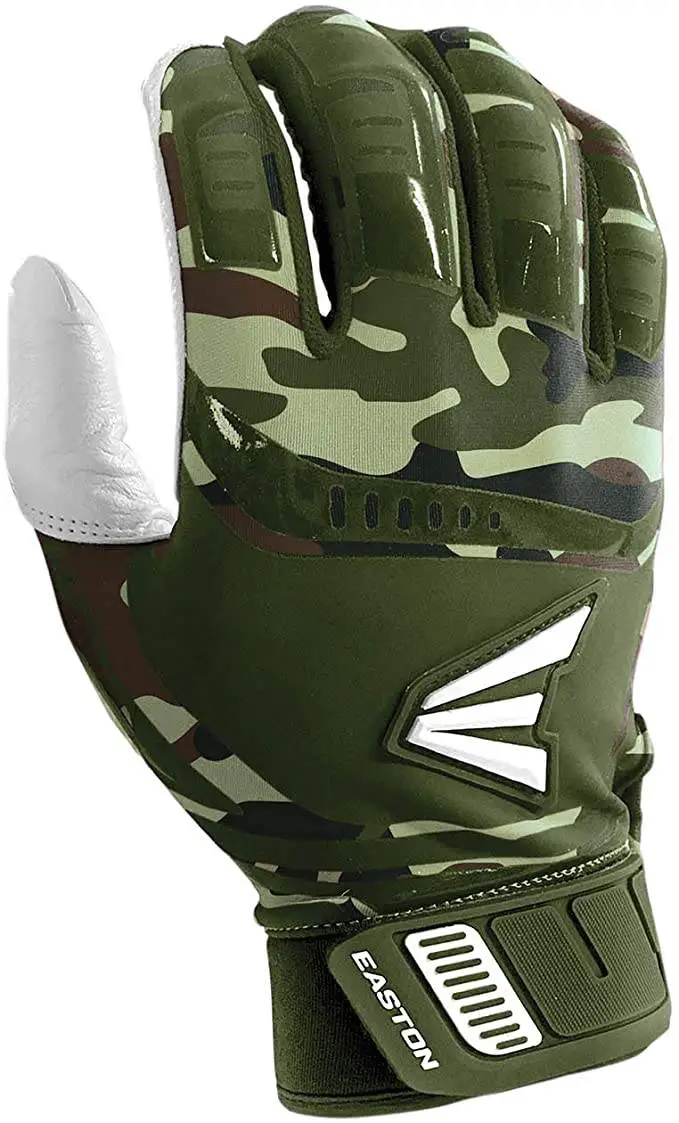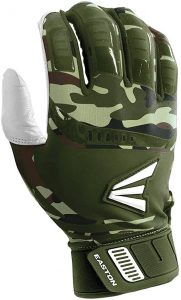 patterns, including unusual options like camo green, purple, and black with gold accents. They're also available in sizes to fit all players from youth to adult.
Now that we've got style out of the way, let's talk function. These are easily some of the best batting gloves we've seen in a while, with ultra-flexible components that provide a fantastic fit that feels incredible while adding confidence to every swing. Breathable neoprene components help keep your hands comfy, smooth leather palms enhance your grip, and gleaming silicone adds structure to the finger and backhand areas while enhancing the gloves' overall appearance. A neoprene pull tab closure helps you find the ideal fit, so your focus is on the balls being pitched in your direction.
Offered as a pair, both left and right hand batting gloves are included
Wide wrist straps provide a little bit of additional support
The Franklin Sports Neo Classic gloves are another pair of high-quality, high-performance gloves. The company has constructed these gloves using Pittards Digital sheepskin leather. This enables the gloves to offer a very comfortable and soft feel while at the same time, staying tactile and offering an excellent grip in all weather conditions.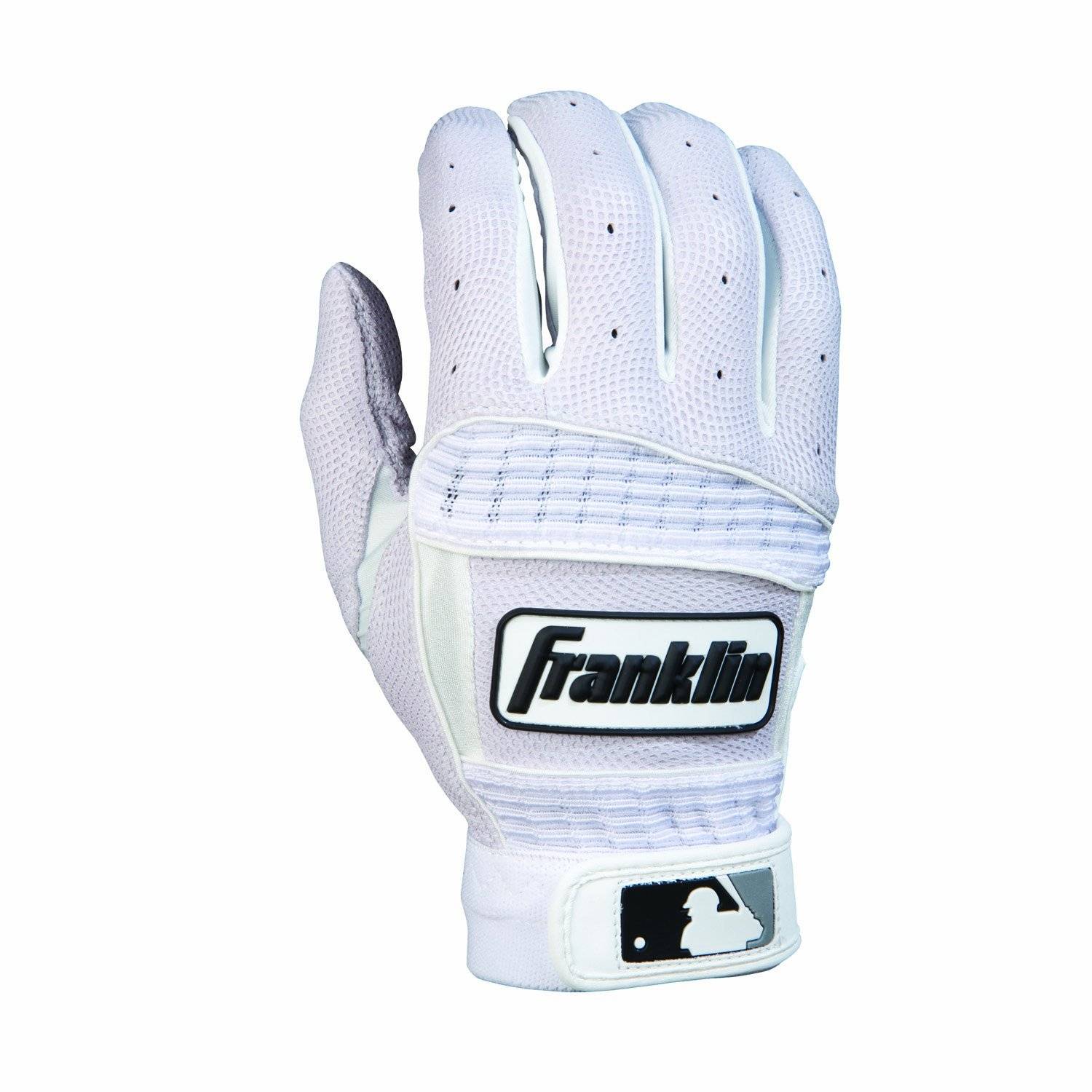 The Neo Classic gloves also feature the floating thumb technology. This allows the glove to offer better adaptability and grip on the bat's handle, ensuring a more confident and smooth swinging motion during hitting. The palm of the gloves features a one-piece leather construction which offers a very comfortable feel and ensures that the design remains durable over a long period of time.
These gloves come with professional grade spandex wristband support. This not only ensures that the glove fits better to your hand, it also reinforces your wrist and significantly reduces friction in your swing motion. As a result, players can achieve a significantly improved swing motion while wearing these gloves.
In all, the Neo Classic is designed to ensure that they can adjust to the curves and contours of your hand perfectly. As a result, you get an incredibly comfortable and perfect fit with these gloves. These gloves also feature the Quad-Flex, which prevents any bunching up of glove material between your hand and the bat. So you get to experience a consistently smooth and reliable grip with these gloves.
The Neo Classic gloves are available in a wide range of options. These include Pearl/White, Black/Black, Black/White, Pearl/Black, Gray/Royal, Pearl/Pink, Pearl/Royal, Pear/Forest Green, Pearl/Gray, Pearl/Burgundy, Pear/Yellow, Royal, and Red. You can also choose from Small, Medium, Larger, Extra Large and Double XL sizes.
Sale
The Franklin Sports MLB Cold Weather gloves are specifically designed to deliver optimal performance in cold weather conditions. To this end, the company has designed these gloves to offer the dual advantages of warmth and grip.
Like most other batting gloves from Franklin Sports, the MLB Cold weather gloves are constructed using Pittards Digital sheepskin leather. This material ensures that the gloves offer a comfortable feel and remain durable at the same time. The company has also used its trademark Quad-Flex technology in the construction of these gloves. This feature ensures that the glove material doesn't bunch up to form material buildup between the player's hand and the bat handle. So you get a consistent, comfortable and firm bat handle feels while wearing these gloves.
The design of the MLB Cold Weather gloves features a seamless leather palm. This ensures that the players can enjoy an absolutely smooth swinging experience while wearing these gloves.
One of the truly stand-out features of these gloves is the insulated neoprene back. This ensures that the heat from inside the gloves is insulated within during cold weather. As a result, these gloves keep your hands warm when you are swinging on the plate in chilly weather conditions. Although the gloves are perfect for keeping your hands warm, they are also breathable, ensuring that phenomenon like cold sweat build-up doesn't occur while you are wearing these gloves.
These gloves are available in a wide range of color options. These include Black/Red, Black/Black, Black/Royal, Black/White, Pearl/Black, Pearl/Royal, Pearl/Red, Pearl/Navy and Black/White Digital Camo. You can also choose from a wide range of size options. These include Small, Medium, Large, Extra Large, Double XL, Youth Medium and Youth Large.
Choose from a few popular colors, pick your size, and hit the field! Mizuno Women's Finch Batting Gloves are designed to accommodate your hands while providing the protection you need.
These batting gloves are gender-engineered to suit female athletes, and come in smaller sizes as well as larger ones, so your fit feels comfortably snug. The padded Mizuno shockpalms absorb
vibrations from the bat, so even your hardest hits come with less sting attached.
The backs are designed to provide a combination of breathability and flexion, with air mesh fabric to help keep sweat from accumulating inside. There's a bit of added protection at the thumb and wrist area, so balls that don't connect with your bat are less likely to bruise your hands.
The wide, quik-adjust strap is easy to secure, and stays put once you've found your ideal fit.
Three colors to choose from
Smaller sizes are ideal for youth
Ideal as general workout gloves; not just for softball
How to Choose a Batting Glove
Important Features to Consider
If you've hit a baseball or softball before, you probably know that batting gloves play an important role in helping you deliver your best possible performance. Here are some important things to keep in mind when choosing batting gloves for yourself or a junior player.
Protective Palm: Leather and synthetic materials provide cushioning to protect your hands and absorb some of the shock that occurs when your bat makes contact with the ball.
Great Grip: Textured fingers, thumb, and / or palm materials help you get a firm, non-slip grip on the bat so every swing is as effective as possible.
Snug Fit: Contoured fingers, floating thumb designs, and flexible materials throughout the gloves' backs contribute to a comfortable fit without excess fabric to interfere with your ability to grip the bat firmly and follow through with your swings. When in doubt, consider choosing a smaller size rather than a larger one.
Secure Wrist Closure: An adjustable wrist closure lets you customize your batting gloves for the best possible fit and feel. Extra points for designs that incorporate a touch of added support for enhanced stability while batting.
Temperature Control Features: Breathable fabrics, ventilation, or insulation can help keep you comfortable while batting. In turn, greater comfort means one less distraction and a stronger focus on your performance.
Frequently Asked Questions
Do I really need to wear batting gloves?
The question of whether to wear batting gloves or not is largely a matter of personal preference. We feel that you'll bat better if you wear gloves – after all, they're functional gear and not just a style statement! Key benefits of wearing batting gloves include less friction, enhanced wrist support for better follow-through when batting, a better grip, and greater comfort during long practice sessions.
Should I buy one batting glove or get a pair?
While you might choose to wear just one batting glove, most manufacturers offer their batting gloves in pairs. Try wearing both or simply wear a single glove on your dominant hand to see how your performance is affected.
Are leather palms better than synthetic?
While it's true that natural leather is generally tougher than synthetic materials, thin, inexpensive leather is prone to tearing. It's best to look at the overall quality of the batting gloves in question since technical materials can offer a range of benefits.
Should I choose batting gloves with more or less padding in the palms?
It's up to you! If your hands are sensitive, consider choosing batting gloves like Franklin's MLB Digitek, which offer a bit more protection than thinner, more lightweight designs. If you prefer to feel more of the bat, then a thinner glove will probably suit you better.
Do baseball batting gloves work with softball bats?
Yes, so long as you've got the correct fit, your batting gloves will help you get a great grip while minimizing the stinging sensation that occurs when you hit a softball with a softball bat.
My child is playing T-ball or little league. Do they really need batting gloves?
You may want to ask your child's coach for advice but in our opinion, it's best to start your child out right. Learning to bat while supported and protected by batting gloves preps children for more intense gameplay as they grow older. Familiarity with baseball equipment is an important part of learning to excel at any sport.
How do I select the correct size batting gloves?
Most manufacturers offer size charts for their products, complete with instructions for measuring your hands and determining which size is best. We recommend having a friend or family member help you take your measurements so that they're accurate – it's a tough task to accomplish with just one hand! It's also a good idea to read reviews to find out if the batting gloves run true to size, small, or large. Insight from others can help you find the size that's right for you.
Last update on 2023-11-29 / Affiliate links / Images from Amazon Product Advertising API