Updated November 2022
While there's a wide range of single-wall softball bats available on the market, it can be a tough job finding just the right bat for you. But even before you start the search, it helps if you understand the kind of bat you're looking for.
As the name suggests, such bats typically have a barrel that is single-walled, which comes with the advantage of having a huge sweet spot.
While most of these bats use alloy as their construction material, some equally good options use composite. Another special thing about single-wall bats is that they usually carry a significantly lower price tag.
So for a player aiming to break into the game or someone with a lower budget, single-wall bats are a great buy without any significant compromise on quality or performance.
In this guide, we have made it easier for you to find the most suitable and well-performing single-wall bat by narrowing down and reviewing some of the best options on the market this year.
You can see summary of content here
Quick Links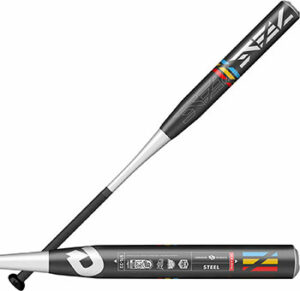 DeMarini 2022 Steel Slowpitch Softball Bat
DeMarini Steel 2022 has more power and capabilities than its predecessor. While most single-piece bats go for a one-piece construction, this version utilizes a two-piece design, complete with new barrel and handle technologies that make it a versatile option suitable for both contact and power hitters.
FEATURES
Two-piece construction
Alloy barrel and handle
Swing weight: end-loaded
Certifications: USA Softball, USSSA, ASA, ISA, NSA, and 1.20 BPF
Comparison Table
| | | |
| --- | --- | --- |
| | | |
| | Certifications: USA Softball, USSSA, ASA, ISA, NSA, and 1.20 BPF | |
| | Certification: ASA, USSSA, ISF, NSA, and  ISA | |
| | Certifications: ASA/USA, ISF, USSSA, NSA, ISA | |
| | Certification: USSSA, ISA, & NSA | |
| | Certifications: ASA/USA, ISF, USSSA, NSA, ISA | |
Best Single-Wall Softball Bats – Reviews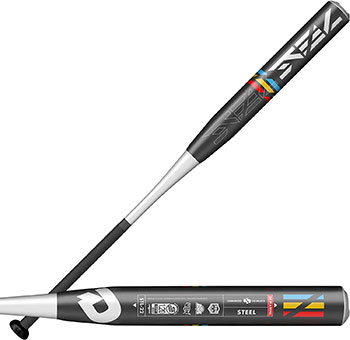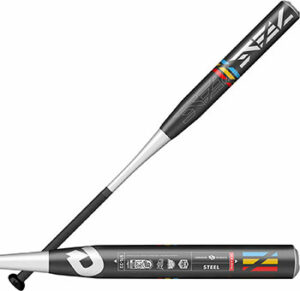 CLICK HERE FOR PRICING, PICTURES, AND REVIEWS ON AMAZON.COM
It's rare to experience great pop and massive power from a single-wall softball bat, but DeMarini Steel is an exception to the norm. Both the handle and barrel feature performance-enhancing technologies that work together to make this bat a favorite for both contact and power hitters.
Key Features
Two-piece construction
Alloy barrel and handle
End-loaded
Certifications: USA Softball, USSSA, ASA, ISA, NSA, and 1.20 BPF
While this is an all-alloy bat, the specific materials DeMarini used to construct its two pieces are different. The barrel uses a heat-treated, carburized, seamless drawn steel that gives it the durability and pop to rival composite bats.
The handle, on the other hand, uses ZnX Alloy. It's a stiff material so expect less flex on contact. This in turn causes the barrel to deflect more for improved performance.
Pros
The two-piece design generally allows for a much smoother swing and improved bat speed
Uses a special barrel and handle for enhanced performance and durability
Direction connection between the barrel and handle maximizes energy transfer on contact
End-loaded design allows for a more pop and powerful swings
Cons
Only two sizes are available, which means not all players can enjoy it
Relatively expensive
Not many
single-wall slowpitch softball bats
are as capable as the Demarini Steel. The flex generated by the two-piece design makes this bat an ideal choice for contact hitters. But since it's end-loaded, even power hitters are welcome to try it as well.


CLICK HERE FOR PRICING, PICTURES, AND REVIEWS ON AMAZON.COM
At first sight, this bat looks quite simple, but don't let that trick you into underrating it. Rawlings Eclipse is full of important features a beginner fastpitch player would need to start off on the right foot.
Key Features
One-piece construction
Material: aluminum
Concave end cap
Swing weight: balanced
Certification: ASA, USSSA, ISF, NSA, and  ISA
A balanced profile ensures even weight distribution along the bat's length. This in turn enables hitters to generate quicker and swifter swing speeds. And since it's a one-piece construction, no power is lost when you make contact with the ball.
Players using this bat are therefore able to maximize energy transfer on contact, which puts them in a better position to propel the ball deeper into the outfield. This performance is enhanced further by an X-tended sweet spot design, which extends the barrel to allow for better contact.
Pros
A balanced profile makes the bat lighter and thus easier to control
A wider sweet spot maximizes performance
A concave end cap improves overall balance and exit velocity
Easily stands out because of the deep blue color with vivid orange accents, but more color options are still available
Very affordable
Cons
Easily sustains dents and cracks, but this can be avoided if you use it properly
Apart from looking nice, Rawlings Eclipse is one of the most affordable
single-wall slowpitch softball bats
. Also, it fully optimizes swing speed and generates more power without sacrificing other aspects of performance such as control.
This is the perfect fastpitch baseball bat to get for your son or daughter who is just learning the ropes of this game.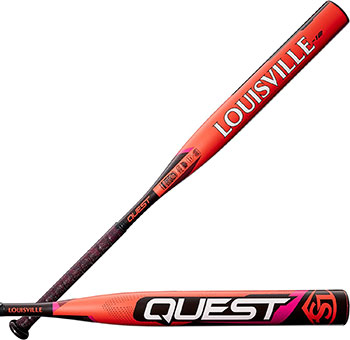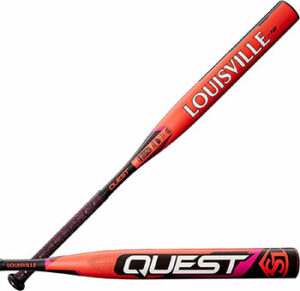 CLICK HERE FOR PRICING, PICTURES, AND REVIEWS ON AMAZON.COM
Louisville Quest has carved out a niche for itself as the bat that can get you more distance per hit. This version gives you maximum control and comes with a better grip that allows for a more comfortable swinging experience.
Key Features
One-piece construction
Material: all alloy
Swing weight: balanced
Certifications: ASA/USA, ISF, USSSA, NSA, ISA
Quest's one-piece design provides limited flex and a stiff feel. If you are a stronger player, this is the bat you might want to consider because it maximizes the energy transferred on contact.
Add to that its balanced swing weight and you have a lighter bat that's easy to swing. This gives you more control and a chance to increase bat speed. The special grip provides  comfort, making your swinging experience more comfortable and smoother.
Pros
All-alloy one-piece construction for more control and higher performance
A comfortable grip that gives you better bat control and sends the desired feel to your hands
Balanced swing weight creates a swifter swing speed due to even weight distribution
Multiple sizes available to suit your specific preferences
Cons
Although it's listed as unisex, this bat is more suited to women's softball leagues
Louisville Quest's strength, balanced feel, and comfortable grip make it an ideal bat for contact hitters. The overall higher performance makes it a great buy. Rest assured you will be getting proper value for your money.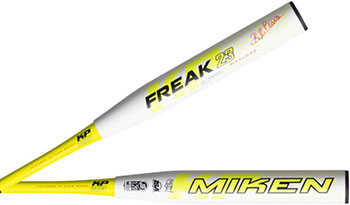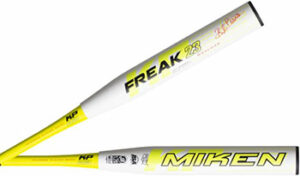 CLICK HERE FOR PRICING, PICTURES, AND REVIEWS ON AMAZON.COM
Miken pulled all the stops in making the Kyle Pearson Freak 23 a favorite for competitive slow pitch baseball. Both its handle and barrel feature technologies that refine its performance and double your confidence at the plate.
Key Features
Two-piece construction
Material: composite
F4P Handle
Swing weight: End-loaded
Certification: USSSA, ISA, & NSA
This bat has been constructed with aerospace-grade fiber to make it durable and increase performance. The C-4 proprietary carbon fiber makes any part on the barrel just as effective as the sweet spot. This flexibility and performance is further enhanced by the E-Flex 360 barrel technology.
Kyle Pearson Freak 23's new F4P handle takes the handle-barrel connection to the next level. More flex at contact ensures minimal sting on your hands during mishits. It also maximizes energy transfer while simultaneously providing the much-needed feedback to your hands.
Pros
The two-piece construction ensures more barrel flex
Thin grip handle allows for better bat control and improved bat head speed
Shorter barrel length ensures better bat control
Composite has a vibration damping technology that reduces sting on your hands during mishits
End-loaded swing weight makes it great for power hitters
Cons
More expensive than its rivals
The three things this
single-wall softball bat
gets right include flex, performance, and durability. Make your dream to dominate the USSSA league come true by ordering it today. Kyle Pearson Freak 23 is also great for recreational purposes.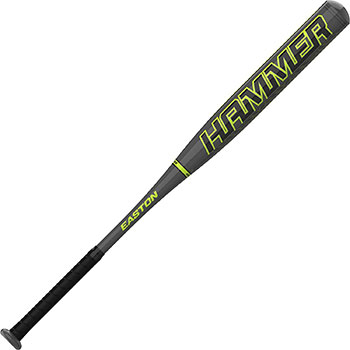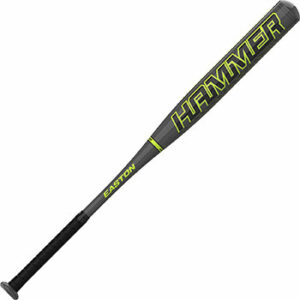 CLICK HERE FOR PRICING, PICTURES, AND REVIEWS ON AMAZON.COM
Easton HAMMER handles well, has decent pop, and is one of the cheapest bats on the market. It's a dual-stamp end-loaded bat with a special material that elevates its performance to elite levels. The best part is that you can still use it straight out of the box; it doesn't require a break-in period.
Key Features
One-piece design
Material: aluminum alloy
Ultra-thin handle
Swing weight: end-loaded
Certifications: ASA/USA, ISF, USSSA, NSA, ISA
This single-wall softball bat is made of a military-grade aluminum alloy that allows players to experience better swing speeds, a wider sweet spot, and extreme performance.
Another impressive feature is the ultra-thin handle. It's been engineered to provide optimal performance in various weather conditions and to increase comfort, both of which are essential if you want to experience faster swing speeds.
Pros
0.5-ounce end load for extra power
Bigger barrel and a huge sweet spot for more pop
Sleek design that makes you highly noticeable on the field
Better feel and swing experience from an ultra-thin handle
Very affordable
Cons
Tends to suffer cracks and dents far quicker than others, but you can reduce the chances by learning how to swing the softball bat properly
Every player wants to have confidence when they step up to the plate. If that's your wish, too, then the Easton HAMMER Slowpitch Softball Bat has you covered. With dual stamps, that simply means the bat has the capacity to meet the new performance standards.
Aluminum vs Composite Single-Wall Softball Bats
Single-wall aluminum softball bats carry some key advantages that often make them the best options in a league where composite bats are not allowed.
Weight
Aluminum bats typically have a weight that is significantly lower than composite bats. At the same time, a single-wall construction means the bat carries the bare minimum weight, making it incredibly light. So when you wield a single-wall aluminum softball bat, you are essentially using a bat that is very lightweight and yet packs a solid barrel.
Trampoline Effect
The barrel of such a bat can perform great because the single-wall construction offers a lot of trampoline effect. The barrel flexes inwards on contact with the softball and then rebounds, throwing it into the distance.
Durability
Another key advantage of single-wall aluminum softball bats is that they are very durable. If you wield a composite bat, you will have to take care to not damage it.
In contrast, the aluminum bat will last you a long while no matter how you treat it, given its sturdy construction. So, you have more ease of mind with an aluminum bat.
Price
A final advantage of aluminum bats is that they carry a comparatively low price tag. This makes it possible for beginners to afford such a bat and for professionals to consider it as a secondary practice bat.
Single-Wall vs. Double-Wall Bats
Single-wall and double-wall bats are both used in softball matches. The key difference between the two, as the names suggest, is that the former has a single-walled barrel while a double-wall bat has a second layer inside the first barrel, reinforcing it.
Weight And Trampoline Effect
A single-walled aluminum bat is lightweight and easy to handle, and it offers a significant amount of trampoline effect upon contact with the ball. This is what makes it suitable for contact hitters.
In contrast, a double-wall bat has an additional layer of wall underneath, so it essentially offers a far greater trampoline effect.
At the same time, a double-walled bat carries more weight than a single-wall bat and therefore is more suitable for power hitters.
Durability And Performance
Another key difference between the two types of bats is durability. A single-walled bat can offer great performance, but due to its thinner barrel, it may sustain damage more quickly than a double-walled barrel.
A double-wall bat, in contrast, has a more solid barrel and can withstand rough and tough use while sustaining minimal damage. So, if you are seeking a lightweight bat with great performance, a single-wall bat suits your needs perfectly.
On the other hand, if you want a bat that may be slightly heavier but has a more powerful barrel and can undergo a lot of rough use, you should go for a double-wall barrel.
Always keep these features of the two types in mind when sifting through the list of top single-wall softball bats.
Frequently Asked Questions
What softball bat has the most pop?
Before I let you in on which bat has the most pop, understand that pop depends on two things: material and type of wall.
There's no specific bat you could say has the most pop. However, composite bats generally have better pop than aluminum and wood softball bats. Double-barreled aluminum bats in particular have far better pop than their single-wall counterparts.
Which is better, ASA or USSSA bats?
ASA and USSSA bats differ in a couple of ways. Each has been designed to match the standards and specifications of their respective leagues.
While both do share the same barrel diameter and length, the exit velocity, weight, and BPF ratings aren't the same. USSSA bats generally have a higher exit speed and cover more distance than ASA bats.
Should you settle for heavy bats?
Heavy is relative. What's heavier for you could be lighter for someone else. You might want to start by swinging various bats to determine the weight you're most comfortable with.
That said, if you are strong enough to handle what you perceive to be a heavier bat, then it should be your go-to bat for extra power. Such a bat, whether balanced or end-loaded, will send the ball further than a lighter bat.
Single-Wall Softball Bats In Summary
Single-barreled bats have their special place in the sport. Because they are lighter and more durable, with a decent trampoline effect, any contact hitter would perform far better with them.
However,  some bats, like the DeMarini Steel 2022, suit power hitters too, which is what makes it the best single-wall bat on our list. It's also rich with modern and improved features that make it best suited to today's performance standards.
Once you have established that this is the right bat for you, go ahead and place your order knowing you're getting a great product. But in case it doesn't tick all the boxes for you, you can check out the rest of the options on our list as they are all unique, with special features that make them suitable for different circumstances.