Back in the day, it wasn't easy to purchase baseball cleats for young, aspiring players – there was no such thing as the "best youth baseball cleats" – in fact, there was barely anything for kids and their parents to choose from! When all the leading brands were manufacturing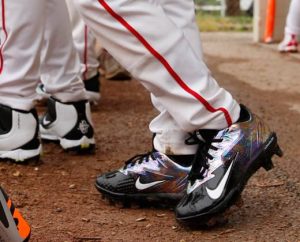 top quality products for experienced athletes, little attention was being paid to developing cleats for kids and teenagers. As a result, young players had to wear shoes that were designed for experienced athletes – and those cleats weren't really optimized to support growing feet or meet the needs of youth baseball players.
The good news is, things have changed! These days, more youth have higher aspirations and a greater interest in baseball.  As the success of high-school and college level leagues has grown, dramatic advances have taken place in the past few years. Many popular brands (and some new ones) have are developing cleats that fit young players comfortably while offering superior performance and a high level of safety.
Now that the market is flooded with options, it's a little tough to decide on the right pair. We've done most of the heavy lifting for you and curated a list of the top 7 best youth baseball cleats available right now. These are all top-rated products which mean that depending on preference and budget, you (and your growing baseball player!) can find an option that looks great, feels good, and performs well on the field.
You can see summary of content here
Best Youth Baseball Cleats
Coming from a top-rated brand in the field of sporting goods, the Under Armour Kids' UA Leadoff Low RM Jr. Baseball Cleats has garnered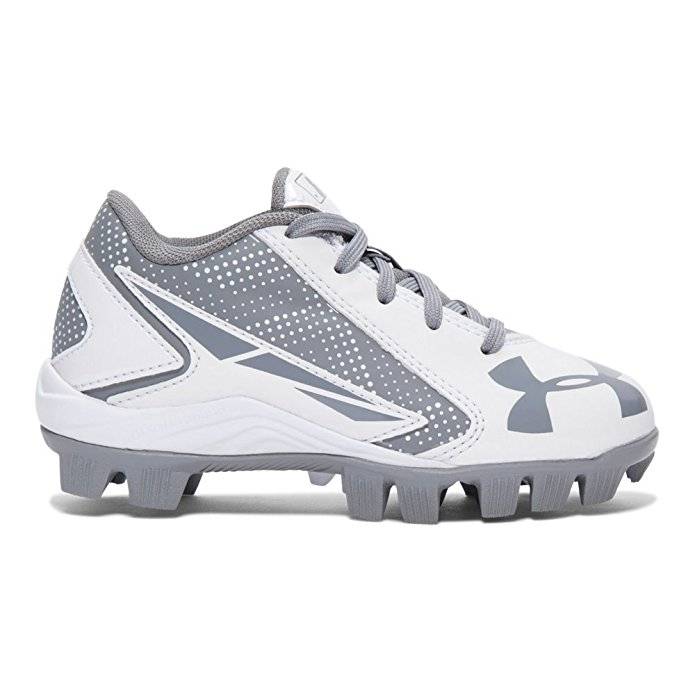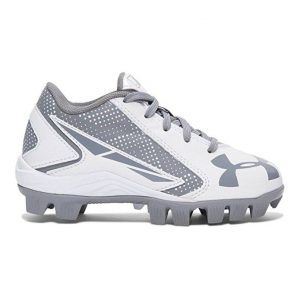 heaps of praise ever since their introduction. When this brand is famous for manufacturing some of the best looking baseball cleats in the recent era, the UA Leadoff is no different. These cleats are available in two different color schemes both of whom are pretty good looking. So even if you're a fashion oriented baseball player, this product has something to offer.
Featuring a low-top silhouette, this shoe is basically designed for kids who are looking to make inroads in their baseball career. Under Armour have combined engineered leather along with Nubuck upper in the construction of this product. When it offers unmatched durability, kids would certainly feel comfortable even after wearing these cleat for a good amount of time.
For effective shock absorption, the Under Armour Kids' UA Leadoff Low RM comes with an ArmourBound midsole which runs along ¾ of the entire length of this cleat. Apart from protecting your feet at the moment of impact, this midsole does incredibly well to disperse the shock produced as a result of cleat pressure.
If you're a pitcher, who has to drag his toes, the abrasion-resistant toe piece makes sure that this shoe stays intact even when you're giving your 100% on the field. Then comes the rubber molded cleats which offer rotational traction.
So apart from making fast runs inside this footwear, you can take all the sharp turns without worrying about any sort of slippage.
Finally, the Under Armour Kids' UA Leadoff Low RM is available for both big kids and small kids. Also, it can also be worn by toddlers which make it a viable footwear for children of all age groups.
Pros
ArmourBound midsole prevents the formation of pressure points
Rubber molded cleats deliver excellent traction
Durable construction makes it a long lasting product
Cons
Run a bit narrow for users with wide feet
The Performance Kids' Wheelhouse 4 K Baseball Cleats are manufactured by Adidas for both little kids, within the range of 4- 8 years, and big kids which lie within the group of 8-12 years of age. This product comes at a pretty reasonable price tag and when it is available in two different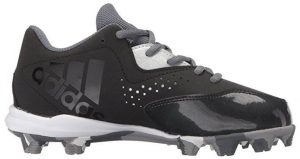 designs, you can have a stylish pair of boots without breaking the bank.
When a young player has to spend a considerable amount of time inside his/her basketball shoes, both in training and real matches, this is a highly breathable pair of cleats thanks to its mesh lining. Another factor which facilitates breathability is the presence of several perforations throughout the upper of this boot.
There is the EVA midsole which provides excellent cushioning under your feet. This midsole is about 3-quarters of the entire length, and when it is extremely lightweight, this product can be worn for an extended duration of time.
For optimal traction, Adidas has made use of the molded rubber while crafting the outsole of the Performance Kids' Wheelhouse 4 K. The famous Adidas Logo can be seen on the shoe's upper, on its tongue and just above the heel region.
So if you're looking to make a budget oriented purchase, the Adidas Performance Kids' Wheelhouse 4 K baseball cleats hold a decent value for money. Besides, when it comes preloaded with a wide array of features, your child can play in them for a good amount of time.
Pros
Molded rubber outsole gives a decent grip
EVA midsole offers lightweight comfort
Available at a reasonable price for the budget-conscious shoppers
Sale
The 9 Spike ADV YTH FRHSE 8 BK-WH Youth Molded Cleat comes from a brand with a successful reputation in manufacturing baseball and softball equipment, Mizuno. Having already manufactured series of high-quality products in the last 10 decades, it has come up without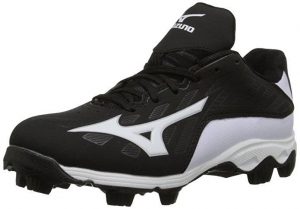 another top rated product, for the fans of baseball, in the form of 9 Spike ADV.
The 9 Spike ADV comes with a full-length midsole to provide maximum comfort to its wearer. In addition to providing superior cushioning between your forefoot and toe region, this midsole also reduces cleat pressure developed during a game of baseball.
Also present in these best youth baseball cleats is a padded tongue which works as an excellent comfort generating factor at all times. For a secure fit, these cleats have a lace-up closure mechanism which ensures that every user can tighten up this product as per his preference.
The rubber studs, which are integrated on the bottom of this cleat, makes it a versatile product. This outsole grip incredibly well on both dirt as well as grassy surfaces. Also, this shoe incorporates molded cleats which make it a viable option for almost all types of fields.
Moreover, when there are some leagues which disallow the use of metal spikes in their recommended footwear, there is no such restriction on the use of rubber studs. So you can wear this shoe in both college and school level leagues.
The stylish Mizuno Logo is visible on the side as well as the tongue of this boot so if you want to make a bit of fashion statement as well, consider trying the Mizuno 9 Spike ADV YTH FRHSE 8 BK-WH Youth Molded Cleat.
Pros
Molded cleats makes it an ideal option for different field types
Padded tongue gives added comfort
Full-length midsole prevent feet soreness
Cons
Not a wide range of colors to choose from in these youth baseball cleats
Combining synthetic upper with a mesh construction, the Nike Kids Huarache 2KFilth Keystone is a highly breathable pair of cleats.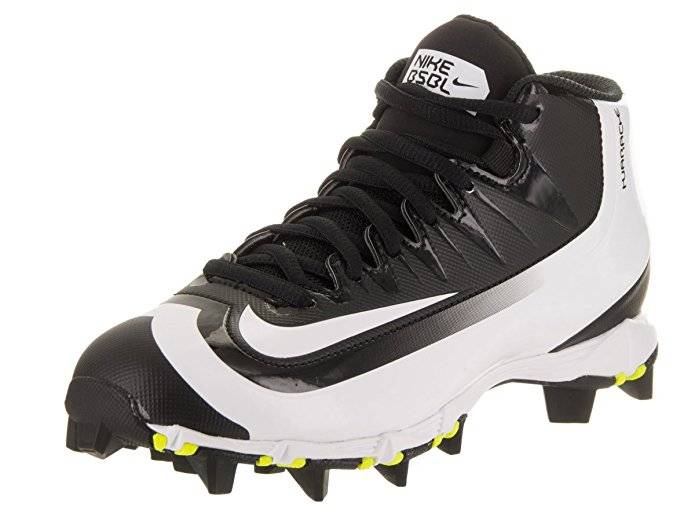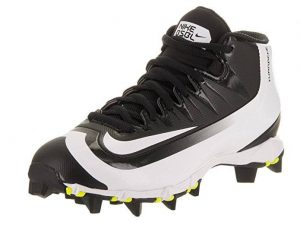 This shoe comes with a mesh collar and tongue which further increases its level of ventilation. So as long as you're wearing this cleat, it will protect your feet from getting overheated.
The Nike Kids Huarache 2KFilth is available in 6 different designs including a stylish fusion of gray, white and red. With every single design, users will get the same colored cleats which give this product an intuitive fashion touch.
For making sure that your feet stay intact, this cleat features a snug lace-up closure mechanism. Another great feature in this shoe is the presence of the flex grooves on the outsole. Apart from providing optimal traction throughout the game, it does all so well when it comes to increasing the overall lifespan of this product.
The Nike Kids Huarache also comes with an insole which is a great feature for any baseball player looking to spend a considerable amount of time in the field. When it helps absorb shock, it also provides a decent bit of arch support.
So if you're looking for a highly comfortable pair of youth baseball cleats, which is not only durable but is also quite stylish, consider purchasing the Nike Kids Huarache 2KFilth Keystone.
Pros
Lace-up closure delivers a precise fit
Flex grooves for optimal traction and added flexibility
Available in a stylish color scheme
Cons
Might feel stiff for kids with wider feet
Sale
The Nike Boys' Vapor Ultrafly Keystone BG Baseball Cleats features Flywire technology for providing you with a secured fit in a lightweight design.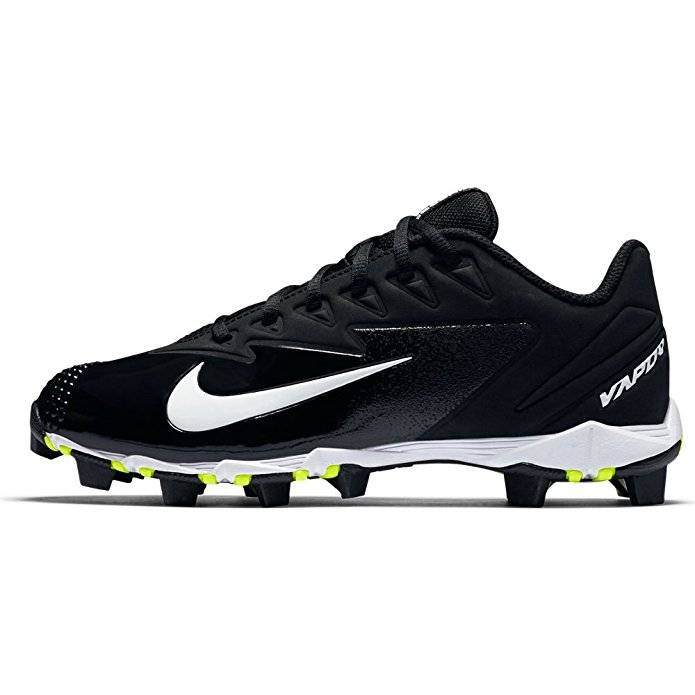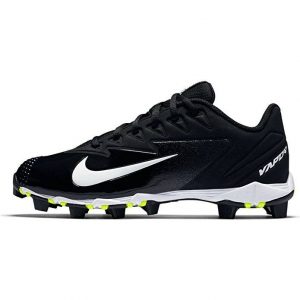 Introduced in 2008, this technology makes use of several Vectran filaments which are placed only in certain key parts over the upper of these cleats. These filaments work similar to that of the cables on a suspension bridge as they wrap around your foot before creating a lock down design. Thanks to such a minimal construction, the Vapor Ultrafly Keystone achieves such a precise fit without affecting the overall weight of this shoe.
The Phylon midsole gives excellent cushioning underneath your feet and when this product comes with a 12-cleat design, players will get unmatchable traction while wearing these cleats on the baseball field. For added flexibility, Nike has made use of flex grooves on the outsole which assists in the user's natural motion, such as running, walking and taking turns at high speed, on a consistent basis.
Another thing which is quite important about this product is its cost effectiveness. When a parent is going to make this purchase for their child, price plays a key role as the child is eventually going to outgrow his or her gear in some years. So just like the majority of the products on this list, the Nike Nike Boys' Vapor Ultrafly Keystone BG Baseball Cleats won't drill a hole in a parent's pocket.
Having said that, there is not a wide margin of selection when it comes to the design of this cleat. It is available in just 2 different colors and even though both of them are quite stylish, users still have to be content on just a couple of designs. Other than that, this lightweight cleat has got all the features which one could expect from a product of Nike.
Pros
Flywire technology creates a superior lockdown fit
Flex grooves enhance the natural motion of your feet
12-cleat design gives loads of traction
Cons
Available in only a limited set of designs
The Under Armour Boys' UA Deception Mid RM Jr. Baseball cleats come with a superior clutch fit upper. At a time when different manufacturers are trying to make athletic cleats as lightweight as possible, this is Under Armour's way of introducing a lightweight yet high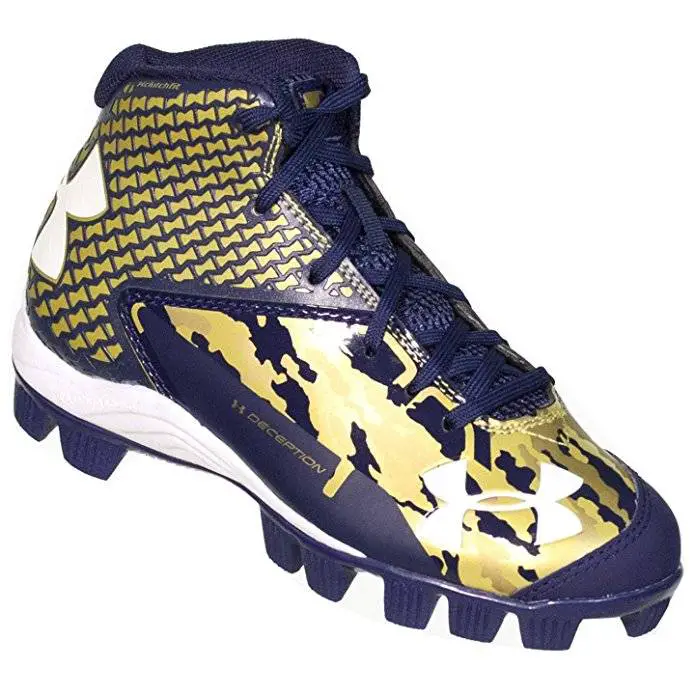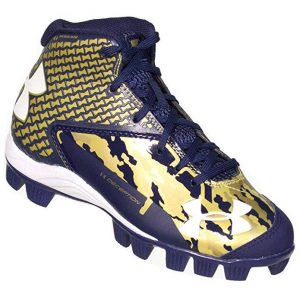 performing footwear for the baseball enthusiasts.
This web like pattern wraps around your foot just like a second skin and as you make your movements on the baseball field, it contours itself as per the natural dimensions of your feet. As a result, not only you feel like wearing a lightweight cleat but at the same time, it delivers incredible support to the wearer's foot. Moreover, this is a long-lasting construction so regardless of the conditions through which you're going to use these cleats, they will stay intact without any discrepancy.
Also present in the Under Armour Boys' UA Deception Mid RM Jr. is the ArmourBound midsole which runs three-quarter of the entire length of this cleat. When it provides maximum cushioning under your feet, it also makes sure to reduce the cleat pressure.
The Under Armour Boys' UA Deception Mid RM is available in 7 different colors. Depending on your kid's team uniform, which varies quite a bit, you can purchase the same colored cleat. These youth baseball cleats come with rotational traction cleat configuration which, apart from encouraging forward and backward movements, also helps the player in making lateral movements at an enhanced rate.
Finally, the slightly mid top design gives a decent ankle support which is a unique feature in a majority of youth baseball cleats. So if you're looking for one product with a unique fusion of style, durability, and performance, the Under Armour Boys' UA Deception Mid RM is worth a try.
Pros
CLUTCHFIT Upper delivers excellent foot support
ArmourBound midsole protects your feet from aching
Rotational cleat configuration assists in a wide range of movements
Cons
Question marks about the long-term quality of this cleat
Take your game to the next level with the Boys Under Armour Leadoff Mid Jr. Baseball Cleat. Designed with the UA engineered leather, this product comes with a Nubuck upper for proving maximum comfort along with superior durability. As compared to the majority of other types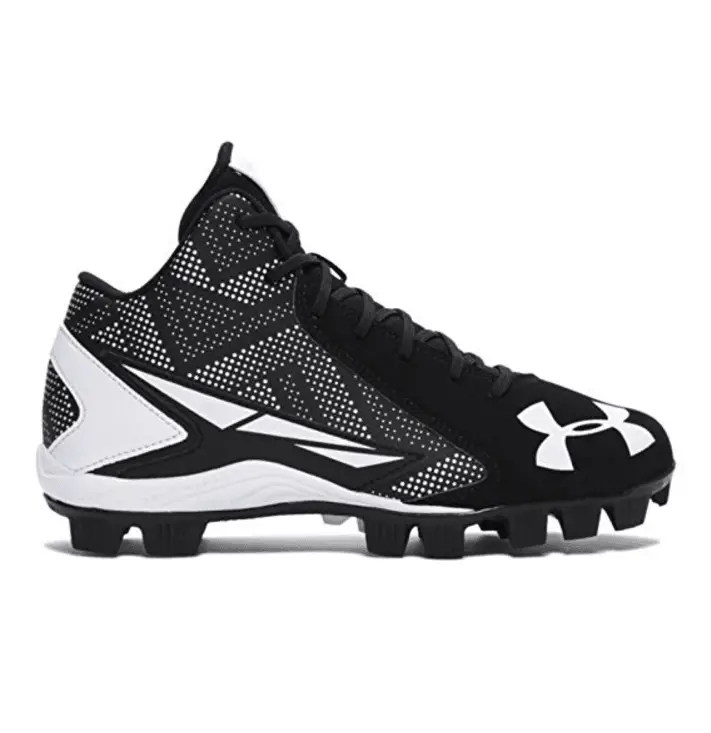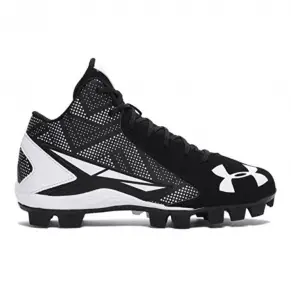 of leather, Nubuck is naturally stronger so your cleats will manage to outlive most of its competitors on the baseball field.
Featuring a mid-profile construction, this shoe allows its wearer to move freely on the baseball course without any restriction. Another exciting feature in the Under Armour Leadoff Mid Jr. is the presence of toe piece which resists corrosion as you drag your feet along the ground. It might look like a small addition but when it comes to increasing the overall lifespan of this product, this abrasion resistant toe cap does play a big role.
The mesh tongue, which comes integrated inside these cleats, helps improve breathability and makes sure that your feet stay dry even during a hot day of baseball.
One thing which customers have to be wary off is that these shoes do run a bit narrow. You might have to order 1 or half size larger than your actual foot size and for the customers with wider feet, it might not be a good idea to invest in the Under Armour Leadoff Mid Jr. Baseball Cleats. This seems to be the only drawback of this product so if you've average feet dimensions, this is one of the best youth baseball cleats to spend your money on.
Pros
Mesh tongue improves breathability
Toe piece enhances the lifespan of this product
Nubuck upper delivers excellent durability
Cons
Under Armour Leadoff Mid Jr. is not ideal for wide feet
Tips for Choosing Youth Baseball Cleats
Make sure that your coach / team leader approves
Many youth leagues recommend certain brands or require their players to wear either rubber or molded plastic cleats. It's a really good idea to double-check for any requirements before you shop, so it's easier to pick the best youth baseball cleats for your feet while sticking to team regulations.
Know what to expect from materials
Many comfortable, high-performance youth baseball cleats are made with synthetic materials. These are great for kids who are growing fast as they're cheaper to replace than cleats with leather uppers, which offer the advantage of greater durability. In terms of comfort, breathability, and cost, synthetic materials usually have the upper hand.
Interior structures are important
We all want cool-looking cleats but the inside of the shoe matters just as much as the outside – and maybe even more! All the best youth baseball cleats offer internal features like reinforced toes and plenty of padding. Reinforced toes help keep your feet safe and reduce some of the wear on the shoe's forward structure, and good padding helps prevent sore, stiff feet at the end of a day on the field. It's not something we think about often, but if your feet don't feel good, you won't be able to put 100 percent of your focus on your game.
Low tops or high tops? Know the advantages of each
Most youth baseball cleats have a low-top design for maximum flexibility and better breathability. But if you're someone who has had an ankle injury in the past – or if you simply prefer high-top shoes – then you'll probably find that a mid- to high-top profile works better for you. Do have a chat with your coach if the cleats they're recommending for the team don't meet your footwear needs. Foot and ankle injuries can cause lifelong mobility issues and prevention should be a top concern.
Baseball Cleats Questions & Answers
How Should Baseball Cleats Fit?
High/Mid-Rise Shoes
Remember that your cleats should fit snugly with a little space in the toe. A well-fitting shoe will help you get the most out of your fast movements on the field. Make use of these baseball Pro Tips to help you improve your game. Sizing for baseball or softball cleats should be snug, with little space for the foot to pass.
What are custom youth baseball cleats?
Customized cleats are all the rage in professional sports right now. You can take your cleats to the next level by designing them, purchasing art supplies, and devoting some time to making your cleats look exactly like you want them to.
Are youth baseball and football cleats the same?
Football Cleats vs Baseball Cleats Midsole
Football cleats vary from baseball cleats in that the latter has more midsole help. As a result, a football cleat is less comfortable to wear than a baseball cleat. These are the most durable cleats, and children will use them for a variety of sports like football, baseball, and lacrosse. The same cannot be said for football, baseball, or lacrosse cleats that cannot be worn with soccer shoes.
What's the Best youth baseball cleat Style? 
Top 8 Best Reviewed Youth Baseball Cleats for 2021
Under Armour Leadoff RM Jr.

Under Armour Harper RM Jr.

Nike Lunar Vapor Ultrafly.

Mizuno Advanced Franchise 9.

Nike Alpha Huarache.

New Balance 4040v5.

New Balance 3000v4.

Adidas Adizero Afterburner V.
What are the Best Cleats for Each Position?
The cleats may play a variety of roles depending on the location of the players. You're probably aware that, in terms of positions, players must stand in various locations on the field. Different types of cleats can have different features for those positions. This is why, once you've learned enough about the subject, you must choose your cleats. Let's take a look at which cleats are appropriate for which athletes.
Infielders
Infielders must choose their cleats based on their location and the area in which they must stand. If you think you'll be getting your job in a position where the ground is wet, compact, and thick, I'd recommend a molded one for an exam. A metal cleat is recommended for rough ground with sand and gravel.
Outfielders.
If you frequently play outfield, you have become more conscientious with your cleat selection. If you play on a nice, freshly prepared surface, you can use a metal cleat. Since metal cleats are ineffective in grassy areas. When the field is thick and grassy, however, molded cleats are appropriate.
Pitchers
Pitchers must, of course, use strength for the base in order to throw a ball quicker and harder. If you're a pitcher who struggles to keep his base stable, your cleats may be to blame. That if your cleats are not properly secured, this will occur. Pitchers are advised to wear low top metal cleats.
Who Makes the Best Youth Baseball Cleats?
Mizuno 9-Spike Franchise Series
The 9-Spike Advanced Franchise 9 Mid Molded Baseball Cleat provides enhanced comfort. This rubber baseball cleat for men is appropriate for all fields.
Do You Really Need High-End Cleats for Little League?
When practicing outside, Little Leaguers should wear cleats, and remember, metal spikes or metal cleats are not permitted at the younger levels. Shoes with molded cleats should be worn at the Tee Ball, Minor, and Major levels.

More Reviews
Last update on 2023-09-27 / Affiliate links / Images from Amazon Product Advertising API