Let's face it, none of us would want our little ones to walk into a baseball game or practice with the wrong bat. It's just as bad as bringing a knife to a gunfight. Save yourself from ever having to deal with that by taking a look at this DeMarini 2021 CF (-10) USA baseball bat review.
Now, I know you may have  doubts, wondering why you should buy a 2021 model when the 2020 version seems to be perfect. If it's not broken, don't fix it, right?
That makes perfect sense. But think about this: Why do you rush to get the latest iPhone when your current one seems just fine? For me, it's because I don't want to miss out on significant changes or improvements that are easy to overlook. I don't know about you, but if you share the same thought then you have reason to want to know more about the 2021 CF USA baseball bat.
Join me as I go through its features, benefits, shortcomings, and more.
Product Rating: 4.8
The 2021 CF (-10) USA Baseball Bat Review
The 2021 CF (-10) DeMarini Baseball Bat has so far lived up to its promise. It has turned out to be a dream bat for both power and contact hitters, owing to its consistent responsiveness, balanced swing feel, massive sweet spot, and improved weight distribution.
While its predecessor only had two color combinations: blue and black, the 2021 CF (-10) bat is clothed in an energizing blue with rich and bright orange and white accents to give it a playful tone.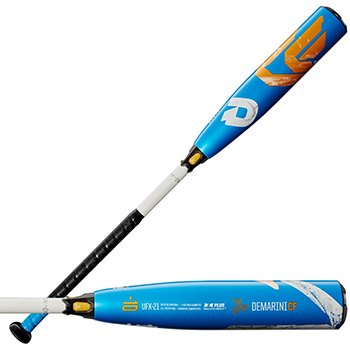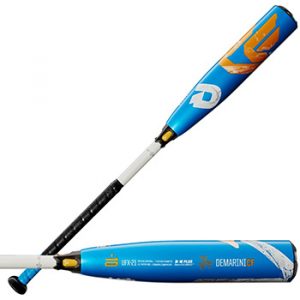 Here are other things you are going to love about this bat:
Pros
Built with a high-performing material (the Pareflex Plus Composite) to provide unrivaled barrel performance
Because of its versatility, the barrel is approved for play in Babe Ruth, Dixie Youth, Cal Ripken, Pony, and AABC leagues
Features a two-piece construction for maximum bat speed, enough to send your baseball to the extreme end of the outfield and beyond
A streamlined designed and tough lightweight end cap help the bat to have a balanced swing weight
It looks cool, which is what a young player would want to feel more confident
Uses an advanced connection system that works with the composite material to transfer maximum energy to the ball
Cons
So far, no player has recorded performance or technical complications with this bat, a fact that easily qualifies it as one of the best USA baseball bats.
Just keep in mind that this bat falls on the higher side of the price range. However, it is reassuring to know that you are guaranteed ultimate value for your money.
Analysis Of The 2021 CF (-10) USA Baseball Bat
Any young player looking to perfect their baseball swing is sure to find complete satisfaction in the 2021 CF (-10) USA baseball bat. Its weight is distributed effectively to allow for more control and balance, which is what you would want if you are just starting out.
Obviously, you will want to crush your opponents, too, and we all know nothing does that better than a bat with insane responsiveness. That's what you get from the 2021 CF USA bat, along with immense power, speed, and a feel that is just as great.
Key Features
Pareflex Plus Composite material
Two-piece construction
The Reaction End Cap
3Fusion Connection
USA Baseball Certification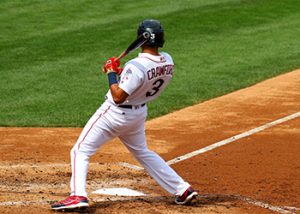 What a bat is made of tells a lot about its performance. You will hardly go wrong with those that use reinforced carbon fiber materials. Your guess about the CF (-10) baseball bat is as good as mine. Thanks to the Pareflex Plus composite, you have an elongated sweet spot and one of the most responsive USA baseball bats.
The two-piece construction design doesn't disappoint either. You have a bat that flexes more, allowing you to experience much better barrel control, superior bat speed, and balance. Because of this design, you won't get as much feedback as you would on a one-piece bat, but the upside is that the vibrations are dampened and stings are completely eliminated.
The minimized feedback can in part be attributed to the 3Fusion connection as well. Beyond that, this superior connection system improves weight distribution and redirects energy back into the composite barrel. This means only one thing: more power!
Barrel performance is further enhanced by the Reaction End Cap. It's crafted with lightweight and tough materials to ensure consistency in speed and power.
The 2021 CF bat has a weight drop of -10 and measures 2-5/8″ in diameter, which is the longest allowed for USA play.
Product Line
DeMarini has a huge lineup of bats built to comply with USA standards and specifications. In the CF USA series, they offer two drop weights:
Its predecessor, the 2020 DeMarini CF Zen (-10), is available in the same weight drop options. As I hinted earlier, what majorly sets the two apart is the appearance.
Other USA baseball bats DeMarini offers include the Voodoo and Voodoo One. The major difference between CF and Voodoo bats is the construction. While the former is a two-piece stick, the latter features a one-piece design.
You can also customize your own USA bat at an additional cost of $50, exclusively on DeMarini's online store.
Where To Buy The 2021 CF (-10) USA Baseball Bat
The 2021 CF USA Baseball bat can be found in most baseball equipment stores across the United States. However, you will experience more convenience buying it straight from the DeMarini Store. Here's why:
Irresistible discounts & offers
Free shipping and return
Twelve-month warranty
An offer to pay for the bat in four equal installments
The friendly team of experts at DeMarini is always on standby to address any issues you may experience. Should you run into technical or performance issues within the first 12 months of purchasing the bat, let them know as soon as possible.
Frequently Asked Questions
Is The 2021 DeMarini CF Zen Good?
Just like its forerunner, the 2021 CF bat guarantees unrivaled performance. It's one of the most responsive two-piece USA bats, with a look that is as terrific as its performance. That's precisely what distinguishes it from the 2020 CF Zen.
Are USA Bats Good?
In most youth leagues such as Little League, USA bats are second to none when it comes to quality and performance. These bats are built to meet the exact requirements of USA baseball, a fact that makes them perfect for younger players.
However, individual bat performance varies from brand to brand. The 2021 CF (-10) bat may be DeMarini's most recent offering in the CF USA baseball series, but it leads the pack. Built for both power and contact hitters, this version has the same feel and flex as other high-performing DeMarini baseball bats. 
What Is The Best USA Baseball Bat For 2021?
Best is a relative term in the baseball world since each player has specific preferences when it comes to bat design, swing weights, construction, and appearance. However, there's always that one bat that each player seems to warm up to.
Before the 2021 version, the DeMarini CF 2020 Zen topped the other best USA baseball bats for 2021. Since the two have a lot in common (except for the look), the legacy continues. You are assured of the same feel, sound, and swing weight should you decide to go for the most recent model.
Close competitors include the 2021 DeMarini Voodoo, Easton ADV 360, Louisville Slugger Select, and 2021 Rawlings Quatro Pro.
How Long Do USA Bats Last?
Composite and alloy bats have different life spans. Let's begin by looking at the former.
After breaking them in, composite bats can last up to three years. It all depends on how you use and take care of them. Here's what could limit their lifespan:
Using them more frequently
Fluctuating temperatures, cold weather
Poor handling
Should it split or if cracks start to become visible, that's a clear sign that your bat is on its way to becoming dead. Dull sounds, stinging, and reduced performance are other signs you should watch out for.
The situation is a bit different with alloy bats. First of all, no break-in is needed. If used properly, they can perform optimally for at least two years. However, as soon as the aluminum begins to lose to its form, the bat's performance will dip. This could happen due to dents or improper use.
A Summary Of The DeMarini CF (-10) USA Baseball Bat
If you have experienced any of the DeMarini best USA bats, then you know they hardly disappoint. Every year, the company makes sure you don't miss out on the most recent technologies that could perfect your baseball experience. It is for that reason that you may want to go for the 2021 CF (-10) USA baseball bat.
That aside, who wouldn't love a combination of balanced swing weight, superior responsiveness, more control, and insane speed in a light swing two-piece construction bat?
This is a bat your little one will pick up and begin to hit bombs with it. The elegant look will make them feel more confident holding the bat, which is what you want if you are looking to inspire them to love the game.