Not many bats take the baseball world by storm as the DeMarini CF Glitch (-10) did. Only a few months after its release it was among the best-selling USSSA baseball bats, relished mostly by younger players and beginners. Look into any USSSA baseball bat review and the first thing you see will be dozens of positive reviews about its performance and quality.
But that's just the good side. Does it have shortcomings? Will you get the best bang for your buck? And where can you buy it? All that and more is here for you in this review.
You can only make the right decision on whether this bat is right for you if you go shopping armed with all the essential info about its performance. You've probably seen or watched experts tie the bat's popularity to the similarities it shares with its infamous sister, the DeMarini CF baseball bat, but that's not entirely true.
As you are going to find out, the CF Glitch has its own unique qualities that have majorly contributed to its present success.
In this review, I get down to the details; I'll show you what it is composed of, the benefits its new and improved features offer, and so much more.
Product Rating: 4.5 
The 2021 CF Glitch (-10) USSSA Baseball Bat Review
The 2021 CF Glitch (-10) DeMarini baseball bat carries on the legacy of the already popular DeMarini CF, from unmatched pop to excellent grip and greater barrel control. It's a high-performing bat designed to offer the best USSSA baseball experience for batters aged between 7 and 13 years.
While the 'bones' are similar to what you would find in every other CF USSSA bat, the Glitch is exquisitely patterned and features a unique combination of features and designs that set it apart from the pack. Let's look at what makes one of the best USSSA baseball bats.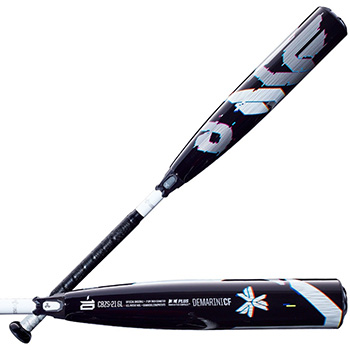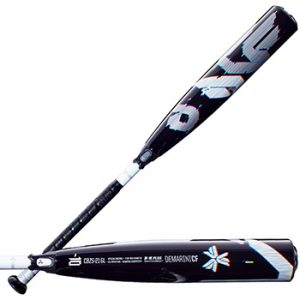 Pros
A composite barrel that can you get you the best results for any type of contact
Two-piece construction combined with the superior composite material that gives the bat a balanced swing weight
A connection system that eliminates vibration and helps to deliver optimal pop
The huge "sweet spot" gives the bat superior responsiveness
The 3Fusion connection reduces vibration, allows for more control, and keeps the energy in the barrel
A finely designed grip with silver and black accents adds to the bat's elegant look
Cons
Slightly more expensive than other bats in its category, but you get ultimate value for your money
DeMarini's 2021 CF Glitch baseball bat evidently tries to outdo not just its predecessors but also other best USSSA bats. And guess what: It's a success already, going by the number of players who continue to warm to it and other DeMarini bats.
Analysis Of The DeMarini CF Glitch (-10) Bat Performance
As the latest offering in DeMarini's CF legacy line, this bat redefines the hitting experience through its new-and-improved features. A fresh all-new look finished in black and silver with unique patterns complements its exceptional performance, making it the younger player's dream USSSA bat. Everything else that's been packed into this bat only intensifies its performance.
One particularly profound feature of the 2021 CF Glitch (-10) is the Paraflex™ Plus Composite material. As far as materials go, this is one of the few you can count on for consistent responsiveness. Not only does it deliver a massive sweet spot, but it also gives you better barrel control and unrivaled pop.
Still, DeMarini felt that the barrel performance wasn't enough. They also used an end cap crafted with stronger, yet lightweight, materials to amplify the bat's responsiveness without interfering with the swing speed.
The performance gets even better when you factor in the two-piece construction. You get a smoother swing, better flex, plus more power and speed from your action.  Mis-hits won't generate that sting we all fear, and the vibrations have effectively been dampened due to the connection system that joins the two pieces.
Another tremendous benefit resulting from the two-piece construction is even weight distribution, which leads to a greater balance of speed, power, and control. Additionally, players cherish the streamlined design. This is actually what lets you have much better control of the bat.
Equally important to note is that DeMarini is an approved USSSA bat manufacturer, so the CF Glitch (-10) complies with all the standards applicable to this category.
Product Line
DeMarini CF baseball bats are a product line that was initially known as CF Zens. In its lineup, this series has baseball bats that cater to hitters at all levels of the youth league. Not too long ago, DeMarini introduced these CF Glitch USSSA bats, which is the latest offering in their CF series.
In this particular lineup, players can choose between -5, -8, and -10 options. As mentioned earlier, the CF Glitch bats borrow a lot from the DeMarini CF USSSA baseball bats. Both have similar weight drop options and also share a couple of features such as the 3Fusion connection technology and two-piece composite construction.
Still from the same CF series, you will find a wide range of BBCOR and USA bats; however, the CF Glitch bats pack many premium features a younger baseball player would benefit a lot from. You could use other bats such as USA or BBCOR, but they will put you at a disadvantage, especially if you are taking part in USSSA games.
Where To Buy The DeMarini CF Glitch Baseball Bat
Like every other best-selling baseball bat, the CF Glitch (-10) is available in just about every major sports store. You stand a good chance, though, of enjoying better discounts and added convenience when you shop it straight from DeMarini. Other popular online stores stock it too.
The manufacturer has a twelve-month warranty on this baseball bat and a friendly team to attend to you should anything go wrong within this period.
Frequently Asked Questions
What Is A USSSA Bat?
These are bats that comply with the United States Specialty Sports Association (USSSA) standards. According to these rules, the bats must:
Have a USSSA 1.15 BPF Mark permanently stamped on the barrel, or have a BBCOR.50 Certified Mark, or be made from wood
Have a maximum barrel diameter of 2 ¾"
Be constructed by an approved USSSA bat manufacturer
What Is The Best USSSA Bat?
Even though it has not been around for long, the DeMarini 2021 CF Glitch (-10) Baseball Bat has quickly risen to become the best USSSA bat for players, parents, and even baseball coaches.
This can be attributed to its high performance, defined by a balanced swing weight, elite responsiveness, unmatched pop, excellent grip, and better barrel control.
Is DeMarini A Good Bat?
DeMarini has built a name for itself as the home of quality, high-performing baseball bats. A division within the brand that deals with research and development takes most of the credit for the progressive and innovative features present in the brand's successful baseball bats.
Each year, they release new bats across their different product lines that feature new and improved components, in an effort to refine the baseball hitting experience for hitters at all levels.
Whether you are looking for BBCOR, USA, or USSSA bats, there's a long list of options to match your tastes and preferences. The CF Glitch may still be new, but it is no doubt a great USSSA bat, going by the attention and raving reviews it is already receiving from baseball players and parents.
Which DeMarini USSSA Bat Has The Most Pop?
Of all DeMarini bats, the 2021 The Goods (-10) USSSA Baseball Bat delivers the most pop. It's a two-piece, end-loaded bat made from an X14 high-performance alloy barrel. Balls fly off it at higher speeds, leaving behind loud, attention-drawing sounds.
In baseball, pop has many definitions, but the simplest explanation is that it is the speed at which the ball leaves the bat. Some people refer to this as exit velocity.
Is The CF Glitch (-10) One Of The Top USSSA Baseball Bats? Final Thoughts
The 2021 CF Glitch (-10) has set the bar higher for two-piece construction USSSA bats. Any serious player who chooses this for their game is guaranteed a more balanced, powerful swing. It may share a lot with other USSSA best bats in the CF series, but it goes the extra mile when it comes to design and performance.
It is made from a well-performing composite material and incorporates finely-tuned components, right from the end cap to the connection system. Knowing very well that you would like a bat you feel confident playing with, DeMarini refined the bat's appearance by using a streamlined design, a creative combination of colors, and distinctive patterns.
While you shop, remember there are a variety of drop weight options to choose from. For the best baseball hitting experience, pick the right one for your age bracket.