High school is a make-or-break time for just about every baseball player, and your child is no different. It could be the time when they rocket-launch their baseball career or call it a day. That's why it matters a lot that you research the best high school baseball bats and find one that suits your child perfectly.
To be fair, the baseball bat you choose is just the beginning, but even total novices would agree that when you have the right tools of the trade, it becomes easier to do your job properly. This is why baseball is more fun and a better experience overall when you have the right bat.
However, choosing the right bat is easier said than done. In a market saturated with thousands of options, you will need laser-sharp focus and plenty of information in order to settle down on an option that won't disappoint you in the long run.
This is where this article comes in handy. It took a while to gather a shortlist of potential high school bats you can count on for brilliant performance. This list was compiled after closely examining many different bats' suitability for high school baseball by looking at their size, weight, construction, drop ratio, professional certification, and, of course, performance.
Below are the options I ended up with as the overall best high school baseball bats. Also, later on, I'll also go into more detail as to how I filtered my selections.
Let's get started!
Best High School Baseball Bats Quick Links
2021 DeMarini The Goods (-3) BBCOR Baseball Bat – Best Overall Product
2018 D243 Pro Maple Wood Composite Baseball Bat – Best Budget Product
Top Pick
It is not surprising that the 2021 DeMarini The Goods (-3) BBCOR Baseball Bat dominates the list. The bat carries on the legacy of its forerunner.
Whether it's speed, control, power, comfort, or BBCOR certification, the bat scores a clean A. It's engineered with powerful composite and alloy materials and tuned to deliver the optimum performance all power hitters dream of. Even though it's pricey, the value you'll get in return is priceless.
Comparison Table
IMAGE
PRODUCT
 


(Best Overall Product)


An X14 alloy barrel
Two-piece construction with an end-loaded design
BBCOR certified

4.2

VIEW LATEST PRICE →


(Best Budget Product)


Made of pro maple wood and composite
BBCOR certified (for college and high school)
Approved for various levels of play, including Perfect Game and Rookie Ball

4.5

VIEW LATEST PRICE →

Made with the Paraflex Plus composite material
Great Pop
BBCOR certified

4.3

VIEW LATEST PRICE →
Best High School Baseball Bats: Reviews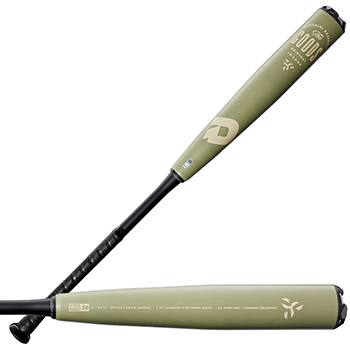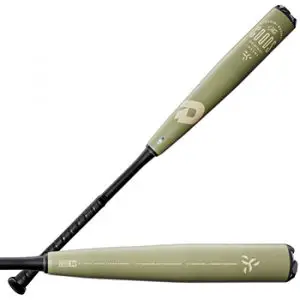 Any high school baseball power hitter will tell you that DeMarini The Goods is the master of this sport. Now we have the 2021 version, which is just as great, if not better than its predecessor, the 2020 DeMarini The Goods. You'll get the same big barrel every power hitter needs, plus an end-loaded swing feel.
Key Features
An X14 alloy barrel
Two-piece construction
Seismic end cap
BBCOR certified
A hard-to-ignore feature that sort of defines this bat is its X14 alloy barrel. Massive and tough, this barrel was engineered for elite power hitters. Plus, it's paired with a lightweight composite handle so the player can experience a perfect swing weight.
To combine the two, DeMarini used an innovative technology that connects the two directly, thereby enabling the maximum transfer of energy to the barrel with every swing. Also, it minimizes the sting that accompanies mishits. In fact, you will always feel the stiffer connection when the bat comes into contact with a ball.
Pros
Comes with a seismic end cap that is built with stronger and stiffer materials to optimize the bat's performance
An end-loaded design ensures more energy gets to the barrel for powerful hits
Great pop, thanks to its alloy barrel
A full 12-month manufacturer's warranty has you covered in case the bat lets you down
Cons
Slightly more expensive than others in this category
Are you a hitter looking to have a heavy, tough bat or to simply perfect your hitting skills? If so, I unreservedly recommend the 2021 DeMarini The Goods Bat. It may not be so different from its predecessor, but if you prefer the fresh eye-catching paint, get this most recent version.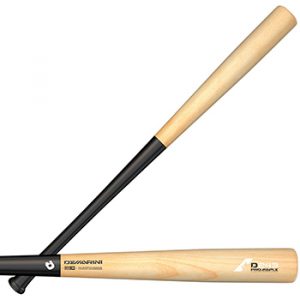 If I were to pick two words that perfectly describe DeMarini bats, I would go for durability and strength. These two areas are exactly where the D243 shines. To make it even more solid, DeMarini crafted the handle with composite wood, making it one of the toughest wood bats on the market.
Key Features
Made of pro maple wood composite
Large-sized barrel
End-loaded swing weight
BBCOR certified (for college and high school)
Approved for various levels of play, including Perfect Game and Rookie Ball
For an improved grip and feel, the manufacturer coated the handle with a fine synthetic finish. Combined with its medium taper, you have a bat that is sure to amplify your performance as a contact or power hitter.
Also, just to reassure you that this is the perfect bat for your needs, it's also BBCOR certified, meaning you can safely and comfortably use it in both high school and college leagues.
Pros
The composite wood-maple combo makes this one of the strongest and most durable bats for high school baseball
You are guaranteed a reasonable amount of flex not present in maple-only baseball bats
Comes with a one-year manufacturer's warranty, just in case the bat disappoints you within this period
Because of its unique design and construction, the bat has a larger sweet spot and channels more power to the barrel for more powerful hits
Produces a reasonable amount of pop
Cons
You may have to tape the handle to improve the feel and grip
Take all the benefits of a tough wood bat then add to that the quality of not being able to break. The result is the D243 Pro Maple Wood Composite Baseball Bat. End the constant worry that your bat could break into pieces by getting yourself this bad boy.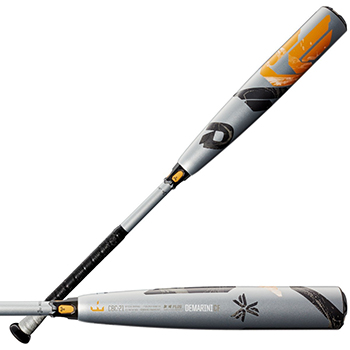 Ever fancied owning a premium two-piece bat you can count on to turn you into the star of the match? If so, you will be glad to know that the DeMarini CF composite bat was designed for precisely that. You'll get better barrel control, superior bat speed, and that desired balance every hitter craves for. But that's not all; there are even more great features this bat boasts!
Key Features
Made with the Paraflex Plus composite material
Two-piece construction
3Fusion connection
Reaction End Cap
Balanced swing feel
BBCOR certified
It's not just the consistent responsiveness you should be excited about. The Paraflex Plus material ensures you'll have a massive sweet spot as well. It also increases your swing speed while giving you greater barrel control.
Then there's also the 3Fusion connection system which joins the handle and barrel. It's so streamlined you will barely notice it, and it comes with multiple benefits, from dampening vibrations and channeling energy back into the barrel to letting you experience greater weight control.
Pros
A larger sweet spot that gives you the liberty to hit the ball far and wide
 A well-balanced combination of speed, power, and control
The reaction end cap helps to bring out all the pop from the composite barrel while increasing your swing speeds
The bat's Fantastic Flex Technology makes the most of its pop potential without eating into the performance
No questions asked one-year manufacturer warranty
Cons
It's the most expensive product in this lineup, but the upside of this is you get the ultimate value for your money
Because of how it balances speed, power, and control, the Demarini CF (-3) BBCOR Baseball Bat is an ideal bat for all kinds of hitters. You can easily use it to perfect your fundamental bat skills and grow yourself into a well-rounded hitter.
Buyer's Guide For The Best High School Baseball Bats
Not all bats are the same. Every league has bats especially suited for the players in it. Arming a young player with the right baseball bat is therefore one way to help them perfect the fundamental skills for this game. To do that, you will first need to have a few factors in mind (besides high school baseball bat reviews) before you go shopping. These factors include:
BBCOR Certification
BBCOR is the main standard certification you should watch out for in your search for high school bats, particularly those made of alloy and aluminum.
If present, it means the bat complies with the size, weight, length, and other bat rules put in place by the National Collegiate Athletic Association (NCAA) and the National Federation of State High School Associations (NFHS).
These requirements are:
A drop weight of no more than -3
Maximum bat diameter of 2 5/8 inches
Maximum bat length of 36 inches
Materials
To begin with, check the material that has been used to craft the baseball bat. In high school baseball, players are only allowed to play with wooden, aluminum, and composite bats. Here's a quick breakdown of these materials.
Wooden
Wooden bats have been around for over a century and right now, they are the only ones permitted in the MLB. What sets them apart from other bats is their ability to deliver powerful hits. Common types of wood used for these bats include ash, maple, hickory, beech, and birch.
Aluminum
Aluminum bats (also commonly known as alloy bats) are the traditional kind well known for having a sharp ping when they come into contact with the ball. In one-piece construction, aluminum is the dominant material. It is also the lightest bat you will come across on the market.
Composite
Composite bats are made with reinforced carbon fiber material. When it comes to popularity, they dominate over the other bats. Players love them mostly for their massive sweet spot and minimal sting on mishits. Additionally, as they get broken in over time, their performance only becomes better.
Size
The size of a baseball bat heavily relies on the materials used. For wood, the maximum allowed length is 42 inches and 2 3/4 inches for the diameter.
Non-wooden bats (alloy and aluminum), on the other hand, have their height capped at 36 inches and can only be up to 2 5/8 inches wide.
With longer bats, you can have a higher chance of hitting the ball further, but there's a catch: you have more limited control, and longer bats also tend to be heavier.
It helps to refer to a bat size chart to identify a perfect-sized bat for your needs.
Drop Ratio
Going by the BBCOR requirements, the recommended drop ratio is -3. Here's how to calculate it.
Take the length of the bat and then subtract its weight from it. For example, if a bat measures 33 inches in length and weighs 30 ounces, the drop ratio will be -3.
The higher the number, the heavier the bat. A -3 drop bat is, for instance, two ounces lighter than a bat with a -1 drop ratio.
Most younger players tend to do well with lighter bats because they have more control and can swing them with ease.
Construction
Construction is a big factor in bat performance. Generally, there are three main types of construction used for making baseball bats. These include:
One-Piece Bats
As mentioned earlier, one-piece bats mostly feature aluminum. Even though they are stiff and have minimal flex, you can count on them for those cherished powerful hits. They are a power hitter's favorite.
Two-Piece Bats
More flex, minimal sting, a sting effect, exceptional power…these are just a few of the positive things to note about two-piece bats. This particular type of construction allows maximum transfer of energy to the barrel, leading to more power. Because they are light yet big on performance, they are a preferred option by younger players.
End Loaded Bats
This is another power hitter's favorite bat, and you can easily guess why. A lot of the bat's weight has been put around the barrel's tip so that the player can produce more power and hit the ball further. Because of this design, controlling your swing can be a bit challenging for very young players.
Balanced Bats
Just as the name suggests, these bats have their weight evenly distributed across the entire barrel length, giving the player more control.
Frequently Asked Questions
What kind of baseball bats are used in high school?
In high school baseball, hitters can use wooden, aluminum, and composite bats. Which material is best for you will mostly depend on your budget, level of play, league, and your general preferences.
Wooden bats, for instance, tend to be cheaper yet more heavy and powerful. A majority of young players use them in batting practice. However, when it comes to league games, most hitters go for BBCOR bats, which are slightly more expensive but deliver a fantastic performance.
You would also be at peace using a BBCOR certified bat because it fulfills all the requirements for high school baseball.
Are drop 5 bats legal in high school?
Bats for high school can only have a drop ratio of -3 or lower, according to official standards.  A drop 5 bat most definitely fulfills this requirement, making it legal for high school baseball.
As mentioned earlier, the National Collegiate Athletic Association (NCAA) and the National Federation of State High School Associations (NFHS) both use the BBCOR standards to decide what bats may be used in high school baseball.
Before BBCOR, officials used the BESR standards, but these were dropped because they compromised player's safety and fair play.
What's the best BBCOR bat for high school?
2021 DeMarini The Goods may have only recently hit the market, but just like its predecessor, it has quickly risen to become the BBCOR bat of choice for high school hitters.
Its excellence can be attributed to its clever combination of features that amplify its performance, from the huge alloy barrel and connection technology to the end-loaded design and great pop.
What high school baseball bat has the most pop?
The Demarini CF (-3) is hands down one of the best high school baseball bats with great pop. This is part of what makes it a favorite for high school batters.
Two well-thought-out features that help to exploit its pop potential further include the reaction end cap and fantastic flex technology. While the former brings out all the pop from its barrel, the latter optimizes the bat's pop potential without compromising its performance.
A Summary Of The Top High School Bats
It's great to see that high school baseball bats are available in multiple sizes, styles, and weights to meet your unique needs and preferences. In fact, there's even a bat size chart to help you narrow down to a bat that perfectly suits your individual requirements. Remember to consider the rest of the factors we looked at when deciding on the best and most suitable bat for you.
From the three options discussed, the 2021 DeMarini The Goods (-3) BBCOR Baseball Bat takes the cake. It's not just the many positive high school baseball bat reviews that speak to its greatness; there's also the fact that power hitters easily warm up to it because of its potential.
Now, here's the best part. If the bat fails to live up to your expectations within 12 months, you can return it to the manufacturer. No questions asked!