If you've spent any time on the field, you know that batting gloves are an essential part of every baseball and softball player's gear. For hitters, gloves do more than one job: Not only do they provide added friction for a tighter grip on the bat, they also help absorb a bit of the shock and sting that comes when the ball makes contact and (hopefully) flies out of reach of those outfielders!
Here's a fun piece of trivia: That sting (also known as feedback vibration) is quite common – particularly when you fail to hit the incoming ball with the sweet spot on the bat's barrel. While feedback vibration does send an instant message that basically tells the batter that they've missed that sweet spot, it also hurts – and that can lead to hesitation caused by anticipation of the sting!
While every batter – even baseball and softball pros – needs plenty of practice, there's no need to put yourself through discomfort with every single smack, particularly when you're at the batting cages. The right batting gloves can help you eliminate the discomfort and any subconscious sense of hesitation that comes with it. A more comfortable swinging experience during practice translates to a better batting experience every time you step up to the plate and over time, a better batting average overall.
We've been around the block – or should we say, bases – and along the way, we've tried out dozens of different batting gloves so you don't have to. The takeaway here is that batting gloves are not created equal, and the gloves that feel amazing on your teammate might not be the perfect fit for you.
Now that we've cleared the air, here are a few more points to keep in mind while you're shopping for the best batting gloves. The right ones feel great on your hand and they don't impede your swing in any way. They give you a better grip and they ease the sting from those feedback vibrations. They're made well enough to last at least a season.
Since the market is absolutely flooded with an endless selection of batting gloves, it can be tough to determine which ones are the right fit for your needs as well as for your budget. To make life just a little easier and get you even closer to perfecting your batting, we've shortlisted 5 of the best batting gloves on the market right now, plus we've added a list of 20 runners-up that performed admirably but didn't quite make it onto our list of the "greatest hits."
In deciding which to include on our list of the best batting gloves, we considered a number of factors including materials, the amount of padding, the availability of different colors, adjustability, durability, and of course, price. We're fairly certain that you'll find the ideal batting gloves among our top picks and if not, that you'll find a suitable option among the runners-up!
Best Batting Gloves
Our Top 5 Batting Gloves Reviewed
Franklin Sports MLB Digitek Batting Gloves
Franklin Sports makes some of the best batting gloves in the business so it's not at all surprising that their MLB Digitek batting gloves took first place on our list! Don't be tricked into thinking that these are only kids' batting gloves if you decide to take a closer look. Digitek batting gloves come in sizes for youth and adult players alike, so everyone can benefit. There's also a wide range of colors, which is a fantastic touch for those who love to look sharp while batting their best.
These batting gloves are lightweight, flexible, and moderately priced. They're jam-packed with impressive features, beginning with a top-grade genuine leather heel pad that cushions your hand to absorb shock and help prevent the blistering that can sometimes happen during extended practice sessions. Durable stitching means reliability that lasts all season.
Next up is a digitally etched microfiber palm that's specially textured to help you get a solid grip on your bat. The microfiber is designed to resist tears and maintain its texture over time, but it is susceptible to damage if you repeatedly slide into bases with your palms in contact with the ground. We're pretty sure that you wouldn't do this intentionally, but this is a scenario that happens from time to time and it's one of the fastest ways to damage these gloves.
Besides lots of padding and plenty of grip, these batting gloves offer an outstanding fit. We'd like to point out that if you're between sizes, it's probably best to go with the smaller of the two as it's better to have tight batting gloves than to suffer through practice sessions and games with loose, wrinkled ones.
Franklin's patented Tri-Curve technology lends to a comfortable feel, particularly when you're at bat. The snug, flexible fabric wraps your hands in a secure hug so you're never distracted by uncomfortable wrinkles or shoddily sewn seams. An adjustable wristband adds extra security and helps you get a customized fit that feels fantastic.
Inside the wristband, there's a customizable ID tag. We recommend using a permanent marker to identify your gloves so that your name remains legible even when exposed to rain or sweat.
Franklin Sports MLB Digitek Batting Gloves Key Features:
Genuine leather heel pad cushions the palm of the hand

Textured microfiber palm for a snug grip

Tri-Curve technology for a comfortable feel

Adjustable wrist strap

ID tag inside

Multiple colors and sizes available
Seibertron B-A-R PRO 2.0 Signature Baseball / Softball Batting Gloves
Prone to sweaty hands? If so, Sebertron B-A-R batting gloves might be your best choice, as they feature ventilated palms and fingers to help keep your hands feeling cooler and more comfortable.
These batting gloves offer a snug fit and textured silicon grips. It's worth noting that if you frequently play in wet conditions, these gloves might not be best; the silicon doesn't offer the same secure grip wet as it does when dry.
Minimal padding provides just enough protection to ease the sting of feedback vibration. The snug, stretchy fabric makes for a comfy fit, and the adjustable wristband prevents accidental loss. Reinforcing at key wear points ensures that the gloves will keep your hands protected for at least an average season.
These batting gloves come in a few different colors and sizes for youths and adults. A contrasting geometric pattern provides a touch of added style.
B-A-R batting gloves tend to run a touch small so ensure that you take measurements to ensure that you get the right size.
Seibertron B-A-R Pro 2.0 Batting Gloves Key Features:
Thin, lightweight design

Reinforced stress points

Grippy silicone fingers and thumbs

Adjustable wrist strap

Available in a few popular color combinations
Prefer the look and feel of traditional batting gloves? If so, you'll probably like everything about this pair. Another outstanding offering from Franklin Sports, Neo Classic gloves offer a great combination of quality and performance, so you get the best of both worlds in terms of comfort, fit, and longevity.
These gloves do cost a touch more than some others but there's a very good reason why. They're constructed with top-notch materials including Pittards Digital sheepskin leather, which offers a very comfortable, soft feel on your hands while at the same time staying tactile and offering an excellent grip in all weather conditions.
Next up: Floating thumb technology that assures maximum adaptability and agility, so you enjoy full range of motion throughout your hand. When you're completely comfortable, you're more confident and every swing is smoother, so your batting average benefits.
Speaking of comfort, the one-piece leather palm is both durable and resilient, so you feel less stinging and put 100% into every swing you make. As you might expect, the leather palms also contribute greater durability, so your gloves last longer!
These gloves feature professional-grade spandex wristband supports that provide a snug feel while offering a touch of wrist reinforcement for greater stability and smoother swings. Quad-flex technology prevents uncomfortable bunching that can interfere with your performance.
Franklin Neo Classic batting gloves are available in several popular color combinations and in a variety of sizes to fit just about every player.
Franklin Sports Neo Classic Batting Gloves Key Features:
Full leather palms

Ventilated fingers

Floating thumb technology

Adjustable wrist straps

Supportive spandex wrist inserts
Franklin Sports MLB Cold Weather
Chilly weather won't keep you from performing your best when Franklin Sports MLB Cold Weather batting gloves are part of your game plan! With one-piece leather palms that provide a good grip while offering better durability than many synthetic materials, these gloves feature insulated neoprene backs with a breathable design that prevents slippery sweat buildup.
Like most other batting gloves from Franklin Sports, MLB Cold weather gloves are made with Pittards Digital sheepskin leather. The company's trademark Quad-Flex technology ensures that the material doesn't bunch up, so you enjoy a consistent, comfortable grip on the bat for better, more effective swings.
Adjustable wrist closures and soft pro-boa wrist linings provide a combination of softness, support, and security, so your hands stay warm and your gloves stay on.
Franklin Sports MLB Cold Weather batting gloves are among the best options for anyone who's at bat during the colder months, and they're available in a few popular colors as well as in a range of sizes.
Franklin Sports MLB Cold Weather Batting Gloves Key Features:
Insulated neoprene backs

Quad-flex creasing for a comfortable, sculpted fit

Textured leather palms

Boa-pro wrist lining

Adjustable wrist straps
Louisville Slugger Genuine Batting Gloves
Louisville Slugger has a decades-long reputation as one of the best baseball gear manufacturers, so it's no surprise that the company's batting gloves are among our top choices. If you're on a budget, you'll definitely want to take a closer look, as this design pairs affordability with reliable quality.
Louisville Slugger batting gloves feature one-piece synthetic palms and thumbs that provide a slip-free grip.
The gloves' backs are made with stretch Lycra for a combination of breathability, flexibility, and a snug, comfortable fit. The neoprene wrist strap is adjustable, so it's easy to get the right level of support while ensuring that your batting gloves stay in place.
Louisville Slugger batting gloves come in your choice of classic white or black, with a contrasting logo on the back. There are several sizes available, including youth sizes to keep younger players comfortable while they develop their swings.
Louisville Slugger Genuine Batting Gloves Key Feature
One-piece synthetic palm and thumb design

Flexible Lycra back

Adjustable neoprene wristband

Youth and adult sizes available
How to Choose a Batting Glove
Important Features to Consider
If you've hit a baseball or softball before, you probably know that batting gloves play an important role in helping you deliver your best possible performance. Here are some important things to keep in mind when choosing batting gloves for yourself or a junior player.
Protective Palm: Leather and synthetic materials provide cushioning to protect your hands and absorb some of the shock that occurs when your bat makes contact with the ball.
Great Grip: Textured fingers, thumb, and / or palm materials help you get a firm, non-slip grip on the bat so every swing is as effective as possible.
Snug Fit: Contoured fingers, floating thumb designs, and flexible materials throughout the gloves' backs contribute to a comfortable fit without excess fabric to interfere with your ability to grip the bat firmly and follow through with your swings. When in doubt, consider choosing a smaller size rather than a larger one.
Secure Wrist Closure: An adjustable wrist closure lets you customize your batting gloves for the best possible fit and feel. Extra points for designs that incorporate a touch of added support for enhanced stability while batting.
Temperature Control Features: Breathable fabrics, ventilation, or insulation can help keep you comfortable while batting. In turn, greater comfort means one less distraction and a stronger focus on your performance.
Frequently Asked Questions
Do I really need to wear batting gloves?
The question of whether to wear batting gloves or not is largely a matter of personal preference. We feel that you'll bat better if you wear gloves – after all, they're functional gear and not just a style statement! Key benefits of wearing batting gloves include less friction, enhanced wrist support for better follow-through when batting, a better grip, and greater comfort during long practice sessions.
Should I buy one batting glove or get a pair?
While you might choose to wear just one batting glove, most manufacturers offer their batting gloves in pairs. Try wearing both or simply wear a single glove on your dominant hand to see how your performance is affected.
Are leather palms better than synthetic?
While it's true that natural leather is generally tougher than synthetic materials, thin, inexpensive leather is prone to tearing. It's best to look at the overall quality of the batting gloves in question since technical materials can offer a range of benefits.
Should I choose batting gloves with more or less padding in the palms?
It's up to you! If your hands are sensitive, consider choosing batting gloves like Franklin's MLB Digitek, which offer a bit more protection than thinner, more lightweight designs. If you prefer to feel more of the bat, then a thinner glove will probably suit you better.
Do baseball batting gloves work with softball bats?
Yes, so long as you've got the correct fit, your batting gloves will help you get a great grip while minimizing the stinging sensation that occurs when you hit a softball with a softball bat.
My child is playing T-ball or little league. Do they really need batting gloves?
You may want to ask your child's coach for advice but in our opinion, it's best to start your child out right. Learning to bat while supported and protected by batting gloves preps children for more intense gameplay as they grow older. Familiarity with equipment is an important part of learning to excel at any sport.
How do I select the correct size batting gloves?
Most manufacturers offer size charts for their products, complete with instructions for measuring your hands and determining which size is best. We recommend having a friend or family member help you take your measurements so that they're accurate – it's a tough task to accomplish with just one hand! It's also a good idea to read reviews to find out if the batting gloves run true to size, small, or large. Insight from others can help you find the size that's right for you.
Additional 20 Batting Gloves We Reviewed
We took a close look at 20 other batting gloves. Although they didn't make their way onto our list of the 5 best batting gloves, they're definitely among the best of the rest and all are great options worth considering.
Franklin Sports MLB CFX Pro Baseball Batting Gloves
Price was the main consideration that kept these batting gloves from being listed among our top 5 contenders. If you're not on a budget though, you'll definitely want to take a closer look: The CFX Pro is the official batting glove of Major League Baseball, with premium features to match its price.
Key Features:
Premium-quality leather for multi-season durability

Design follow the natural curvature of your hand

Tectonic fit inserts provide flexible comfort without additional bulk

Available in youth sizes as well as adult sizes

Many appealing color combinations are available
Mizuno B-303 Baseball Batting Glove
Innovative Flexmesh backs give these Mizuno batting gloves a great combination of comfort, style, and durability. The textured leather palms offer a reliable grip, and quickadjust wrist straps provide a secure fit in a flash.
Key Features:
Textured Cabretta leather palms

Flexible, breathable Flexmesh backs

Quickadjust™ strap system

Thin, lightweight design
Rawlings Workhorse Adult Batting Gloves
A bit sturdier than some other batting gloves on the market, this pair features a pad on one hand only – pick a pair with the pad on the hand opposite your throwing hand. A reinforced elastic wrist closure provides a secure fit. These batting gloves offer a snug feel, but tend to run a touch smaller than average.
Key Features:
Right hand throw = left hand glove; Left hand throw = right hand glove

Oiltac leather palm pad

Adjustable elastic wrist closure

Flexible back with dynamic fit system
Rawlings 5150 Adult Baseball Batting Gloves
Breathable FlexFit material forms the back of Rawlings 5150 baseball batting gloves, so your hands are free to move naturally through every swing. Durable goat leather palms and supportive adjustable wrist straps make for reliable performance despite the affordable price tag. Like quite a few other options, these batting gloves are smaller than average.
Key Features:
Genuine goat leather palms

Heathered FlexFit backs

Vented fingers and wrists

Wide, supportive wrist straps with adjustable closures
Franklin Sports MLB Powerstrap Baseball Batting Gloves
Pricy but reliable, Franklin Sports Powerstrap batting gloves are a favorite with MLB players. The wide, wrap-around wrist closure provides excellent support while leather construction offers a combination of comfort, durability, and a great grip season after season.
Key Features:
Part of Franklin's MLB on-field line

Powerstrap wrist closure for a secure fit without frequent adjustments

Premium leather construction

Contrasting accents on back

Available in a variety of youth and adult sizes as well as different color combinations
Franklin Sports 2nd-Skinz Batting Gloves
Comfort and affordability come together in Franklin Sports 2nd Skinz batting gloves. With digitally etched synthetic polyurethane palms for a secure grip, these gloves offer genuine leather heel patches and flexible reinforce backs with built-in ventilation. Choose from youth or adult sizes and a few popular colors.
Key Features:
Textured synthetic palms with genuine leather heel patches

Tri-curve Lycra flex backs for a snug, comfortable fit

Slim adjustable wrist strap
Primal Baseball Power Stones Baseball Batting Gloves
Looking for something different? Primal Baseball Power Stones batting gloves offer flexibly backs, floating thumb technology, adjustable wrist straps, and a fun printed design. The optic pitted leather palms give you a reliable grip on the bat while providing the shock absorption you need.
Key Features:
Pitted leather palms

Finger break contours

Ergonomic wristband

Flexible, fitted backs with a fun "power stone" print
Marucci PITTARDS Signature Adult Batting Gloves
Embossed Pittards sheepskin palms offer a great grip, finger break contours provide a fantastic feel, and stretch lycra helps prevent the bunching that can occur with materials that lack enough stretch. While these batting gloves have a reputation for exceptional comfort, they tend to show wear and tear after a season of heavy use.
Key Features:
Grippy Pittard sheepskin palms

Supportive neoprene cuff

Fitted, contoured fingers

Rubberized synthetic thumb layer

Multiple colors and sizes
Franklin Sports MLB Shok-Sorb Neo Batting Gloves 
With padded leather palms that provide a great combination of shock absorption and reliable gripping power, these batting gloves feature curved, ventilated fingers and stretchy inserts in the backs. Adjustable wrist straps help you find the ideal fit. While most players are thrilled with the way these gloves reduce the sting associated with their most powerful hits, quite a few note signs of serious wear and tear by the end of the season.
Key Features:
Padded Shok Sorb zone in palm

Genuine leather palm

Flexible, ergonomic design

Supportive, adjustable wrist straps
Mizuno MVP Baseball Batting Gloves
Lightweight and breathable, Mizuno MVP baseball batting gloves feature grippy, textured palms. Stretchy back inserts ensure a snug, sag-free fit, and reinforced thumbs help prevent premature wear. While these baseball batting gloves are among the more affordable options available, they aren't likely to last longer than a season or two.
Key Features:
Textured non-slip palm

Airmesh™ back for breathable, stretchy fit

Supportive Quikadjust™ wrist straps
Easton Walk-Off Batting Glove Series
If you're looking for above-average durability, Easton Walk-Offs might be the best batting gloves for the money. With sturdy goatskin palms, heavy-duty wrist straps, and Lycra backs, they're available in a wide range of colors including some less common options like orange, purple, and maroon.
Key Features:
Smooth goatskin leather palms

Fused Lycra backs with gloss silicone details

Molded neoprene wrist straps

Unique colors and prints available

Sizes S-XXL
Franklin Sports MLB Pro Classic Baseball Batting Gloves
A combination of durable leather palms, vented fingers, and stretchy backs make the Pro Classic an excellent choice. The "glove that started it all," this is the original Franklin design that was used by MLB players when batting gloves were first invented, yet it's surprisingly affordable.
Key Features:
Premium quality leather

Fingers and thumbs are ventilated leather

Stretchy, breathable pro Spandex backs

Supportive, adjustable straps

Choose from a few popular colors
Franklin Sports MLB Teeball Flex Series Batting Gloves
Just for kids! Franklin Sports MLB Teeball batting gloves offer a seamless palm with a grippy texture. Ventilated fingers and thumbs, breathable backs, and adjustable straps help keep junior players comfortably protected each time they're at bat.
Key Features:
Stretchy, breathable lycra flex backs

Adjustable wrist straps

Durable synthetic palms

Available in several kids' sizes

Choose black or pink
Easton Hyperlite Fastpitch Softball Batting Glove
Women who want female-specific sizing are likely to appreciate this pair from Easton, even though there aren't many colors to choose from. These softball batting gloves feature durable synthetic palms, breathable, flexible backs, and wide adjustable wristbands for reliable support. It's worth noting that these batting gloves run very small; you'll probably need a size larger than you're accustomed to.
Key Features:
Grippy synthetic palms

Breathable mesh backs

Supportive adjustable wristbands

Reinforced finger and thumb tips
Mizuno MVP Baseball Batting Gloves
Textured palms and a lightweight, breathable design make these Mizuno youth batting gloves a simpler option than some other popular designs. Available in a few different colors, they provide a comfortable fit while enhancing your grip. These gloves aren't the most durable, but they're definitely an affordable choice.
Key Features:
Synthetic materials

Textured, embossed palms

Adjustable wrist straps

Choose from four different colors and several youth sizes
EvoShield Protective Speed Stripe Batting Gloves
Whether you're left- or right-handed, you'll appreciate these innovative batting gloves from EvoShield. Durable leather palms with extra protection for the heels of your hands are just the beginning. Molded hand shields protect the backs of your hands from impacts, and a wide, adjustable strap offers reliable wrist support. There are only a few colors to choose from, but the overall quality is exceptional.
Key Features:
Breathable power-stretch fabric backs with molded hand shields

Tactile Pittards leather palms with reinforced heels

Wider than average wrist strap for added support

Hand protection on both left and right gloves 
DeMarini Digi Camo II Batting Gloves
A cool camouflage design and several different color options make these batting gloves stand out. With supportive wrist straps and flexible, breathable backs, they're fitted with smooth sheepskin palms that help take the sting out of batting practice. Double-check the seams if you choose these gloves as there have been past issues with quality control.
Key Features:
Unique, colorful design

Durable sheepskin palms

Supportive adjustable wristband

Breathable stretch backhands
Clutch Sports Apparel Baseball and Softball Batting Gloves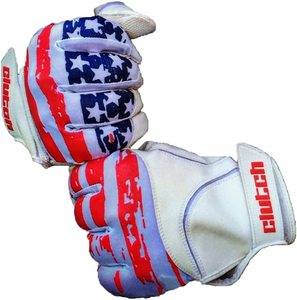 Durability and style come together beautifully in these batting gloves from Clutch Sports. The pre-curved fingers, performance mesh, and grippy palms help you improve your swing, and the cool graphic designs are sure to stand out whether you're at the batting cages or on the field.
Key Features:
Restriction-free back

Pre-curved finger pattern for a better grip

Breathable mesh

Grippy performance palms

Many original, colorful designs to choose from
Easton Z3 Hyperskin Batting Gloves
Easton's Z3 Hyperskin batting gloves get excellent marks for comfort, style, and breathability, but more than a few reviewers have had issues with sizing, so it's a good idea to go up a size. Smooth leather goatskin palms provide a reliable grip while adding a layer of protection for your hands.
Key Features:
Leather goatskin palms

Synthetic thumb

Breathable mesh stretch backs

Neoprene wristband with reinforced pull tab

Available in a few popular color combinations
Spiderz Adult Hybrid Batting Glove Silicone Web Palm
Cool spiderweb grips on the palms, lots of color choices, and a comfortable, stretchy fit make Spiderz batting gloves an outstanding choice. The triple-reinforced wrist straps offer a supportive feel, and breathable fabrics help keep your hands cool while you're batting. While there have been a few quality control issues, most players like the way these gloves fit, feel, and perform.
Key Features:
Silicone spider web grip on synthetic palm

Breathable, flexible fabrics for a snug fit

Triple-reinforced strap for excellent wrist support

Many exciting color combinations
Final Thoughts
While batting gloves might not be the most important gear in your bag, the right ones definitely make a difference! Most of us are perfectly satisfied with a durable pair of batting gloves that fit comfortably and provide the right level of protection, but it's good to know that colorful options, insulated batting gloves, and even pro-level alternatives are available.
We recommend making a quick list of must haves when deciding on the best batting gloves for your needs. If you tend to practice frequently, it's probably best to put durability at the head of the line. If you're into showing off your team colors, then a cool design might be a priority. Hot weather? You definitely need breathability!
Now that you've seen what's available, we hope it's easier for you to create a shortlist and find an option that ticks all the right boxes. After all, the best batting gloves are the ones that work well for you! Happy playing – and good luck with your batting!