Let's face it, nothing sucks the fun out of a baseball game like a stiff glove.  You will hate every throw and catch, yet the fix is nothing difficult. All you need is the right baseball glove oil and voila! The problem will be gone in minutes.
Be it a new or used glove, glove softening oil works like magic. It is supposed to first break in the leather, then keep it soft and pliable for the long run; not every oil actually does that though. Some are so ineffective you will have to wait hours or days before your glove softens, while others pack synthetics and toxins capable of harming you.
By the time you are done reading this, you will know how to spot such oils. Not just that; you will also be armed with the right information on how to go about your search.
To start you off, I'll take you through the reviews of those oils I found to be capable, safe, and effective. This was after examining carefully what they are composed of and probing the qualities as well.
Take a look!
Top Glove Oils – Quick Links
Fiebing's 100% Pure Neatsfoot Oil – Best Overall Product
Rawlings Glovolium Blister Pack – Best Budget Product
Reviewed Glove Oils
Product Image
Product
Top Features
Rating & Price
Fiebing's 100% Pure Neatsfoot Oil

(Best Overall Product)



Made up of premium natural ingredients


Has an applicator


Excellent restorative qualities






4.7



Rawlings Glovolium Blister Pack

(Best Budget Product)



Specially formulated with high-quality natural oils


Designed to be used by both amateurs and professional athletes


Easy-to-use flip-top cap



4.6



SARNA Baseball Softball Glove Oil



Unique formula with exceptional ingredients


Works effectively on any leather material


Trusted by professionals in the industry



4.4



What Is The Best Oil For A Baseball Glove? – Reviews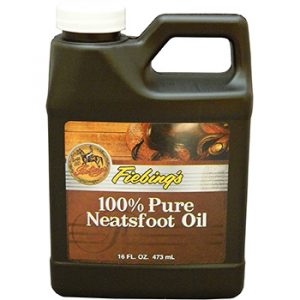 CLICK HERE FOR PRICING, PICTURES, AND REVIEWS ON AMAZON.COM
Just as the name suggests, this oil's performance can only be described as premium. It blends exceptional oils, including 100%-pure neatsfoot, which adds to its effectiveness.
As expected, it breaks in the baseball glove and leaves the leather soft with just the right texture and feel. That's not where it stops, though; with continuous use, the oil is going to preserve your glove and make it resistant to water and moisture.
Key Features
Only uses natural oils. No synthetics.
Works effectively on many other leather products like leather batting gloves
Comes with a spray applicator that's easy to use
Exceptional restorative qualities
Using Fiebing's glove oil is a breeze, thanks to its spray applicator. No need for rags; simply spray the oil on the impact areas on your glove and let it dry. Remember to wipe off any excess.
First, the oil particles will break in your glove but they won't just leave it soft; expect the glove to be fully waterproof, smooth, and bright. It will be as good as new, with shiny looks for improved aesthetics.
Pros
Because of its pure ingredients, it's able to lengthen the life of your leather sports equipment
Softens the glove, preserves its condition, and can restore tired gloves to their former glory
Impressive packaging that includes an easy-to-use applicator
Absolutely safe to use
Cons
It has a bothersome smell, but that usually goes away after a few minutes
Fiebing's premium glove oil is no doubt a fine product for its intended use. It is the
best oil to break in a baseball glove
, but if you have other leather products, count on it to do an equally excellent job.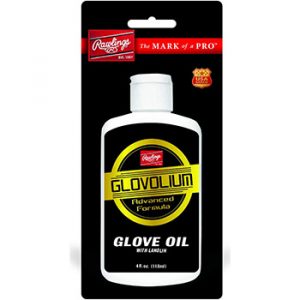 CLICK HERE FOR PRICING, PICTURES, AND REVIEWS ON AMAZON.COM
It may be the most inexpensive on our list, but the Rawlings Glovolium Blister Pack still competes with the best. Its unique formulation, further enhanced with lanolin oil, penetrates deep into mitts—and just about any leather product—leaving them softer, cleaner, and looking polished.
Key Features
Comes with an easy-to-operate flip-top cap
Uniquely formulated with higher-quality natural oils
Designed for use by both beginner and professional baseball players
Can be applied on baseball gloves and other leather products
Beyond preserving the quality of your glove, this oil keeps moisture and water from ever finding their way into your glove. For the best results, apply it as recommended by the manufacturer. Too much of it could be harmful.
The bottle itself is lightweight and easy to maneuver. You could throw it in your baseball bag and travel with it comfortably.
 Pros
It is relatively affordable, compared to other oils in its category
The flip-top cap makes it easy to use
Effective in breaking in leather and preserving its integrity
Can be applied continuously and still won't make the gloves heavy
Cons
Can be damaging to your leather products if used in excessive quantities at a single application
When it comes to value for your money, no other
baseball glove softening oil
beats Rawlings Glovolium Blister Pack. Use it as prescribed and the results will be exceptional.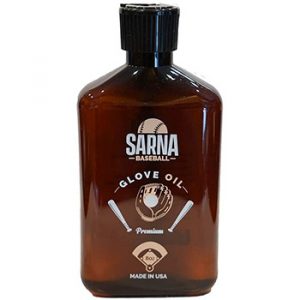 CLICK HERE FOR PRICING, PICTURES, AND REVIEWS ON AMAZON.COM
Nearly every person who has used Sarna glove oil admits the product is exactly as advertised. Count on it to break in your mitt, keeping it soft and conditioned without taking away its integrity.
Isn't that what we all want? Something to relax our leather as fast as possible after one use? That's what Sarna glove oil excels at. In fact, it is so good that many users apply it to just about any leather sports equipment, from baseball and softball gloves to the balls themselves and even to batting gloves.
Key Features
Features premium ingredients that make it a unique formula
Breaks in any leather sports equipment quickly and efficiently
Safe to use on almost every leather product
Great at restoring leather gloves and mitts and breaking in new ones as well
A squeeze bottle cap makes the oil easy to use. Simply place it on a soft piece of rag then apply it to your glove.  The manufacturer recommends that you do this at least twice a year, preferably when the fall season ends and then during the spring.
Another superior thing about Sarna is that it won't darken your glove.
Pros
Delivers exceptional results in no time
Maintains the integrity of your leather sports equipment
Easy to use
Trusted by players and baseball coaches alike, due to its effectiveness
Cons
It could easily leak if not stored carefully. Always ensure the lid is tight after use.
Overall, Sarna glove oil is unlikely to disappoint you, no matter what you plan to use it on. Just make sure you have applied it as instructed.
What To Consider Before Buying Baseball Glove Oil
Before you start your search for that ideal oil, first arm yourself with a guide. Knowing all the factors to watch out for will help you to quickly narrow down the most suitable choice, so let's have a look at them.
Ingredients
Great glove oils only pack natural ingredients. From neatsfoot and beeswax to mink oil, not only do these compounds make them superior but also safe.
Stay away from those that feature artificial ingredients such as petroleum distillates. They may be cheaper, but there's a catch; they are not as effective as their natural counterparts, and some even carry toxins that could trigger allergies or other health conditions.
Even when looking for baseball glove oil alternatives, pay attention to what's in the product.
Waterproofing
It is not enough that the oil is able to break in the glove. The most effective ones waterproof the leather, making it resistant to cracks that often develop after constant use.
Your chosen oil should, therefore, have the capacity to resist water or moisture, plus form a coating that effectively creates a continuous barrier against dampness.
Longevity & Effectiveness
Obviously, you will want an oil that not only breaks in your glove but also preserves it over time. Once again, this takes us back to the oils I mentioned you should avoid. If it lacks natural ingredients the results will be slow, and that will affect the regular conditioning of the leather.
Effectiveness is all about the time it takes for the oil to restore your glove to its perfect state. If your selection cannot provide instant results, then it is not the perfect choice for you.
Ease Of Application
How you apply the oil will determine the performance of your gloves. Do it wrong, and you will never realize the intended results. This video by Daniel Davis should be able to help if you are unsure of the correct process.
Glove oil bottles with applicators or spill-free edges make this process easier, while others have a spray mechanism that saves some of the otherwise required steps, but the majority come with a typical lid. Such brands require you to use a piece of soft rag, which you will typically dip into the oil then rub gently on your glove.
Please don't forget to read the instructions. Each oil has directions on how to use it for optimum results, which you cannot afford to ignore.
Frequently Asked Questions
What is glove oil?
Put simply, this is a specially formulated oil that is primarily made to break in baseball gloves as well as other leather items. Some not only soften and clean sports leather equipment but also footwear, handbags, and clothing.
How to oil a baseball glove?
Use a reasonable amount of oil (as per the manufacturer's instructions). It should not be too much or too little.  Apply it gently using a piece of cloth, preferably soft. You could also use a cotton swab. Wipe off the excess oil and leave the glove to dry overnight.
What is in baseball glove oil?
Every baseball glove oil is a product of several ingredients, but not every manufacturer lists them, which is often a red flag. Chances are they have something to hide.
To save yourself from such experiences, examine the label carefully before purchasing and make sure it is thorough and detailed.
As mentioned earlier, look for natural oils such as neatsfoot, beeswax, mink, and other beneficial oils such as lanolin.
Final Word On Baseball Glove Oils
Your glove will only be as great as the oil you use. My guess is you want your glove broken in properly so it will serve you well for many seasons. There has never been a better time to take action.
Every oil on this list will soften the leather of your glove, protect it from water and moisture, and preserve its pristine condition. As always though, there's one unique product that towers over the rest in delivering excellent results. In this case, Fiebing's 100% Pure Neatsfoot oil takes the crown.
With this oil, you get more than a soft, neat, and well-conditioned glove. Count on it to make your mitt waterproof and as good as new if it's rugged or overused.  It is no doubt the best oil to break in a baseball glove.
The best part? It has an applicator, which makes using it a breeze.