Looking for the ideal bat for your own practice sessions? Outfitting an entire team? Either way, you'll find that there are lots of options on the market. The question is, which is best? How do aluminum bats compare to composite bats, and why are these two materials often chosen over traditional wood bats?
BBCOR is an acronym that stands for Batted Ball Coefficient of Restitution. All bats used in leagues that follow NCAA and NFHS bats must be BBCOR certified and many youth baseball organizations require the use of BBCOR bats as well. Wood bats made from a single piece of solid wood (except bamboo) are exempt from being BBCOR certified, so we're not including them here. Aluminum and composite BBCOR certified bats will always carry a "BBCOR Certified" mark. Now that we've cleared the air, let's take a look at some of the best BBCOR bats on the market right now.
If you would like to get more information about these bats, check our BBCOR Bats page
5 Top Aluminum Bats Reviewed
5 Top Composite Bats Reviewed
Buyer's Guide: Aluminum vs. Composite Bats
As it turns out the question of composite vs. aluminum bats has quite a few ins and outs. Each one offers different benefits and different players have different preferences. Once we've broken down the differences between aluminum vs. composite bats, we'll provide you with a series of reviews to help you make a well-informed choice. So settle in, because we're about to get serious about bats.
Also known as alloy bats, aluminum bats offer a combination of durability and light weight. Most leagues allow for the use of aluminum alloy bats, including one-piece and two-piece models. Light weight and excellent power are two major selling points. In addition, aluminum bats tend to be priced a bit lower than composite bats. The biggest drawback is that aluminum bats typically offer a smaller sweet spot than their composite cousins.
Most leagues allow players to use composite bats. While they're often a touch heavier (but not much!) than aluminum bats, composite bats tend to offer a little more power and a larger sweet spot. They're pricier than metal bats and like wooden bats, they sometimes break.
What to Consider When Choosing a BBCOR Bat
Beyond material, there are quite a few factors to keep in mind when deciding which baseball bat is best for your needs. Let's take a closer look.
Length: Refer to a bat size chart if you're not sure which length you need. Your ideal bat size is determined by your weight and height. When choosing a bat for a child, you might go by age; many bat size charts include the most popular lengths by age.
Weight/Weight Drop: Bat weight is always listed in ounces. The weight drop is determined by the bat's length minus its weight and the higher the weight drop, the lighter the bat will be. Different leagues have rules about which weight drops are allowed, and individual players have their own preferences. The best bat weight drop for your needs will meet both requirements. In general, players with less experience do better with lighter bats while those with more expertise tend to prefer the additional power that a heavier bat provides.
League Compatibility: Casual players don't normally need to worry about whether a bat is approved for playing in certain leagues but meeting governing body standards should be among your first considerations when shopping for the best bat. After all, a bat that makes you happy but isn't in compliance with league rules can't be used in games.
Since standards change, it's important to look for the most up-to-date information about which bats are appropriate and for that, your coach is probably the best source. This holds true whether you're playing BBCOR baseball, USA baseball, or USSSA Senior League baseball.
Frequently Asked Questions
Does anyone play baseball with wooden bats anymore?
Yes – wooden bats are still acceptable in certain leagues; for example, if you're playing USA baseball, you can use a wooden bat so long as it carries the USA Baseball mark and is currently on the USA Baseball approved list. Most one-piece wood baseball bats are also approved for BBCOR play, even when they aren't marked (you'll still want to check with your coach to ensure that the bat you choose is appropriate.)
As with aluminum bats and composite bats, wooden bats definitely have their benefits as well as some downsides; for example, wood bats have a higher risk of breaking on a mishit than their aluminum and composite counterparts.
How can I make sure my bat is allowed?
Bats that are approved for certain leagues are clearly marked; for example, BBCOR bats carry the BBCOR Certified stamp. If you're shopping for a bat online, you'll want to check the description and ensure that the bat you're choosing is legal for play. If you aren't sure or if something seems to be a bit off, it's a very good idea to check with your coach. You don't want to spend money on a bat you can't use.
What if my bat doesn't carry the right certification?
If your bat isn't certified to your league's standard, you can practice with it at home, but you won't be able to use it at official games. We recommend finding a bat that meets your league's requirements and practicing with it so that you develop consistency.
Additional Aluminum Bats: Short Reviews
Rawlings 5150 BBCOR Baseball Bat
Made with aerospace-grade 5150 alloy for exceptional durability and outstanding performance, the Rawlings 5150 BBCOR baseball bat features a single-piece design with a massive sweet spot. It's BBCOR certified for NCAA and NFHS.
Key Features:
Certification by ASA, NSA, ISF, USSSA, ISA

Updated barrel profile for better bat control

Made with aerospace-grade 5150 aluminum alloy

Durable, reliable single-piece design with a huge sweet spot

Rawlings PoP 2.0 technology enhances every swing
Easton Speed- 3 BBCOR Baseball Bat
Easton's Speed-3 BBCOR bat features bright graphics, but that's just the beginning! Besides great looks, this affordable BBCOR bat offers impressive technical details that make every swing count. Multiple sizes are available, making this design accessible to a wide range of players.
Key Features:
Made with ALX50TM aircraft grade alloy for durability

Lightweight design

Forged end

cap

Cushioned Flex grip for added comfort and superior tack

BBCOR certified
Easton Z-CORE HMX TORQ 3 BBCOR Baseball Batt
Looking for balanced weight in a durable alloy design? The Easton Z-CORE HMX TORQ 3 delivers, with a lower swing weight index and a massive sweet spot so every ball goes further. Brilliant graphics add plenty of visual appeal.
Key Features:
HMX hyperlite matrix alloy barrel

Z-core internal core technology for powerful hits

Four popular sizes available

Balanced weight for fast, even swings
Easton Elevate-3 BBCOR Baseball Bat
Easton's Elevate-3 BBCOR Baseball Bat is a one-piece design that's specially constructed for superior comfort – not to mention outstanding performance! A cushioned grip helps reduce vibrations – great for those extended practice sessions.
Key Features:
Lightweight design for outstanding performance

ALX100TM military-grade alloy offers superior durability

Cushioned Flex Grip

Forged endcap

4 popular sizes available
Louisville Slugger Omaha 518 BBCOR Baseball Bat
The Louisville Slugger Omaha 518 BBCOR bat offers lightweight durability thanks to a single-piece alloy design. Batters who prefer a stiffer feel find that this bat provides plenty of satisfaction with every swing.
Key Features:
1-piece ST 7U1 alloy construction

Custom Lizard Skins premium performance grip
6 star premium endcap design

1-year warranty

6 sizes, all BBCOR certified
Marucci CAT7 BBCOR Baseball Bat
Here's another outstanding one-piece aluminum BBCOR baseball bat: The Marucci CAT7 features thin barrel walls for excellent trampoline effect and a fantastically responsive feel. This bat has double the sweet spot of the popular CAT6, plus it features Marucci's AV2 knob for reduced vibration.
Key Features:
AZ4X alloy – one piece design

Responsive thin-walled barrel

AV2 knob with harmonic dampening system

5 popular sizes
Rawlings BBCA 5150 Alloy Baseball Bat
Looking for maximum versatility? The Rawlings BBCA 5150 Alloy Baseball Bat delivers – not only is it BBCOR certified, it is BESR approved. Get ready to send balls further than ever before!
Key Features:
Aerospace-grade 5150 alloy for exceptional durability

Ultralight Low Rider 105 mph endcap for more effective swings

Comfortable synthetic leather grip

Balanced weight
Louisville Slugger 2019 Solo 619 BBCOR Baseball Bat
Serious about your game? The Louisville Slugger 2019 Solo 619 baseball bat is the fastest-swinging BBCOR bat in the company's lineup. Single-piece alloy construction provides a combination of stiffness and outstanding energy transfer, and a vibex premium vibration damping handle with a tacky, cushioned LS Pro comfort grip reduces sting. Play ball!
Key Features:
1-piece SL hyper-alloy construction

Speed Ballistic composite endcap maximizes control and increases speed

Extreme balanced swing weight

LS Pro comfort grip

6 sizes; highly accessible for players of nearly every stature
Marucci CAT8 Connect BBCOR Baseball Bat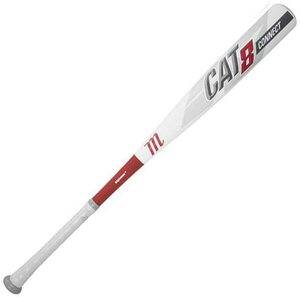 If you're looking for an end-loaded BBCOR baseball bat, then you'll want to shortlist the Marucci CAT8 Connect BBCOR. This is a 2-piece hybrid bat that pairs the durability of aluminum alloy with Marucci's patent-pending SDX EXT connection, which offers maximum power while minimizing vibration. This bat has a huge sweet spot and a ring-free barrel.
Key Features:
AZ105 super-strength aluminum alloy construction

Extended shock-dissipating connection

Multi-variable wall design maximizes sweet spot

Micro-perforated soft-touch grip

1-year warranty

5 sizes available
Additional Composite Bats: Short Reviews
Louisville Slugger 2019 Prime 919 -3 BBCOR Baseball Bat
Featuring an innovative 3-piece design, the Louisville Slugger 2019 Prime 919 BBCOR baseball bat offers a microform barrel design that provides outstanding pop and a lightweight feel. Balanced swing weight enhances performance every time you're at bat.
Key Features:
3-piece composite design

RTX end cap

VCX Connection technology minimizes vibration

LS Pro comfort grip offers a combination of tack & cushion

4 popular sizes
Marucci Cat7 Connect BBCOR Baseball Bat
Marucci's Cat7 Connect BBCOR baseball bat offers the best of both worlds, with an alloy barrel and a carbon composite handle. SDX shock dissipation technology reduces vibration, while a power balanced design ensures that every swing counts.
Key Features:
2-piece design

Carbon composite handle with cushioned grip

AZ4X alloy barrel for strength and durability

SDX shock dissipation connection technology reduces discomfort
Easton Project 3 ADV -3 BBCOR Baseball Bat
Supercharge your swing and batting performance with the Easton Project 3 ADV BBCOR baseball bat. Featuring an updated barrel layup design and a stiffer handle than ever before, this bat has been optimized for outstanding control, enhanced leverage, and a solid, natural feel minus uncomfortable vibrations. Bonus: If you're looking for outstanding pop, this bat has it!
Key Features:
Launch Comp barrel layup design optimized for better balance

ISO CXN 2-piece construction with interior nitrocell foam

Power Boost Soft Knob enhances leverage

4 sizes
Rawlings 2020 Velo ACP BBCOR Baseball Bat Series
Rawlings' Velo ACP bat series has a range of sleek, ultra-light baseball bats designed to withstand the demands of powerful, enthusiastic players. They're available in six popular sizes, and are BBCOR certified for NCAA and NFHS.
Key Features:
ACP (Accelerated Carbon Performance) for increased swing-speed

Features 2 inches of Carbon Composite for an ultra-light

feel

Two-piece composite design

Laser pop 2.0 maximizes sweet spot and barrel flexibility

Urethane-Infused fibers reduce vibration for greater player comfort
Mizuno Maple/Carbon Composite Baseball Bat
This BBCOR certified baseball bat by Mizuno is designed to enhance batting performance and endurance on the field. It has a sleek, hip look thanks to a cool grey and blue graphic design.
Key Features:
Durable and lightweight

Unique color combination

Carbon-reinforced handle for added strength

120-day warranty included
DeMarini 2020 Voodoo Balanced -3 BBCOR Baseball Bat
Take your batting skills to the next level with the DeMarini 2020 Voodoo BBCOR baseball bat. You'll enjoy lightweight performance and plenty of pop thanks to the bat's half-and-half construction. The composite handle eliminates painful vibration, while the alloy barrel and durable reaction end cap offer enhanced performance.
Key Features:
Innovative hybrid design; composite handle, alloy barrel
Streamlined 3Fusion connection redirects energy back to the barrel

Reaction endcap enhances swing speed and performance

4 sizes
Easton MAKO COMP -3 BBCOR Baseball Bat
Easton's MAKO COMP -3 baseball bat is designed to effectively enhance your performance. Lightweight composite construction and a performance diamond grip add up to awesome swings every time you're at bat.
Key Features:
Cushioned grip with a built-in diamond pattern for a comfortable feel

Lightweight endcap

Available in 2 popular sizes

BBCOR certified
DeMarini 2019 CF Zen Balanced BBCOR Baseball Bat
Made with Par flex+ composite, the DeMarini CF Zen BBCOR baseball bat offers a balanced design that enhances your ability to maintain consistent speed as you swing through the zone. This bat provides plenty of pop while treating you to a comfortable feel.
Key Features:
Para flex+ composite construction

3Fusion endcap enhances balance

Attractive graphics

Half-and-half two piece design
Louisville Slugger 2019 Select 719 BBCOR Baseball Bat
Give your game that extra edge with the Louisville Slugger 2019 Select 719 BBCOR baseball bat. This bat features a three-piece hybrid design with a speed ballistic composite endcap, a VCX vibration control connection, an alloy barrel, and a composite handle.
Key Features:
Slight end load for powerful momentum

VCX vibration control connection eliminates sting

ST 7U1 alloy barrel offers outstanding pop

5 popular sizes
Easton Pro 110 -3 BBCOR Maple Wood / Composite Baseball Bat
Treat yourself to a unique batting experience at an affordable price with the Easton Pro 110 -3 Maple wood and composite baseball bat. This fantastic BBCOR certified bat features a pro-grade maple wood barrel and a composite handle that reduces vibration. Sleek looks and a balanced feel add to this bat's overall appeal.
Key Features:
Durable maple wood barrel provides power, pop, and speed

Traditional knob for outstanding control

Composite handle offers a comfortable feel

3 sizes
Final Thoughts
Keep in mind that the best baseball bat for your teammate might not be the best bat for you! It's a great idea to determine which size and weight you prefer before you shop and to take a look at bats that incorporate the latest technology based on your level of play as well as your desired budget. Last but not least, remember to check with your coach before you invest in a bat. League restrictions are serious business and the wrong bat won't do you any good.
Now that you know the difference between aluminum bats and composite bats – and armed with our list of the best BBCOR baseball bats in the business – you're prepared to get in the game. We hope you have a fantastic season ahead!